Every day we look to see how the market-making community is hedging the capital they have to put at risk, in order to complete million-dollar-plus block trade orders. Thousands of such deals are done, in hundreds of thousands of stocks and ETFs, each market day.
What they are willing to pay to guard that capital, and the way they structure the protection, tells just how far they think the prices of each issue may go, both up and down. Their worldwide, instantaneous information-gathering systems keep them better informed than most of their big-money fund clients. And they have the advantage of watching the client and public order flow evolve and change, telling its own story.
But they're not always right. Sometimes even the best get surprised.
So we keep book on how well they have scored on their forecasts in the past. To be as precise as possible requires us to separate their forecasts by the balance between upside and downside prospects being seen. Then we can tell what proportion of prior forecasts with similar reward-to-risk balances had subsequent prices that achieved their sell targets, or at least were above entry costs of the forecast day -- the ODDS of being a winner.
By putting each day's forecasts to a standardized, time-defined sell discipline, we can also know how big the typical PAYOFFS were.
Doing the same thing for each stock or ETF gives us a scorecard to compare candidates for investment and find the ones with the best odds and payoffs based on today's risk-to-reward forecasts. The following table shows 27 of them with the best prior records following forecasts like those being made at the market close on August 2, 2013. They are ranked by their upside (sell-target) opportunities.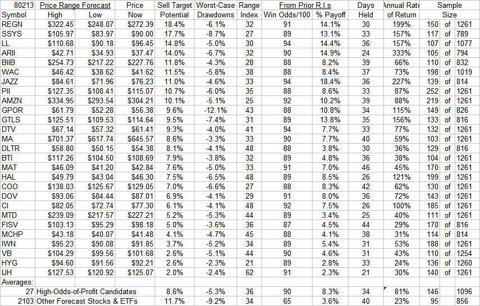 The sell-target potential is simply the percentage gain possible between the price now and the top end of the forecast range. The worst-case drawdowns are an average of the most severe price drops in each case between the forecast-day and 3 months later, unless foreshortened by an earlier sell target achievement.
The number of forecasts involved in these calculations are shown as the smaller of the most right-hand columns, with the larger number the length of time (in market days) such forecasts are available in the past 5 years. With 252 days in a market year, that maximum is 1261.
When screening the 2,000-plus candidates, the only restrictions were that there be at least three years of forecasts (756 days) and that there be at least 100 prior cases of upside-to-downside forecast balance no less attractive to a buyer than the present-day forecast. These restrictions are to ensure that there is an adequate sample from which to calculate the odds and payoffs.
The key discriminator beyond those two is the proportion of profitable outcomes from the 3-month maximum holding period and from sell-target closeouts when achieved. Our cut-off is set at 7 wins out of every 8 commitments, or 87 out of 100. Those that pass the test tell us that the market pros have had a good sense of the profit potentials in each case, when seen every day over several years at times of outlooks like the present.
What results then are odds, average payoffs, required holding periods, and annual rates of return. These outcomes are the likely dimensions that can be known at the time of making preference decisions between investment candidates. In contrast, screenings that simply look for the largest past gains have little means of assurance that such results will recur.
The typical product of choices from this group of 27 are an average upside forecast over the next 3 months of +8.6% (an annual rate of +39%), a typical downside exposure of little more than -5%, 90 chances out of 100 of making money, and average results in the past of a+8.3 gain in holding periods typically 7 weeks in length, permitting a compounding of the return on capital at a rate of +81% a year.
The current-day forecast for our population of 2103 other stocks and ETFs beyond the favored 27 is for a more optimistic upside of +11.7% sell targets, facing drawdown exposures over -9%. In the past those targets were more difficult to reach, with only 65 out of each 100 coming up profitable. That win-loss ratio cut the average gain down to +3.6% and took one week longer on average to achieve. Their annual rate of compounding was +23%, not bad when compared to the typical stock bogey of +9% to +10%. But far short of +81%.
Examination of the types of favored candidates reveals a wide diversification of business activities. Healthcare is well represented by Jazz Pharmaceuticals (NASDAQ:JAZZ), Regeneron Pharmaceuticals (NASDAQ:REGN), and Biogen Idec (NASDAQ:BIIB), the internet by Amazon (NASDAQ:AMZN) and MasterCard (NYSE:MA), energy by Gulfport (NASDAQ:GPOR) and Halliburton (NYSE:HAL). Retailing, insurance, investing, machinery, electronics, toys, business services, and a variety of ETFs with different focuses round out the picture.
While the selection guidance key has been the odds for profitable outcomes, the risk component is not being overlooked. Worst-case price drawdowns from cost are measured and averaged for all prior similar forecasts. They can be balanced against the upside reward opportunity forecast on a stock-by-stock basis. Attractive tradeoffs like in Lumber Liquidators (NYSE:LL) can be seen with an upside sell target almost three times the -5% typical maximum price below-cost experiences.
In some cases the forecast return potentials are smaller than similar prior experiences. JAZZ, for example, has a sell target of 11% above its Friday close price, while similar forecasts pulled in 139 gains averaging above +18%.
There are no guarantees here, only hard facts of what has happened multiple times over recent years, when the stock-by-stock outlook was at least as favorable as now seen.
Conclusion
We are sometimes dismayed by some of the "analysis" offered up in the presumption that a decades-long history exploration of data measured once a year can tell anything about a stock's future price some 3-5 years from now. Particularly when the normal variances of many well-behaved stocks' prices in the course of just one year are usually 3-5 times the annual growth being forecast by the analysts. It is not uncommon to find annual price ranges with highs 1 ½ times the low, a 150% range, where an earnings growth of 15% or less is the attention magnet. That range is ten times the growth or more.
With this kind of noise in the price surroundings, it is clear that there is more opportunity for investment gain from the noise than from the "signal." That is not an argument to ignore the fundamentals. But it does strongly argue for attention to shorter-term opportunity and an active investment practice. Portfolio strategy and asset allocation needs no less than weekly attention, with daily maintenance preferable. Our earlier article on the investment of time is pertinent here. It can pay off handsomely.
We believe that recognizing market reality requires an understanding of the "game" environment and the need for intelligent behavioral analysis of the actions of the players that are capable of moving stock prices.
The kind of insights that the hedging actions of market-makers, protecting their at-risk capital, give every day. Ones that telegraph their big-money fund clients' price intentions as to specific investments.
Disclosure: I have no positions in any stocks mentioned, and no plans to initiate any positions within the next 72 hours. I wrote this article myself, and it expresses my own opinions. I am not receiving compensation for it (other than from Seeking Alpha). I have no business relationship with any company whose stock is mentioned in this article.