Freescale Semiconductor Ltd (NYSE:FSL), a global leader in microcontrollers and digital networking processors, powers the latest innovations in automobiles, communication networks and smart devices. The embedded processor products are:-
Microcontrollers- these include MCUs and application processors which focus on industrial, multi-marketing, connectivity, smart energy, healthcare and multimedia applications.
Digital Networking - this includes a scalable portfolio of multi-core communication and DSP system-on-chip solutions that helps in serving the networking and communications markets.
Automotive MCUs - these include MCUs developed for the automotive market. The company is keen on focusing on capturing new growth opportunities in Japan and Asia in order to gain overall market shares in automotive MCUs.
Analog and Sensors- these include automotive analog, mixed-signal analog and sensor products. The company's focus in the analog sector is to capture new markets and target investments in automotive and mixed signal analogs.
RF includes RF power amplifiers. The company is focusing on utilizing increased research and development spending to drive into new markets and accelerate revenue growth.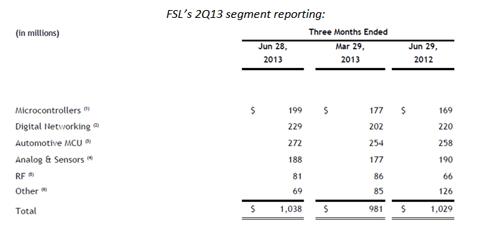 Increasing Revenue and Profits
Freescale has efficiently posted an increase in its revenue in the past quarter which ended on June 28, 2013. The overall revenue for the 2Q13 has increased in all the segments except in the RF and other segments. The total revenue for the quarter amounted to $1.04 billion compared to the consensus estimate of $1.02 billion. The company's quarterly revenue was up by 0.9% on a year-over-year basis.
The company has significantly captured markets in Asia Pacific, Europe, the Middle East and African countries, which contribute more than 80% of the company's revenue within the last three years. FSL through its continuous efforts has been able to record revenues and has laid an expectation that 3Q13 revenues would range between $1.05 billion to $1.09 billion. Despite operating in high leveraged conditions, FSL, under its CEO's detailed review of strategic direction, is capable of overcoming its losses and post profits.
In 2008, FSL saw a drastic decline in its profits and had posted a net loss of $7,939 million, which was primarily due to the allocation of impairment of goodwill and intangible assets. Over the past three years, FSL has been successful in reducing its losses and stepping ahead towards increased earnings.
As per Thomos Reuters, the company is likely to post revenues amounting to $4,143 million with a net profit of $17.6 million for the year.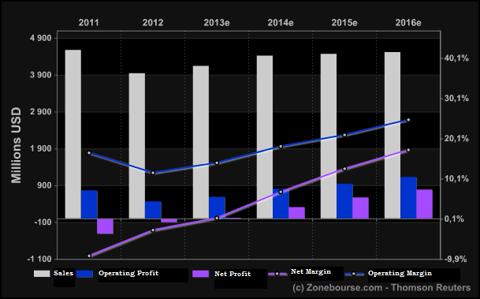 RF Business Makes Long-Term Commitment to the U.S.-Based Aerospace and Defense Market
Recently in June, the company announced a major initiative focused on demonstrating how its new and existing commercial RF power and microwave RF devices have the potential to meet the requirements of the U.S. Aerospace and Defense (A&D) market.
"The company plans to support a broad range of A&D applications with entirely new gallium nitride (GaN) RF power transistor products, as well as its proven portfolio of more than 400 LDMOS RF power transistor and gallium arsenide (GaAs) monolithic microwave integrated circuit (MMIC) products. These Freescale products will be supported by a dedicated team of professionals focused exclusively on A&D markets and customers."
An analyst firm, ABI Research, has analyzed that by 2018 the global sales of FSL's RF power devices which targets the defense market (under 4 GHz and above 4 W output) will approximately sum up to $144 million..
Refinancing unlocks growth opportunities
Procuring new Credit Facility
Earlier in April, 2013, Freescale announced that it had obtained new senior secured term loan facilities according to the amendment and restatement of the company's senior secured credit facility effective from March 1, 2013. The new credit facility is divided into two term loan tranches; the aggregate principal amount being approximately $2.74 billion, which consists of a $350 million term loan due in December 2016 and a $2.39 billion term loan maturing in March 2020. Under certain specific circumstances, the maturity of the 2020 term loan can be accelerated to December 2017. The new credit facilities procured will help FSL in replacing its pre-existing debt maturities of approximately $2.2 billion due in 2016 and $496 million to mature in 2018. The terms of the existing revolving credit facility remain unchanged.
Freescale retires 2018 debt maturities
FSL priced $500 million of senior secured notes, which bear an interest rate of 4% and are due on May 15, 2021. FSL intends to use the proceeds to redeem a $442 million principle of the outstanding 10 1/8% senior notes due in 2018. Through this refinancing the company has successfully extended its debt maturities from 2018 to 2021 and has also realized $20 million of annual cash interest expense savings.
FSL's latest restructuring initiative is an incremental positive step for the company's growth. The restructuring not only reduces its annual interest expenses by approximately $20 million, but has also provided the company with "breathing room" as only $742 million of its debt is due by the end of 2015, and approximately 88% of its outstanding debt is due in 2018 or later. The $155 million tranche due in 2014 can be efficiently managed by FSL given that the company's FCF generation is adequate. But one should carefully note that all its credit facilities are tied to LIBOR so we must monitor the Interest Rates closely.
FSL is taking advantage of the receptive debt markets where its credit facilities have been extended to 2018 and has attained lower cash interest expense. Despite the fact that FSL is paying a significant premium, the refinancing action is a prudent step that will likely be continued over the coming years and will help the company in both repaying and refinancing its substantial debt load.
Conclusion
It is believed that the refinancing step, though small, depicts FSL's commitment in deleveraging, unlocking earnings potential, and mitigating risks. I believe management will carry out their duties with due care and perseverance to explore new refinancing opportunities to reduce its interest expenses.
FSL through its commitment towards its R&D is successfully diversifying its product portfolio and capturing the global market. In the coming years, the company's revenue and earnings along with its debt structure management will help it to record new milestones. I am long on the stock.
Disclosure: I have no positions in any stocks mentioned, and no plans to initiate any positions within the next 72 hours.
Business relationship disclosure: The article has been written by an Analyst at ResearchCows, ResearchCows is not receiving compensation for it (other than from Seeking Alpha). ResearchCows has no business relationship with any company whose stock is mentioned in this article.