Traditional culture in China places heavy emphasis on education – even as resources are limited for prospective students. One of the detriments of the socialist economy is that higher education programs are limited to a few lucky students who earn the right to further study. One of the primary means for deciding who is eligible for advanced studies is the Gaokao test which is required for college admission. Chinese parents will usually make many sacrifices in order to help their children do well on this test.
New Oriental Education and Tech. Group Inc. (NYSE:EDU) is a leading test prep company which helps students prepare for and pass the Gaokao test. It has also branched out to include language training courses and other online educational programs. The company has done a good job of developing a number of different education services which are in high demand by Chinese parents.
In May of 2008, ZachStocks published a cautionary note on EDU stating that while the business was healthy, the stock price represented too much optimism and was vulnerable to a decline. Since that time, the stock dropped by more than 40% of its value, leading investors on a wild ride despite relatively stable earnings growth. But today we once again find ourselves with a price that appears to have too much optimism built in, and the potential for a significant drop.
Lately any stock with the word "China" in the company name or description has been bid much higher. The last two weeks may have killed a bit of the speculation, but growth expectations still appear to be overblown. Equity multiples carry significant danger in many sectors, while future growth rates now appear to be below trends which have been in place for the last several years. The resulting investor disappointment could lead to some sharp declines – especially for stocks where investors have been programmed to expect management to beat guidance.
Currently EDU is trading at 31 times expected earnings for this year. This is a bit excessive considering earnings are only expected to grow by 10% this year compared to fiscal 2009 (the fiscal year end is at the end of May). Analysts are pegging 2011 at $2.89 but that estimate is very hard to place much confidence in given the quickly shifting economic dynamics. If the stock were trading at 15 or even 20 times earnings it might be worth considering, but a multiple of 30 is just too expensive considering the contraction in the growth rate.
A major concern that investors don't appear to be worried about is competition. Currently New Oriental Education has a well-known brand that is regarded as the industry leader. But as the company reports quarter after quarter of strong profits, the market is bound to pay attention and competitors will quickly flock to take part in the profitable business. It would be difficult for a competitor to take market share away from EDU very quickly, but several offerings could begin to erode the major's market position and slowly lead to a more efficient (read: lower profit margins) marketplace.
I would recommend shorting EDU now that it has broken the positive trend, as long as the stock stays below $75 per share. Shorts could look towards $55 as a logical place to take partial profits as there is some support in this area. Long-term, we could see prices in the 40's, should the company begin to issue lower earnings projections or the overall China stock market continue to show weakness. In short, there is significant risk of this stock breaking down and investors would do well to hedge or close long positions.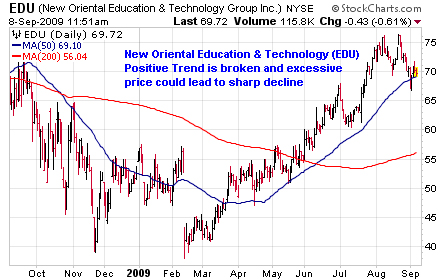 Disclosure: Author does not have a position in EDU.