If VeriFone Systems, Inc (PAY) is on the way out, someone forgot to tell the company's insiders. Over the last two months several insiders have been buying the company's stock despite a lack of market confidence that has been felt over the last year and a half. Since trading near $55 in May 2012, VeriFone has seen its stock fall well over 65% as it now trades at $19.27 as of August 4, 2013.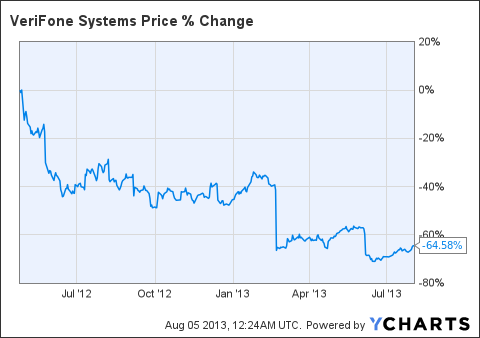 PAY data by YCharts
Growing Insider Interest.
One of the largest insider purchases comes from Interim CEO Richard McGinn, who on July 26, purchased 20,000 shares of common stock on the open market at a price of $17.76. The total transaction was valued at $355,200. Based on the Form 4 found here, McGinn's purchase brings his total amount of shares owned to 26,765 proving that his latest purchase significantly bolsters his stake in the company.
One note of interest lies in the fact that McGinn never appeared to have a desire to own company stock in the past. In March 2011, and March 2012, the former director previously exercised options and immediately sold the stock on the open market. The total transactions were valued at $723,671 and $663,640 respectively.
The purchases made by other company directors can be seen in the graphic below. VeriFone has not seen much buying activity from its insiders in recent years. Prior to 2013, the company's former CEO was the last insider to buy a significant stake in the company when he purchased 155,000 shares at $32.50 in July 2012. Prior to this, there had been practically no insider purchases for almost 3 years. Therefore, it remains somewhat of an encouraging sign that multiple individuals currently find the company trading at a significant discount to its future potential.

Click to enlarge
A List Of Woes
In early June, McGinn delivered a rather blunt message to investors when he acknowledged the company was not where it wanted to be and that management was now seeking to counteract these shortcomings. He stated the following in the earnings conference call found here:
As I just stated, we're facing our issues head-on. We know we have them, including some issues of product competitiveness in selected markets. Second, we have and are taking immediate and decisive action, starting with a major shift in the mindset that incorporates greater connectivity to our customers and their current and future needs. Third, we have good competitors, but these issues are not a function of competitors leaping ahead or the famous notion of disintermediation. These are homegrown issues. We caused them and we know how to fix them. Fourth, VeriFone is an excellent company with a great franchise in the payments technology business. We are a global market leader in the industry, and that industry is expected to grow in the mid to high single digits per year. We will build on our position. Moreover, we have a solid balance sheet, we generate significant free cash flow, and we have a gross margin structure that gives us the resources to invest in the areas we need to in order to ensure a terrific future. It will take some time for us to get back on a growth track, but by the end of this call, I hope you will see why we have every confidence that we'll get there.
Many of the problems were the result of his predecessor's work. Under former CEO Douglass Bergeron (who had led the electronic payment solutions company for 12 years) VeriFone had ultimately under-invested in research and development and in getting its products certified in a timely manner. This hurt the company and its ability to pursue some markets, including Canada. The company also took large charges involving some long-standing lawsuits. Last of all, one of its distributors was even discovered to have sold VeriFone equipment to Iranian banks, which put it in apparent violation of U.S economic sanctions.
Where The Company Now Stands
But for all its woes, management remains confident that it can tackle the ongoing issues. The latest insider purchase remains a testament of McGinn's willingness to put some skin in the game. This is despite the fact that revenues and income have waned in recent months as seen in the graph below.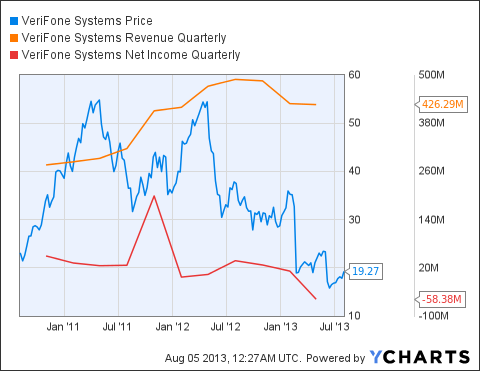 PAY data by YCharts
VeriFone now trades at a market capitalization of $2.09 billion at its current price of $19.27. The company carries a fair price-to-book ratio of 1.62 and a price-to-sales ratio of 1.14. Looking forward, the company now trades with a forward price-to-earnings ratio of 12.76 based on analyst expectations of $1.51 in 2014.
Overall, the company remains cash-flow positive. Cash flow from operating activities actually rose to $79.2 million as of April 30, from $53.4 million as of January 31. The company holds total current assets of $1.14 billion as of the last quarter and carries $1.21 billion in long-term debt. The majority of the company's assets are tied to goodwill and intangible assets, which add up to $1.85 billion as of the last quarter.
Conclusion
Overall, VeriFone remains far from undervalued or cheap. The company is in a less than ideal situation in which it must aggressively contend against growing competitors and rethink the way it does business. All of this must be done on a balance sheet that is far from robust. Nevertheless, insiders remain confident of the company's future as witnessed by their willingness to increase their holdings. The problems are known and are now being addressed. Investors might want to wait for signs of operational improvement before considering the company further.
Disclosure: I have no positions in any stocks mentioned, and no plans to initiate any positions within the next 72 hours. I wrote this article myself, and it expresses my own opinions. I am not receiving compensation for it (other than from Seeking Alpha). I have no business relationship with any company whose stock is mentioned in this article.