About three weeks ago, Bank of America (NYSE:BAC) demolished expectations on both lines, reporting Q2 EPS of $0.32 and revenue of $22.9B. The bank's second-quarter profits skyrocketed, up 70%, assisted by cost cutting and investment banking. Bank of America, the second-biggest bank in the country, managed to cut expenses about 6%. It cut about 18,000 jobs and reduced total employees by about 11%.
I wrote about buying Bank of America in my article "5 Simple Reasons" after earnings, and am writing again to present three more arguments that reaffirm my bullish sentiment on Bank of America going forward.
Here's how Bank of America has fared over the last six months: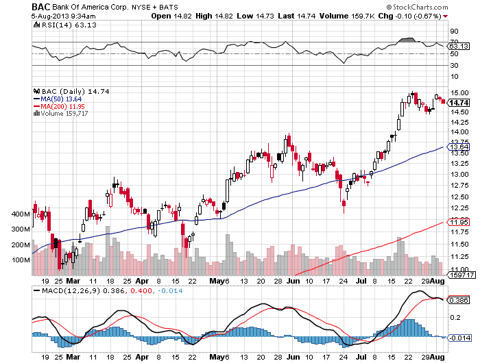 Click to enlarge
I argued in a previous article, that due to the technicals, Bank of America was likely to soar to $16-$18 if it reported well last quarter and broke the $14 mark consistently. Having bounced off it's resistance at $15 last week, it looks like BAC is going to condense in this area before making it's next move upward. I'm contending that BAC is a great short-term buy until $16-$18 and also a great long-term buy as it's a staple of the banking sector that's likely to increase its dividends.
Investors in BAC have cleaned up, yielding 98.8% over the last twelve months, 27.2% since the beginning of 2013, and 20.7% over the last three months. With those types of returns, coupled with its dividends, BAC is very attractive to a lot of investors looking to get into the banking industry.
Here's three more reasons, in addition to my previous ones, that I think BAC is a strong buy at these levels.
1. Bank Sector Improves In the Face of Fed's Taper
Make no mistakes about it, the Fed is going to be the single biggest catalyst for how banks perform in the upcoming year. Banks, as a whole, have shown significant strength through this past earnings season, even in the midst of the Fed alluding to the fact that they're going to start tapering their bond buying as soon as this fall.
As I stated in my previous article, "Banks Going Bananas":
It's been an exciting and interesting season in earnings for banks. Earnings reports have been exceeding expectations by far, but some confidence for the future wanes due to high interest rates affecting mortgages - and some profits rose due mostly to curbing expenses. Last week we heard from three notable banks, all of whom had decent results to report.

Wells Fargo (NYSE:WFC) had an outstanding quarter, attributable mainly to a drop in expenses.

Wells Fargo, like JPMorgan (NYSE:JPM), stated they were preparing for a decline in mortgage activity due to interest rates.

Commerce Bancshares (NASDAQ:CBSH) also had a "decent" second quarter. Although revenue came in a bit light, it was due to securities losses that made the quarter look at bit worse than it was. Its lending growth - a nod towards the future - was up considerably.

This past Monday, Citigroup (NYSE:C) set the tone for the banking sector for the week - bullish. Citigroup's stock bumped up 2% on the day Monday, pushing it to a record high.

Additionally, on Wednesday morning, Bank of America (BAC) demolished expectations on both lines, reporting Q2 EPS of $0.32 and revenue of $22.9B.
Some have argued that this Fed taper is already priced into the market, so if this argument holds up, what we have witnessed is essentially the banks "weathering the storm" of the taper already. CNBC reported:
Wall Street is braced for the Federal Reserve to begin reducing the amount of its asset purchases as soon as the fall and believes that most-but not all-of the action is already priced into markets.

The 50 respondents to the July CNBC Fed Survey see the Fed reducing quantitative easing in October on average, compared with December in the prior survey.

The most popular response was September, chosen by 48 percent of respondents. On average, Wall Street expects the $85 billion of monthly purchases by the Fed to be reduced by $19 billion.
As the banking sector comes out of this stronger than ever, the climate will be right for confident investors to put more money into banks, and BAC will continue to grow.
2. Surprisingly Good Earnings & Recovering Housing Market
Q2 was an enormous surprise to analysts and the markets, no matter how you spin it. BAC reported a 70% increase in profits, primarily through cost cutting measures. They grew revenue just 3.5%, however.
As SA Contributor Alex Jordon stated in his article, "Bank of America Set to Bounce Back":
Closing the second quarter for 2013, however, BAC surprised all the experts and market watchers by posting a 70 percent jump in net profit in Q2. This sizable jump was attributed to cost-cutting imposed internally by the banking giant, which only had a 3.5 percent growth in gross revenue, and it paid off. Comparable performances from banking peers had greater gross revenue figures, but BAC was able to shave off 6 percent from its operating expenses, which made a big bottom line difference. Part of this savings figure came from two big sources - no longer paying out $1 billion in litigation expenses and some came from the layoff of 18,000 employees nationwide. The cutting effort has been part of a cost reduction program begun in 2011 with a target of $8 billion in savings per year. Reaching this figure has been an incremental process of cuts at a rate of $1.5 billion per quarter by Q4. The effort has shown in increasing net profit from quarter to quarter.
Probably the most important thing pointed during earnings was that the cost cutting initiative that the company started in 2011 is, according to the company, on track. This plan scales back costs up to $1.5 billion per quarter until the end of 2013.
Also, in the future, the bank's success is going to be predicated a lot on how the housing market bounces back. After the 2008 crisis, the bank significantly backed off the amount of new mortgage loans they were offering. As the housing market has gained strength of late, so has BAC. Since home sales continue to offer positive growth, it's likely that Bank of America will follow them, trending upwards in profits in this area.
3. Forward Looking Innovation Through Automation
Bank of America announced in a press release this morning that they're adding a more efficient way to process credit card applications. From their press release:
Many companies today process hundreds if not thousands of card applications per month. Done manually, the processing is vulnerable to human error when incorrect information is keyed into card management tools. Furthermore, correcting the errors results in loss of valuable employee time. By allowing cardholders to input their information directly, Bank of America Merrill Lynch is helping companies to significantly reduce both the potential for errors as well as the time taken to identify and correct the mistakes. Online Account Request offers companies the ability to create robust process controls by establishing electronic approval workflows. These processes have the capacity to be audited years after the card has been created.

Online Account Request will be an essential tool for card program administrators and treasury departments to improve efficiency and accuracy in a company's cardholder application processes, explained Kevin Phalen, head of Global Card and Comprehensive Payables in Global Transaction Services. "The new functionality is another demonstration of Bank of America Merrill Lynch's commitment to support our clients' success and develop solutions that directly solve their day-to-day challenges," he stated.
This falls in line with some of the other moves that BAC has been making over the past few years to "go automated" in several respects. This is after the April announcement of Bank of America's new ATMs, which come with a "personal touch" - the bank's new "Teller Assist" function, that offers similar options to the ones customers have while dealing with a human teller. BAC's press release detailed some of the features of their new ATMs:
ATM with Teller Assist, which will offer bilingual support in both English and Spanish, offers customers many of the services a traditional banking center teller would, including the ability to:

Cash checks for the exact amount, including receiving change.
Receive cash withdrawals in a variety of denominations ($1, $5, $20 and $100).
Deposit checks with cash back (future functionality).
Split a deposit into two or more accounts (future functionality).
Make loan or credit card payments (future functionality).

"We know that customers want to bank on their schedule - not ours - so we are constantly looking at how to deliver more convenient banking options to them," said Katy Knox, Retail Banking and Distribution executive at Bank of America. "This technology gives customers easy, convenient access to ATM banking services with the added option of having a personal interaction and the support of a teller available at the push of a button."
Bank of America has consistently been making strides to go automated in its entirety, in terms of banking; similar to the way tons of food stores now have implemented self-scan devices for checkout. The more machines in place, the more automation, the less tellers needed, the less the bank spends. This has been an initiative that the bank has been working on for the past few years, and it's my contention that this forward looking "automation innovation" is going to yield the bank tangible results in terms of cost cutting and general efficiency in the future.
Conclusion
Bears would point out that BAC has been consistently trading at a higher P/E multiple than most of its competitors. Wall street cheat sheet reports:
Because of the difficulty in valuing bank stocks, it is a useful exercise to compare Bank of America to its chief competitors: Citigroup (NYSE:C), Wells Fargo (NYSE:WFC), and JP Morgan Chase(NYSE:JPM). Bank of America is trading at a higher price-to-earnings multiple than all of its competitors besides Wells Fargo. This premium, however, does not seem justified. According to analyst estimates, Bank of America has the lowest projected earnings per share of the four banks. This estimate could improve depending on how "New BAC"-a several billion dollar cost-cutting initiative-goes this year. While Bank of America has taken great strides to right itself after the financial crisis, both Citigroup and JP Morgan are much more attractive on paper, and unlike B of A, they are free from current legal woes.
However, as BAC leaves its legal troubles behind it, with a focus on fundamentals and cost cutting, I'd argue that this company is going to remain lean & clean for investors going forward. Fueled by its innovation, steady dividend and the recovering housing market, QTR reaffirms that BAC should be a buy at these levels. As always, best of luck to all investors.
Disclosure: I have no positions in any stocks mentioned, but may initiate a long position in BAC over the next 72 hours. I wrote this article myself, and it expresses my own opinions. I am not receiving compensation for it (other than from Seeking Alpha). I have no business relationship with any company whose stock is mentioned in this article.