Ford (NYSE:F) continued to seize upon its positive momentum, posting terrific second quarter results. Revenue surged 16% year-over-year to $36 billion, easily exceeding consensus estimates. Pre-tax profit surged to a record high level of $2.6 billion, which translates to operating income of $0.45 per share-50% higher than the same period a year ago and well above consensus estimates. Automotive-related operating cash flow registered $3.3 billion compared to $0.8 billion during the second quarter of 2012.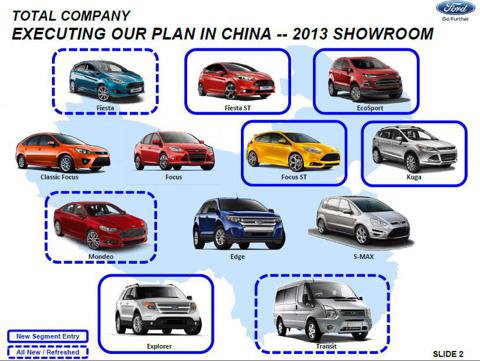 Image Source: F 2Q 2013 Investor Slides
Ford's execution was superb across the board, particularly in China, where we've seen several new models hit showrooms. Strong results in China led to much stronger results in Ford's Asia Pacific Africa segment where revenue rose 30% year-over-year to $3 billion. Profit followed suit, swinging from a loss of $66 million to a pre-tax profit of $177 million. The segment's 5.8% operating margin was slightly below the company average, but we're seeing stronger-than-expected improvement on this front. CEO Alan Mulally is incredibly bullish about Ford's future in China, and the strong growth patterns we've seen certainly support his (and our) optimism. In our view, secular demand should be able to overcome a weaker-than-anticipated economic growth rate in the country.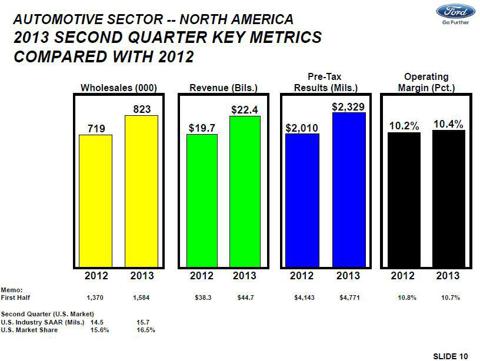 Image Source: F 2Q 2013 Investor Slides
To no surprise, North America was the key profit driver at Ford during the second quarter as the firm capitalized on robust demand growth in the US. Revenue jumped 14% year-over-year to $22.4 billion, while pre-tax operating profit increased 16% year-over-year to $2.3 billion. Operating margins, which Ford forecasted to be flat, actually increased 20 basis points year-over-year to 10.4%. Ford sold more hybrids in the first five months of 2013 than it sold during all of 2012. The firm also made $800 million in discretionary payments to its underfunded US pension commitments, and we suspect the underfunded status is materially better now than it was at the beginning of the year (especially given market performance).
For the most part, US automotive OEMs appear to be acting rationally with respect to pricing, which CFO Bob Shanks identified as a driver of the higher incremental profits. Solid industry pricing and fantastic F-series sales should help keep Ford's North American unit churning out a very nice profit in the coming quarters.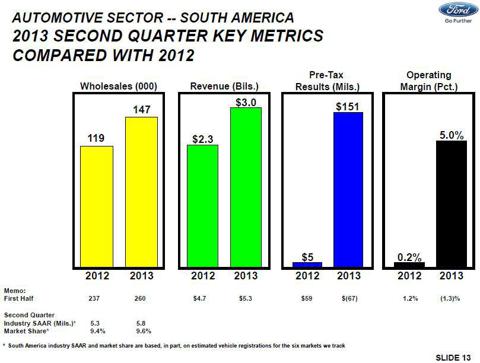 Image Source: F 2Q 2013 Investor Slides
South America showed strong second quarter performance compared to the unprofitable first quarter. Revenue jumped 30% year-over-year to $3 billion, while profit surged to $151 million versus a profit of just $5 million during the second quarter of 2012. Management doesn't have very high expectations for the back-half of 2013 with weakening economic conditions in Brazil and uncertainty in Argentina. Nevertheless, we'd consider any increase in profitability as additional upside not embedded in our forecast.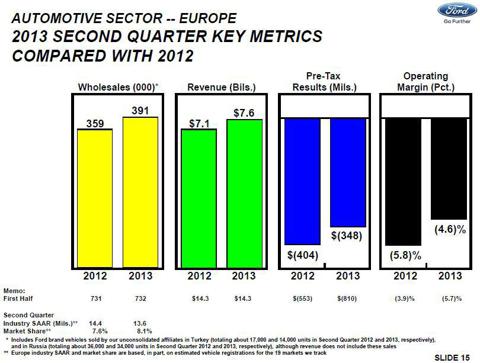 Image Source: F 2Q 2013 Investor Slides
Europe has been a drain on Ford's cash, but the region has been a poor-performer for every other automaker, too. Revenue surprisingly increased 7% year-over-year to $7.6 billion as the firm grabbed 50 basis points of market share. The firm's loss in the quarter improved substantially to $348 million as the firm lost less money on the vehicles it sold. Chief Operating Officer (and heir apparent at CEO) Mark Fields added that fixed costs for Europe will accelerate, saying on the conference call:
"…we've mentioned before that as we look at the transformation plan in Europe that our structural costs over time will actually increase and that's to support our growth strategy. And as part of that will be the cost associated with moving products around as you mentioned down to Valencia as well as Saarlouis to make sure that we can continue to produce those products in a more efficient footprint."
Shanks also mentioned that Europe is on-track to be profitable by 2015, a bit earlier than we expected. Ford Credit also delivered superior pre-tax operating profits of $454 million.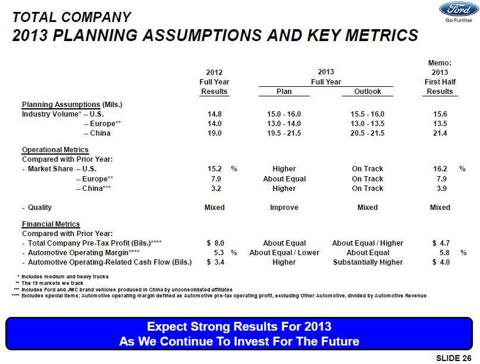 Image Source: F 2Q 2013 Investor Slides
Although Ford doesn't provide traditional sales and EPS guidance, management does provide a useful planning outlook (shown above) that suggests operating cash flow will be substantially higher than it was in 2012. We're pleased with guidance, and we would not be surprised to see the US outperform expectations. With cash flow continuing to grow, Ford could opt to return more cash to shareholders, likely via dividends.
Valuentum's Take
Ford is doing a fantastic job both operationally and financially. The firm continues to de-risk its pension obligations and generate stronger cash flow. Most importantly, we think the company is investing in making wonderful cars that consumers want. Such will be paramount for Ford to avoid getting into the precarious position it was in before the onset of the Great Recession. Ford remains a core holding in our Best Ideas Newsletter portfolio, and we see additional upside from current levels.
Disclosure: I have no positions in any stocks mentioned, and no plans to initiate any positions within the next 72 hours. I wrote this article myself, and it expresses my own opinions. I am not receiving compensation for it (other than from Seeking Alpha). I have no business relationship with any company whose stock is mentioned in this article.