The headline on this New York Times piece may be a bit oversold, but it would appear that Berkshire Hathaway (NYSE:BRK.A) and Warren Buffett are taking a cautious approach to investing in equities now. In fact, fixed income seems to be getting quite a bit of attention from them right now, along with selected stocks. Also, I imagine he is doing some pruning now that many holdings have bounced back from their lows [emphasis added]:
Closely Watched Buffett Recalculating His Bets (New York Times, September 7, 2009, Graham Bowley)
…When so many others were running scared last autumn, Mr. Buffett invested billions in Goldman Sachs (NYSE:GS) — and got a far better deal than Washington. He then staked billions more on General Electric (NYSE:GE). While taxpayers never bailed out Mr. Buffett, they did bail out some of his stock picks. Goldman, American Express (NYSE:AXP), Bank of America (NYSE:BAC), Wells Fargo (NYSE:WFC), U.S. Bancorp (NYSE:USB) — all of them got public bailouts that ultimately benefited private shareholders like Mr. Buffett.
Buffett Beats Out U.S. Treasury on Goldman Deal
I wrote last Fall that the way to bail out the banks was not to have the U.S. Treasury invest directly. Instead, a better plan would have been for the Treasury to create a structured investment with Warren Buffett or Bill Gross or both in charge of structuring the deal.
In this approach, the government would give private investors a significant tax break on any capital invested in approved banks. Then, the government would step aside and let private investors put in capital as they see fit. In this scenario, investors would have gotten a good deal, banks would have gotten the capital they need and the U.S. Treasury would not have been on the hook for anything.
To see why this would have been better, here is a comparison of how Buffett's Goldman Sachs deal compares to the Treasury's Goldman Sachs deal. This chart from Barry Ritholtz's excellent blog illustrates the points made in a fascinating Bloomberg piece (see below):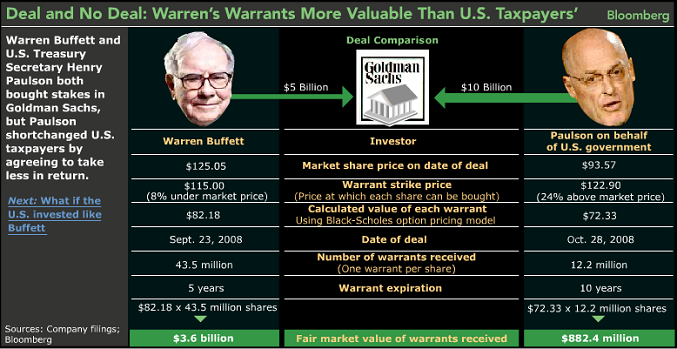 Source: Barry Ritholtz
Stop the presses! Warren Buffett outsmarted the U.S. Treasury. Can you imagine that? This piece from Bloomberg gives the details on how poorly the U.S. Treasury fared in its bank investments versus Warren Buffett's investment in Goldman Sachs [emphasis added]:
Paulson Bank Bailout in 'Great Stress' Misses Terms Buffett Won (Bloomberg, January 10, 2009, Mark Pittman)
Henry Paulson's bank bailouts, done under "great stress" during the worst financial crisis since the Great Depression, failed to win for U.S. taxpayers what Warren Buffett received for his shareholders by investing in Goldman Sachs Group Inc.

The Treasury secretary made 174 purchases of banks' preferred shares that include warrants to buy stock at a later date. While he invested $10 billion in Goldman Sachs in October, twice as much as Buffett did the month before, Paulson gained certificates worth one-fourth as much as the billionaire, according to data compiled by Bloomberg. The Goldman Sachs terms were repeated in most of the other bank bailouts…
So, score one for Warren Buffett. Of course, it did not take a lot of intellectual firepower to figure out that Buffett would strike a better bargain than the hapless U.S. Treasury. After all, the Treasury is just a massive government agency with many billions to invest, not to mention having the power of the government behind it. And, Buffett is just a smart businessman.
The New York Times continues:
If Mr. Buffett picked well — and, so far, it looks as if he did — his payoff could be enormous. But now, only a year after the crisis struck, he seems to be worrying that the broader stock market might falter again. After boldly buying when so many were selling assets, his conglomerate, Berkshire Hathaway, is pulling back, buying fewer stocks while investing in corporate and government debt. And Mr. Buffett is warning that the economy, though on the mend, remains deeply troubled…
I'm not convinced that this piece is correct in that Buffett and Berkshire are seemingly making a market timing call, but rather I think they are repositioning the portfolio by jettisoning holdings in which they have lost confidence. The poster child for that would no doubt be Moody's as the New York Times' piece correctly deduces:
…Mr. Buffett seems to be retrenching a bit. Like so many people, he was blindsided by the blowup in the housing market and the recession that followed, which hammered his holdings of financial and consumer-related companies. He readily concedes he made his share of mistakes. Among his blunders: investing in an energy company around the time oil prices peaked, and in two Irish banks even as that country's financial system trembled.

Mr. Buffett declined to predict the short-run course of the stock market. But corporate data from Berkshire shows his company was selling more stocks than it was buying by the end of the second quarter, according to Bloomberg News. Its spending on stocks fell to the lowest level in more than five years, although the company is still deftly picking up shares in some companies and buying corporate and government debt.

Among the stocks Mr. Buffett has been selling lately is Moody's, the granddaddy of the much-maligned credit ratings industry. Berkshire, Moody's largest shareholder, said last week that it had reduced its stake by 2 percent…
If I were a Moody's shareholder, this would worry me a lot. The future for credit ratings agencies such as Moody's is troubled indeed. But, despite problems with Moody's, Berkshire had a 'bang-up' second quarter and I suspect the third quarter will be very good as well. Bloomberg reported early last month that Berkshire Hathaway had a blockbuster quarter [emphasis added]:
Berkshire May Post Blockbuster Result (Bloomberg, August 6, 2009, Erik Holm)
Berkshire Hathaway Inc., with a stock portfolio valued at more than $60 billion, may report its best quarter in at least two years using the metric preferred by the firm's billionaire chairman, Warren Buffett….Berkshire's book value per share, the measure highlighted by Buffett in the first sentence of his annual letter to shareholders, has declined in four of the past five quarters, and 2008 marked only the second time since Buffett took over in 1965 that it dropped for a full year.

In his "owner's manual" for Berkshire shareholders, Buffett says he considers the figure to be an objective substitute for the best measure of the Omaha, Nebraska-based firm's success: a metric he calls intrinsic value.

…"Intrinsic value is an estimate rather than a precise figure," Buffett wrote in the manual on Berkshire's Web site. "The percentage change in book value in any given year is likely to be reasonably close to that year's change in intrinsic value."

The value of shares Berkshire reported holding as of March 31 increased 23 percent in the second quarter…
My general takeaway from this piece is that Buffett is repositioning the portfolio as I stated above. Second, I think there are excellent opportunities in government and corporate bonds and those are attractive enough to get some of Berkshire's capital. That's a no brainer. Lastly, I think Buffett is doing exactly what he says he does, 'get greedy when others are fearful and fearful when others are greedy.'
Full Disclosure: Kurt Brouwer owns Berkshire Hathaway (NYSE:BRK.B)