In April of this year, I wrote an article titled "Major Problems With ZAGG". I was heavily criticized for my negative view point from ZAGG loyalists. I think ZAGG (NASDAQ:ZAGG) makes great products, but I felt ZAGG was struggling from a lack of innovation and channel distribution. A large part of the analysis was a "gut feel", from the sales initiatives ZAGG was implementing. In 3 months, ZAGG has dropped from $7.30 a share to $4.93 a share. There is value in recognizing the intangibles as well as the tangibles of a company. ZAGG may be entering oversold territory, and providing a good entry point. We need to understand first why ZAGG has depreciated so much.
Second Quarter Results
Second quarter results compared to the previous fiscal year have decreased substantially. While net sales have decreased, gross margins have also decreased resulting in lower profits per share.
| | | | |
| --- | --- | --- | --- |
| | 2nd Quarter FY2013 | 2nd Quarter FY2012 | % change |
| Net Sales | $51.2 million | $61.6 million | -17% |
| Gross Margins | 42.1% | 46.1% | -9% |
| EPS | $0.09 | $0.18 | -50% |
Mobile Industry
ZAGG has historically followed the movements of Apple, as many accessories are made specifically for this product line. It only goes to reason that ZAGG's revenue is tied to Apple and the overall mobile device industry.
Sony has seen a 30% increase in smartphone sales, and Apple has increased smartphone sales with the iPhone.
Apple's (NASDAQ:AAPL) 3rd quarter was a record for iPhone sales. As stated in the last quarter's earnings release:
The Company sold 31.2 million iPhones, a record for the June quarter, compared to 26 million in the year-ago quarter. Apple also sold 14.6 million iPads during the quarter, compared to 17 million in the year-ago quarter. The Company sold 3.8 million Macs, compared to 4 million in the year-ago quarter.
| | | | |
| --- | --- | --- | --- |
| | FY2013 last quarter | FY2012 quarter | % change |
| Apple (iPhone) | 31.2M | 26M | 20% |
| Apple (iPad) | 14.6M | 17M | -14% |
| Samsung | 76M | 48.7M | 56% |
| Sony | 9.6M | 7.4M | 30% |
IDC has estimated that Apple has lost market share to other mobile device manufacturers. Considering iPhone and iPad sales together, this is very realistic.
It has been widely reported that recently, sales have been weaker than expected. While overall this may be true, this can be a positive for ZAGG. From the mobile device sales graphic below, growth has slowed down. Rarely do industries exhibit perfectly linear growth, and I feel we are witnessing a plateau rather than a slowdown. Due to the cyclical nature of smartphone releases from Apple and Samsung (OTC:SSNLF) growth should increase in ZAGG's favour. Currently Broadcom (BRCM), a major supplier to Apple and Samsung has seen weakness in this sector as reported in its last quarter financial results. Analysts have predicted that sales for Samsung may be reduced by as much as 30%. While 30% is probably overdone, the trend is for the change in sales to be negative.
Considering iPhone sales with iPad sales, growth has been relatively flat. This would imply some correlation with ZAGG's recent sales numbers as invisibleSHIELD sales dropped to 38% from 41% of overall sales.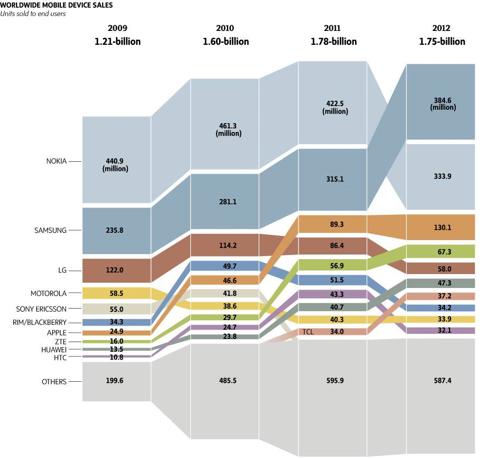 Source: GartnerNote
A major concern is the saturation in the high end smartphone market and the drive to meet a growing demand in the mid to low end smartphone market. Since ZAGG sells product aimed at protecting the newly purchased smartphone, customers are less likely to purchase ZAGG products as the smartphone cost falls. A $50 add-on for a $90 smartphone is rather pricey.
iFrogz
The new iOS 7 platform is introducing a gaming controller API. This will allow PlayStation and Xbox like controllers, to be used to play video games on the iPad and iPhone. Currently BlackBerry (NASDAQ:BBRY) has this functionality built into BB10 mobile devices, but this technology is in its infancy. ZAGG has an opportunity with the iFrogz Caliber Advantage, available this fall for $59.99. As processor speeds increase and wafer sizes decrease, the mobile device as a gaming platform becomes more viable. I personally have played a couple of games from Electronic Arts (NASDAQ:EA), and they are robust and smooth with 3D engines.
ZAGG continues to release new products with the iFrogz Coda Forte wireless Bluetooth headphones and the ZAGGkeys Universal keyboard. These new products will satisfy a niche market, bringing a refresh for the product line. While the continuous innovation is important to maintain revenue, I do not anticipate these new products to materially change the top line numbers.
Last year iFrogz Audio represented 15% of net sales, and this has increased to 21% of net sales for this quarter. With the announcement of new iFrogz products from ZAGG, this number should continue to increase and provide additional revenue.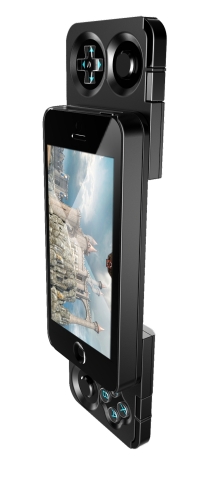 Catalyst
From the data mentioned previously, sales of the new Apple iPhone running iOS7 should increase sales dramatically. Many users have skipped the iPhone 5 upgrade cycle, and would be in a contractual position to upgrade their hardware. Additionally, there have been discussions about Apple releasing a mid-tier priced iPhone for the emerging market. As many customers in emerging markets utilize their disposable incomes on smartphones, instead of other electronics, opportunities exist to turn the iPhone into a full multimedia device.
Conclusion
I still have reservations on management and their channel distribution as mentioned in my previous article, but this should be overshadowed by the increase in sales for the fall. It is important for management to capitalize on the new smartphone releases, and their execution plan appears to be on track for the fall.
The stock price appears oversold, especially given the near term catalyst coming this fall. A long term estimate is much harder given ZAGG's previous financial results and the mobile device industry in general. For the next 6-12 months a target price of $7-$8 would be reasonable, resulting in a 60% upside for shareholders. Over the long term I would have more reservations on the share price.
Disclosure: I am long BBRY, BRCM. I wrote this article myself, and it expresses my own opinions. I am not receiving compensation for it (other than from Seeking Alpha). I have no business relationship with any company whose stock is mentioned in this article.