Remember when Coach (NYSE:COH) was the fashion growth stock you had to own a few years ago, as its international growth accelerated and China's upper middle class citizenry was buying its designer handbags like they were going out of style? That growth story paid off handsomely if you invested in it. From the March 2009 lows near $11.50, Coach shares returned nearly seven times in the three years to March 2012. But the story started to go south a year ago, and it hasn't gotten much better lately.
Ahead of Coach's full-year fourth-quarter report last week, analysts were already taking earnings estimates down. This forced COH shares to earn a Zacks No. 4 Rank (Sell) on July 16.
Drop That Bag
Following Coach's report on July 30, which took the stock down over 8% from $58 to $53, more analyst downward revisions to the earnings outlook handed the company a Zacks No. 5 Rank (Strong Sell) on Aug. 1. North American sales, which account for 63% of Coach's total sales, were the major factor behind this setback. Same-store sales declined by 1.7% in the latest quarter.
The drop in sales of women's handbags in the North American region is at the root of the company's problems. This was not an isolated event, as a fall in comparable-store sales occurred for the second time in three quarters. The Zacks proprietary Price & Consensus chart below tells the tale of a steadily deteriorating profit outlook for the past year, which picked up downward momentum into July.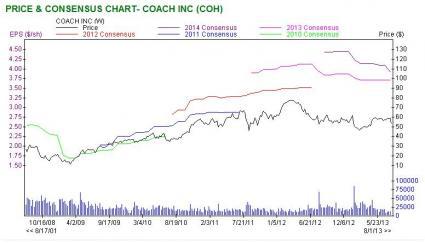 Fashion Warfare
It seems the company has lost some ground to young shoppers who are well informed about current fashion trends. The company's executives accepted this criticism during the conference call. In fact, Coach expects only a low-double-digit percentage increase in sales of handbags and accessories in North America.
With aggressive, youth-oriented designers to compete with like Vera Bradley (NASDAQ:VRA) and Michael Kors (NYSE:KORS), the handbag wars are taking their toll on the more staid Coach designs. And the situation has been compounded by the departure of several key managers. President for North America Mike Tucci, a 10-year veteran, and COO Jerry Stritzke (five years) said they will be quitting the company next month. Such departures are a matter of deep concern as the company tries to reposition itself as a lifestyle brand and attempts to expand into clothing, jewelry, and shoes.
This Year, the Purse Goes to KORS
While the appeal of the Coach brand and the company's staying power in fashion are not in question, the current sales outlook certainly is. The company may have some reinvention to do to regain the hearts and minds of the fashionistas, and that will take time.
In the meantime, just watch the Zacks Rank to tell you when Wall Street retail analysts who intensely follow all these companies and trends have decided the comeback is for real. Their upward revisions to earnings estimates will show up and make the stock a buy again. Until then, KORS appears to be running away with their customers. In full disclosure, I don't follow fashion trends and retail stocks intensely. But I do own two Kors ties, and the stock.
Coach: Free Stock Analysis Report (email registration required)
Michael Kors: Free Stock Analysis Report (email registration required)
Vera Bradley: Free Stock Analysis Report (email registration required)