Looking for another way to play rising interest rates besides buying banks? How about the world's largest futures exchange, which handles over $3 trillion worth of interest rate derivatives contracts every day?
CME Group (NASDAQ:CME) created the world's largest market place for yield curve hedging by institutions and corporations when it bought the Chicago Board of Trade a few years ago. This brought 30-year Treasury bond and 10-year Treasury note futures under the same roof as CME's flagship interest rate product, Eurodollar futures.
What's a Eurodollar?
Eurodollar futures are a vehicle designed to allow banks, companies, and other financial entities with lending or borrowing risk exposure to hedge short-term rates on U.S. dollars on deposit overseas. London is the home of the cash market for trading dollars in foreign banks, and thus Eurodollar interest rates are closely related to the London Interbank Offered Rate (LIBOR). At CME, quarterly futures contracts are available going out 10 years so that institutions can create complex hedging programs that cover many types of interest rate risk, from corporate loans that may not commence for many quarters to large bank mortgage portfolios with sophisticated duration exposures.
Because each Eurodollar contract represents $1 million in exposure, when CME trades 2.35 million futures and over 600,000 options on futures in this product in a given day (Q2 average daily volumes), this combined with Treasury futures volume creates the $3 trillion in notional value that represents the exchange's importance to the world's banking and derivatives markets. And when the yield curve starts to move, these trading volumes ramp up as volatility and uncertainty increase. For comparison, Q2 2012 average daily volumes were 1.7 million Eurodollar contracts and 1.2 million 10-year note contracts traded (vs. 1.6 million this year in Q2).
Turnaround in Progress
What has this volume surge done for CME's earnings outlook? Take a look at the Zacks custom Price & Consensus chart below, which plots annual estimate changes against price.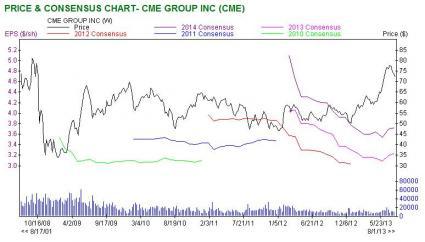 Clearly, many investors were scooping up CME shares this year before the estimates turned enough to make it a Zacks No. 1 Rank (Strong Buy) on July 20. But the Zacks Rank was effective in keeping you out of the stock as it wallowed between $50 and $60 for nearly a year. In mid-2012, CME became a Zacks No. 5 Rank (Strong Sell) as earnings estimates began a downward trajectory. It remained a No. 5 or No. 4 Rank (Sell) throughout the rest of the year and into February 2013.
Then, in March, it stabilized at a No. 3 Rank (Hold) around $62. And on July 2, it became a Zacks No. 2 Rank (Buy) for the first time in over 20 months. CME reported second-quarter results last week on Aug. 1, and we are still waiting to see if analysts are going to adjust their earnings estimates up or down after the company beat expectations but guided Q3 lower. This will be the key data that determines whether the stock remains a No. 1 Rank.
From Bellies to BTUs
I've followed the business of CME for nearly two decades, ever since I first walked onto its trading floors in 1994. I've watched it transform from an open-outcry auction venue for price discovery in the raucous pits to a Pentagon-caliber electronic fortress for global risk management handling billions of dollars worth of hedging and speculation every second amid all asset classes. CME Group, the new name for the company after the CBOT acquisition, has a rich history of commodities trading, dating back to the invention of forward grain contracts in the 1840s in Chicago. When I was on the trading floor, I had the opportunity to work in the infamous Pork Belly pit.
The century of success with agricultural products and the flawless fiduciary responsibility of the Clearing House led to innovations with financial products like currency futures and stock indexes, such as the popular E-mini S&P contract. And the acquisition of the New York Mercantile Exchange gave CME Group ownership of the energy arena.
A Financial-Infrastructure Powerhouse
What I realized years ago is that CME, "where the world comes to manage risk" in all these asset classes, is as much a technology company as a financial one. All exchanges, including CBOE or NYX, have to be masters of technology, just like Amazon (NASDAQ:AMZN), UPS (NYSE:UPS), or Visa (NYSE:V). CME also has the potential to benefit more from OTC interest rate and commodity swap transactions being moved to an exchange clearing house model. With over $600 trillion in OTC derivatives out there, there is big opportunity for CME right in their own "wheelhouse."
Combine their technology mastery with Clearing House integrity, product innovation, and international growth opportunities and you have a stable and vital franchise -- a utility of finance, you could say -- that can grow transaction volume even without volatility. It just so happens that right now, CME could be riding the wave of higher trade volumes from higher yield curve shifts for many quarters to come.
Amazon: Free Stock Analysis Report (email registration required)
CBOE Holdings: Free Stock Analysis Report (email registration required)
CME Group: Free Stock Analysis Report (email registration required)
UPS: Free Stock Analysis Report (email registration required)
Visa: Free Stock Analysis Report (email registration required)