TransCanada's (NYSE:TRP) Keystone-XL pipeline proposal has been delayed so long by the current administration that it may no longer matter. Recent comments by Bakken and oil sands producers that takeaway capacity is no longer an issue prove that rail and other pipeline capacity has increased such that the need for XL may be inconsequential.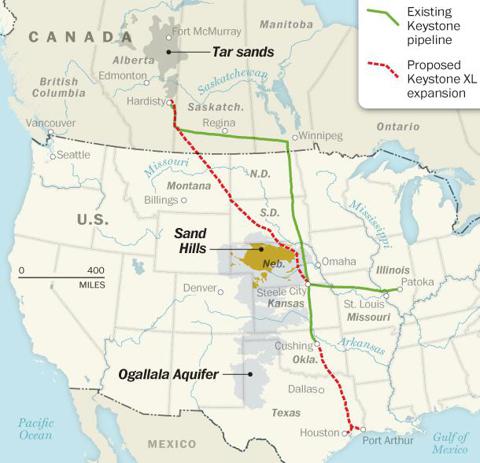 On the company's Q2 conference call, oil sands producer Suncor Energy's (NYSE:SU) CEO Steve Williams was quite adamant about investors' worrying over takeaway capacity:
For Suncor, access to markets is simply not an issue. We have ample market access to handle current production and future growth.
Williams repeated the statement twice for emphasis.
Likewise, during its Investor Day presentation, Bakken producer Enerplus (NYSE:ERF) reported takeaway capacity in the Bakken now exceeds production by 50%. Keystone-XL was to have reserved partial capacity for Bakken crude. If a small Bakken producer like Enerplus can easily obtain transport capacity, I am sure big players like Continental Resources (NYSE:CLR) and Whiting Petroleum (NYSE:WLL) are having no production-exit problems at all.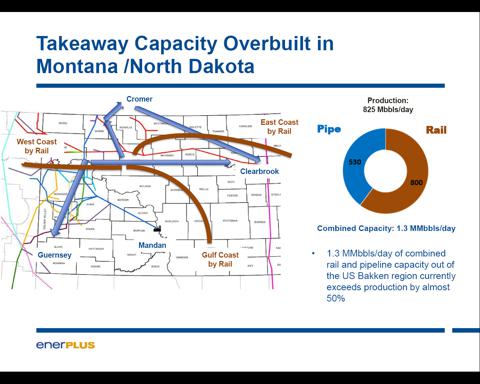 Meantime, Enterprise Product Partners' (NYSE:EPD) Seaway pipeline from Cushing to the Gulf Coast is already operational. Enterprise recently reported flows averaged 300,000 bbls/day during Q2. That is 100,000 bbls under capacity. About 30% of flows was heavy crude, according to the company. Seaway is a 50/50 joint venture between EPD and Enbridge Inc. (NYSE:ENB).
As The Wall Street Journal reported back in July, the long awaited drawdown in Cushing appears to have begun. Proof has come in the narrowing of the Brent/WTI spread: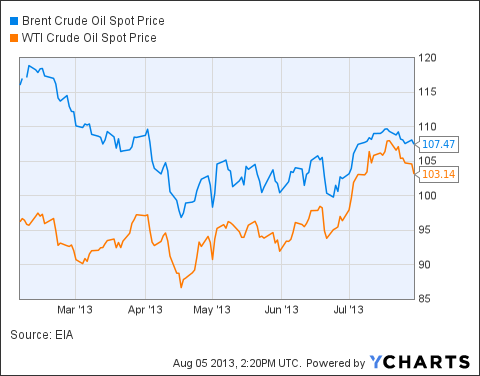 Brent Crude Oil Spot Price data by YCharts
US Energy Policy
The delay of the XL pipeline turned into a political and environmental football. As many experts predicted, the oil would get to market one way or another because American drivers needed the gasoline and diesel and domestic refiners would figure out a way to deliver it to them. That has happened. So instead of having a cheaper, more environmentally secure method of delivery (i.e., the XL pipeline), we now have a more expensive and risky delivery methods (i.e., rail). That said, rail logistics are advantaged due to their point-to-point delivery capability.
Natural Gas Transportation
Instead of focusing on the XL pipeline, environmentalists would have been better served by lobbying the administration to adopt strategic natural gas transportation policies as have the EU, China, and Russia. If reducing CO2 emissions is a priority, NGVs reduce them by ~30 over gasoline and diesel vehicles. If toxic particulate emissions are a priority, NGVs reduce those by 100%. If cheaper energy for ordinary Americans is a priority, natural gas is anywhere from $1-2.50 cheaper than gasoline, depending on your location.
Summary and Conclusion
With the advent of new takeaway capacity, the tide has turned in terms of landlocked crude oil prices. This is an important and very bullish development for a slew of oil sands and Bakken producers. In addition to the aforementioned SU, CLR, WLL, and ERF, I would add Kodiak Oil & Gas (NYSE:KOG), Cenovus (NYSE:CVE), ConocoPhillips (NYSE:COP), and Canadian National Resources (NYSE:CNQ) to the group. Meantime, I am sure heavy lobbying pressure from domestic railroad companies is a factor in the administration's permit delay. Could it be that TransCanada's dream of constructing Keystone-XL will never come true? Time will tell. US energy policy almost never does what I expect. The ridiculous ethanol mandates are exhibit #1.
Disclosure: I am long SU, COP, WLL. I wrote this article myself, and it expresses my own opinions. I am not receiving compensation for it (other than from Seeking Alpha). I have no business relationship with any company whose stock is mentioned in this article.
Additional disclosure: I am an engineer, not a CFA. The information and data presented in this article was obtained from company documents and/or sources believed to be reliable, but has not been independently verified. Therefore, the author cannot guarantee its accuracy. Please do your own research and contact a qualified investment advisor. I am not responsible for investment decisions you make. Thanks for reading and good luck!