Chipmaker Qualcomm (NASDAQ:QCOM) reported fantastic third quarter results. Revenue surged 35% year-over-year to $6.2 billion, handily exceeding consensus estimates. Non-GAAP earnings per share jumped 21% year-over-year to $1.03, roughly in-line with consensus estimates. Free cash flow was fantastic at $1.85 billion, equivalent to 30% of revenue.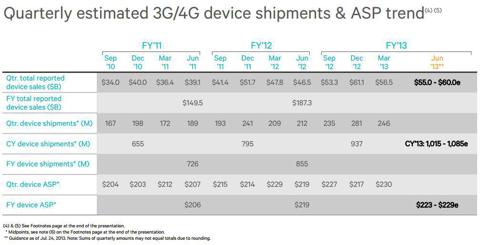 Image Source: QCOM 3Q FY13 Presentation
It's interesting to see average selling prices (ASPs) for 3G/4G devices increase $13 sequentially to $230 during the March quarter, indicating a shift towards higher-end devices. Qualcomm also forecasts ASPs to range from $223-$229 for fiscal year 2013, an increase of 2-5% year-over-year. Clearly, pricing growth is not as robust in the smartphone space as it once was, but the market still has room to grow, in our view. Mobile carriers continue to incentivize consumers to upgrade their existing phones every two years, so the replacement cycle will remain a key source of demand. CEO Dr. Paul Jacobs pointed out on the conference call:
Gartner estimates that approximately 700 million smartphones were sold in calendar 2012 and that number will grow to 1.7 billion in 2017 representing an approximately 20% compound annual growth rate.
On a segment basis, Qualcomm experienced strong licensing growth of 17% year-over-year to $1.96 billion. Because the prevailing 3G and 4G technologies are based on patents owned by the firm, licensing revenue grows mostly at the same pace as global device sales, which increased 18% year-over-year. This is our favorite Qualcomm segments since it generates a tremendous amount of profitability. For perspective, licenses generated $1.6 billion in earnings before taxes (EBT).
Still, Qualcomm's equipment revenue growth was far stronger, jumping 45% year-over-year to $4.3 billion. We suspect the firm experienced a number of key contract wins and increased its share of components within existing phones.
On the cost side of the equation, Qualcomm ramped research and development spending 33% year-over-year to $1.2 billion (about 19% of revenues). Management explained the increase as money spent on innovation and product differentiation to help power next-generation devices. Given the firm's fantastic free cash flow and impressive cash hoard ($30 billion+), we aren't worried about R&D increases at this time.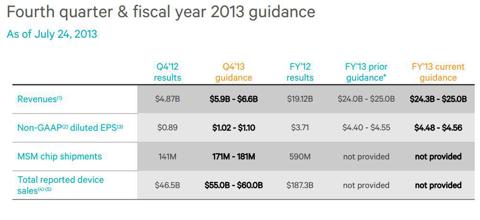 Image Source: QCOM 3Q FY13 Presentation
Looking ahead, Qualcomm guided revenue to the range of $5.9-$6.6 billion and earnings per share in the range of $1.02-$1.10 for fourth quarter fiscal 2013, both in-line with the Street's estimates. After easily exceeding results this quarter, we believe there could be upside to Qualcomm's full-year forecast.
Valuentum's Take
Qualcomm continues to defy the bear argument that the global smartphone market is approaching saturation and remains an absolute cash machine. We couldn't believe how negatively the market reacted last quarter; unfortunately, Qualcomm never touched a price that would get us interested in adding the firm to the portfolio of our Best Ideas Newsletter.
Disclosure: I have no positions in any stocks mentioned, and no plans to initiate any positions within the next 72 hours. I wrote this article myself, and it expresses my own opinions. I am not receiving compensation for it (other than from Seeking Alpha). I have no business relationship with any company whose stock is mentioned in this article.