Social network site Facebook (NASDAQ:FB) reported tremendous second quarter results. Revenue surged 53% year-over-year to $1.8 billion, easily exceeding consensus estimates. Earnings, excluding certain items, jumped 58% year-over-year to $0.58 per share. The firm generated a robust $1.05 billion in free cash flow during the second quarter, equal to 58% of revenue.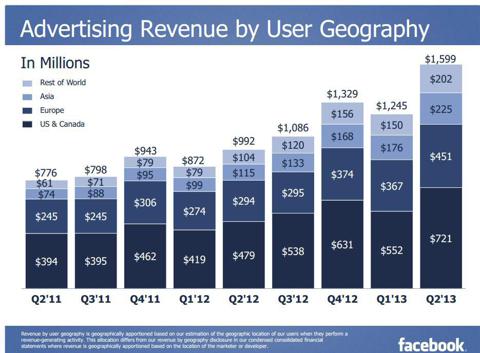 Click to enlarge
Image Source: FB 2Q 2013 Earnings Slides
The story for Facebook during the second quarter was the explosion in advertising growth, which surged 61% year-over-year to $1.6 billion. As we see from the above image, advertising growth was robust across all geographies, up 51% in the US & Canada, up 96% in Asia, up 53% in the struggling European region, and up 94% in the rest of the world.
What drove such robust growth? It was two-fold: a combination of News Feed ads (which didn't occur in the second quarter of 2012) and fantastic mobile expansion. In fact, mobile advertising now accounts for 41% of total advertising spending at Facebook, or $656 million during the second quarter. Mobile advertising wasn't a significant figure in the second quarter of 2012, but it represented 30% of advertising in the first quarter of 2013 ($374 million) implying sequential growth of 75%! Because Facebook has done such a great job integrating News Feed ads into its mobile product, we think the firm will experience little, if any, blowback related to the advertising presentation.
COO Sheryl Sandberg put current mobile advertising spending into perspective, saying on the conference call:
"The time people are spending on mobile devices is increasing dramatically (NYSEARCA:AND) mobile represents just 2% of ad spent globally and 3% in the U.S. We have a massive and growing mobile user base. We have an impressive share of mobile time spent and we have one if not the most effective mobile app products. Together this positions us well to lead the mobile app market."
Sandberg wasn't exaggerating about time spent on mobile (shown below).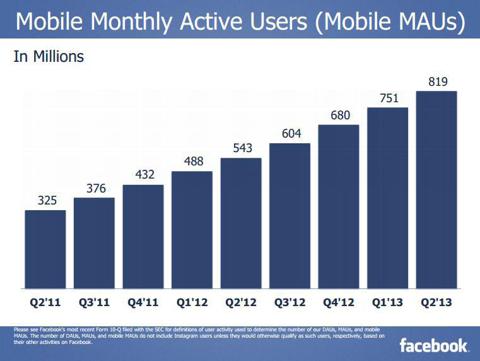 Click to enlarge
Image Source: FB 2Q 2013 Investor Slides
As global data coverage improves, we anticipate that the number of mobile monthly active users will grow even more. Facebook looks well-positioned to seize upon this trend, and Facebook's younger demographics are seeing people access Facebook exclusively from mobile devices. For younger demographics, advertisers might have to go to Facebook in order to find their desired target market.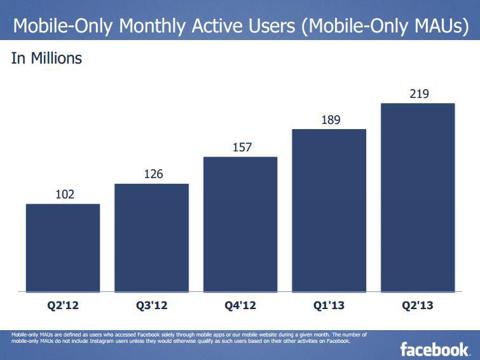 Click to enlarge
Image Source: FB 2Q 2013 Investor Slides
Best Ideas Newsletter holding Google (NASDAQ:GOOG) will likely look to combat this issue. Google doesn't have a mobile advertising platform as great as the News Feed at this time, but we think mobile search already does a solid job of generating revenue for the search giant.
We must also not forget that Facebook owns another exceptionally popular social network in Instagram. Even if users leave Facebook (which is not happening), there is a good chance that usage might migrate to Instagram, which is still in its infancy. CEO and founder Mark Zuckerberg added some color on how the business is being built, explaining:
"Kevin has always been clear that we're building Instagram to be a business and that we expect that over time we're going to generate a lot of profit from it and probably through advertising. Now that all said, right now it's just growing still quickly. I mean the number that we just said was 130 million monthly actives. Video product is growing really quickly. There are so many directions to expand this in that we think that the right focus for now is to continue just focusing on increasing the footprint of Instagram. And when the right time comes then we'll think about doing advertising as well, but I think that's going to be a really big opportunity."
On the cost side of the equation, Facebook performed relatively well, improving non-GAAP operating margins 100 basis points year-over-year to 44%. The big expense to watch at Facebook is share-based compensation, which was $224 million in the most recently-reported quarter.
Looking ahead, we don't expect free cash flow to be as strong as it was in the first half of the year. Facebook has about $1.1 billion in additional capital spending planned, making the current run-rate for free cash flow look ambitious. Nevertheless, Facebook looks poised to ride mobile advertising trends to higher levels of profitability and revenue in the future.
Valuentum's Take
While shares were bid up beyond reason during its initial public offering, shares of Facebook have performed quite well since bottoming in the high-teens. The stock remains as susceptible to animal spirits as ever, as we can see with shares up over 25% in one day.
We believe Facebook is a great company with nearly limitless possibilities for its future. Though many pundits continue to predict its demise, we think Facebook has strong staying power (especially considering that many users have built an entire digital life on the platform). We plan to make some tweaks to our valuation model, but we would still wait for a pullback before considering shares for the portfolio of our Best Ideas Newsletter.
Disclosure: I have no positions in any stocks mentioned, and no plans to initiate any positions within the next 72 hours. I wrote this article myself, and it expresses my own opinions. I am not receiving compensation for it (other than from Seeking Alpha). I have no business relationship with any company whose stock is mentioned in this article.