We are in the last month of Google's (GOOG) third quarter.
Average third quarter analyst estimates for the search giant are $5.34/share in EPS and $4.20 Billion in revenue. Thirty-six analysts track the stock with one upward EPS revisions in the last 30 days and no downward EPS revisions in the last 30 days.
Quarter to date, Google's stock price has risen from $421.59 on 6/30/09 to Friday's close of $461.30. This represents a $39.71 or 9.4% increase in price.
I always find this an anxious period waiting to see how a company's quarter is going to unfold. One thing I have discovered of value is to analyze a stock's sentiment relative to other similar companies. In this case, I will use the Piqqem sentiment index to see how Google's sentiment compares to eBay (EBAY), Amazon (AMZN), and Yahoo! (YHOO).
I'm looking for relative moves or changes that may foreshadow an early change in the quarter. (Piqqem leverages the 'wisdom of crowds' by allowing its users to vote on the price direction of a stock and then applies its own propriety factors to calculate sentiment for a security. In their model, 0 is the lowest and 4 is the highest sentiment.)
Sentiment for Google Compared to eBay, Amazon, and Yahoo!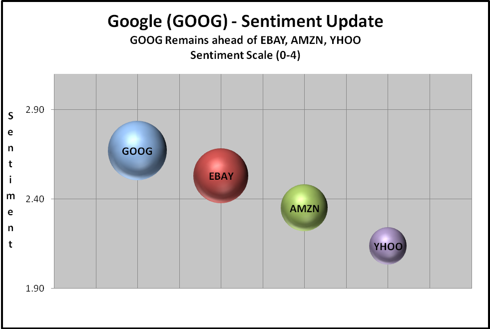 Source Piqqem
The above chart shows Google's current sentiment as of 9/7/09 at 2.67 as compared to eBay at 2.53, Amazon at 2.35, and Yahoo! at 2.14. This equates to Google's sentiment being 5.56 % stronger than eBay, 13.62% stronger than Amazon, and 24.91% stronger than Yahoo!. Based on absolute sentiment, both Google and eBay fall into the Buy category, while Amazon and Yahoo! come in as a Hold.
Google Losing Ground to Yahoo! Since 6/30/09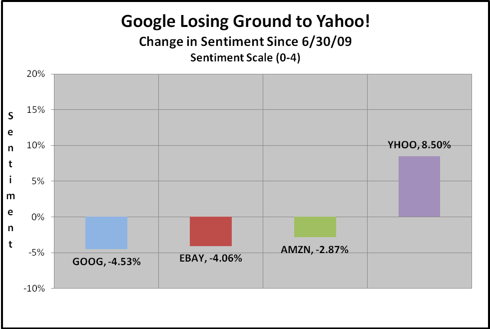 The change in sentiment for these four securities since 6/30/09 shows a downward bias for Google, eBay, and Amazon, while Yahoo! shows a surprisingly strong increase in sentiment. Changes in sentiment can be an early warning system for the underlying security. For example, Yahoo!'s increase in sentiment has to be viewed as a positive signal even though their absolute sentiment still shows a hold.
For Google their absolute sentiment and sentiment as compared to peers remains generally positive, but their decrease in sentiment since 6/30/09 is cause for slight concern. At this point, the decrease in sentiment may be mostly tied to their 9.4% increase in price this quarter. Only Google knows their progress this quarter, but based on sentiment analysis, their quarterly results seem to be on track.
We will publish an update on Google's sentiment shortly before their earnings release in October.
Disclosure: No Positions