The REIT sector is not looking attractive after an 11% selloff since its early May highs that has been driven largely by a nearly 35 percentage point rise in Treasury yields. Meanwhile the stock market is setting new highs, even as the economy just slogs along.
Some would argue that the overall stock market is headed into bubble territory and based upon historical standards; the bearish observers ponder whether heated valuations are sustainable. That argument goes hand in hand with the sentiment that there is "trouble in paradise" when corporate profits are soaring while recovery remains modest.
July was the third consecutive month that the REIT market underperformed the broader stock market. The U.S. Equity REIT market delivered total returns of 0.83% in July, according to NAREIT data. The S&P 500 was up 5.09% for the month. The NASDAQ Composite returned 6.56% for the month. In a recent NAREIT interview, Brad Case, Senior Vice President with NAREIT explains:
Over the last year, REITs have been up about 10 percent, but it's been a spectacular run for the stock market. The S&P 500 has been up 25 percent over the last year, and the Russell 2000 small cap stocks have been up 35 percent over the last year.
Case went on to explain that the non-REIT profit boom (note, I did not say bubble) has created an overshadowing effect for REITs and that has defined the relative state of the dividend-oriented sector. As Case explained:
So, really, the story is not so much about weakness in the REIT industry. It's that recently the REIT industry has underperformed the stock market because the stock market has been roaring.
The chart below illustrates the month-end values of $100 invested at the end of July 2012 in small-cap stocks (the Russell 2000), large-cap stocks (the S&P 500), and listed equity REITs (FTSE NAREIT All U.S. Equity REITs index). Over the past year REITs have gained 9 percent--not bad, considering the sell-off that started May 21st--but large-cap stocks have gained 25% and small-cap stocks have gained 35%. In fact, since the end of October 2012, neither segment of the stock market has had a negative month. That's roaring.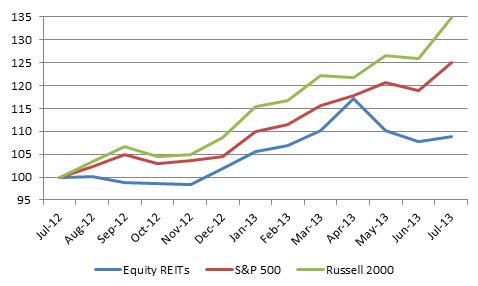 Case explained that recent increases in interest rates have had an impact on the REIT market. He went on to say:
I think the market is reacting to the fact that we've seen interest rates increasing; although, more recently, we've seen some sign from the [Federal Reserve] that they're not going to let interest rates get ahead of the economy.
Case said he thinks the stock market may be reacting "inappropriately" to the recent news about monetary policy. His arguments were as follows:
We've seen some discussion that kind of treats commercial property just like bonds. If interest rates go up, the value of a bond will fall. But that's because a bond is a fixed-income instrument. Commercial property is not. Generally speaking, when interest rates are going up, it's because the economy's strengthening, and that's certainly what we're seeing now.
Looking For Value, Not Just The Fluffy Stuff
One of my friends growing up taught me a lot about being a salesman. He first taught me that I should learn to "eat a lot of crow". He said that it's important that you address the tough times in life and when the "crows start crowing" just sit back and deal with strength and humility. My friend and mentor, Donald Trump, explained it best (from Trump Never Give Up):
Adversity is a fact of life. Chances are that you will never wake up to an adversity-free day. Accept this as a challenge - rather than a disappointment. Be bigger than the problems, be ready to fight for your rights, and all will be well.
Now, one of my frequent fans (just kidding of course) on Seeking Alpha constantly reminds me that I need to include the risks in research. In other words, he likes to use the word "fluffy" as he describes the fact that some of my articles (in his words) are deemed "brochure-like".
As mentioned, I can eat "crow" and in fact, I can admit being wrong just as easy I can admit being right. The simple truth is that I have learned to accept the fact that I'm not always right; however, I work extremely hard not to be wrong. When you boil it all down, it's the experiences in life that make us all better investors. I don't mind "eating crow" every day as long as I can learn from my mistakes.
The second point my friend taught me is the age old concept of spotting bargains, or what Mortimer Zuckerman, cofounder and chairman of Boston Properties (NYSE:BXP) described as,
Buy low, sell high, and don't be greedy.
The point I'm trying to make here is that "eating crow" and "finding bargains" go hand in hand. It's the experiences in life that allow us to become disciplined investors and that combined skillset is how the legendary investor Benjamin Graham became hugely successful. As Graham explained:
The years of poverty since Father's death had touched me only lightly. They had developed in my character a serious concern for money, a willingness to work hard for small sums, and an extreme conservatism in all my spending habits.
It was Graham's "extreme conservatism" that gave him an enormous edge when picking stocks and bonds and ultimately, it found its expression as the quintessential tenet of his investment philosophy: a principle known as the margin of safety.
So Where Are The Bargains in REIT-dom?
Now, as noted above, REIT prices are down significantly since the early part of the summer. For some sectors, there have been modest declines while in other sectors there are sizable pullbacks. The sectors with shorter lease durations tend to perform better when interest rates are rising and they can better protect themselves against inflation. Conversely, the longer-duration assets, health care and Triple-Net, have been underperforming the overall REIT sector.
In July the health care REITs returned -3.01% and the Triple-Net REITs returned a modest 1.54%. However, dividends for these two "bond-like" sectors are well above the equity REIT average yield of 3.51%. The health care REIT dividend average is 4.76% and the Triple-Net dividend average is 5.15% (as of July 31, 2013).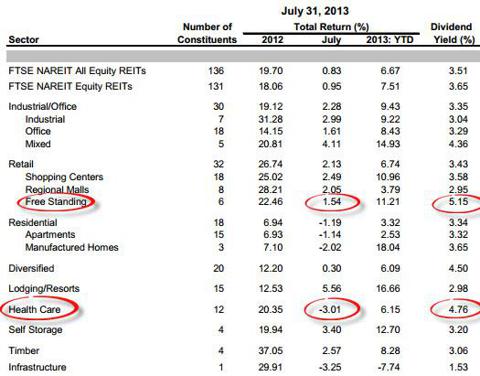 Source: NAREIT
So as I conclude my 334th Seeking Alpha article I want to serve up some SWAN, not Crow. More importantly, I don't want to provide you with any "fluffy stuff", "just the facts, Ma'am" (I'm sure you remember Dragnet's Sgt. Friday).
There are some legitimate REITs worth buying today. I wrote about two of them yesterday. Omega Healthcare Investors (NYSE:OHI), trading at $30.41 with a dividend yield of 6.18% (see article here) and Healthcare Trust of America (NYSE:HTA), trading at $10.55 with a dividend yield of 5.45% (see article here). Also, another health care REIT, HCP, Inc. (HCP) looks attractive with a share price of $42.97 and a dividend yield of 4.89%. (See my HCP article here).
The biggest misconception with Mr. Market's inappropriate "bond look-alike" selloff has been in the free-standing REIT space. While the Triple-Net REITs may look like bonds (due to the long-term lease structures), they aren't bonds. So essentially, the Triple-Net REITs are being characterized as fixed-income instruments when in fact they aren't. For investors looking to establish positions in the sector, there is a window of opportunity.
Last week I wrote an article on Realty Income (NYSE:O), the largest Triple-Net REIT with a mallet cap of $8.361 billion. Shares closed at $42.62 with an attractive dividend yield of 5.11%. American Realty Capital Properties (ARCP) is set to announce earnings today. The robustly successful REIT has a market cap of $2.59 billion with a current dividend yield of 6.47%.
Finally, I wrote an article on Chambers Street Group (NYSE:CSG) when the Princeton-based REIT listed its shares on the NYSE (May 21st). Since that time, shares have dropped over 18% and the latest closing price was $8.18 a share. Chambers has a high-quality portfolio and I believe that there could be some correlation with Chambers non-traded REIT investors and the selloff underway. There are several competing non-traded REIT offerings in the market (notably American Realty Capital Property Trust V) and I suspect that the non-traded REIT investors (and advisors) are seeking the safety of the illiquid markets by selling on the fear of volatility. This is just a theory of mine but I have been wrestling with the decline in Chambers Street shares and that's the most conclusive argument I can make. Chambers Street has a market capitalization of $1.935 billion with a current dividend yield of 6.11%.

In closing, I'm sure you can feel my passion for real estate investing. It's simply "all I know" and I love assisting investors with finding that "nugget of wisdom" that turns into gold. However, the most important resource that I offer is to steer you from the risks, not just the "fluffy" returns. We all work hard to build a nest egg up and that's why I will constantly remind you to protect your principal AT ALL COSTS.
I enjoy writing and engaging with readers and some of the most talented real estate investors in the world, and I will sum up this article with a targeted quote from the billionaire investor Donald Trump (source: Trump Never Give Up):
Do your homework. In other words, learn everything you can about what you want, know what you are up against, and research every aspect of your endeavor. Talk to all the experts you can find. It can't be a hit or miss approach. The odds are already against you, so don't make it harder on yourself by being negligent.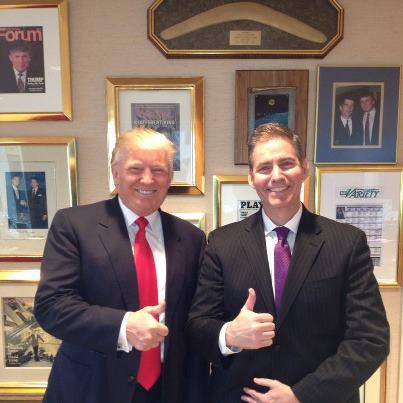 Note: This article is intended to provide information to interested parties. As I have no knowledge of individual investor circumstances, goals, and/or portfolio concentration or diversification, readers are expected to complete their own due diligence before purchasing any stocks mentioned or recommended.
Source: SNL Financial and NAREIT
Disclosure: I am long O. I wrote this article myself, and it expresses my own opinions. I am not receiving compensation for it (other than from Seeking Alpha). I have no business relationship with any company whose stock is mentioned in this article.