Harley Davidson (NYSE:HOG) was upgraded to Hold yesterday by Citi based on better than expected motorcycle sales in August. Apparently the Citi analyst thought this was the start of an up trend in motorcycles sales. While no one can be absolutely sure, this seems unlikely. August auto sales were much better (yet still disappointed) due to the Cash for Clunkers program. More than likely some of the enthusiasm for buying cars during that period spilled over into the motorcycle arena. The big surge in auto buying is not expected to continue without Cash for Clunkers. Just the opposite is true. Future sales may have been robbed so people could buy at a discount during Cash for Clunkers.
A much larger proportion of the buyers are now experiencing "buyer's remorse". They probably could not afford the new cars they bought – even at a discounted price. They probably had good reason to be worried. The national rate of auto loans that were 60 days past due was up 7.35 percent for the Quarter ended in June.
HDFS (HOG's finance arm) is HOG's biggest problem. Do you think HDFS might be experiencing the same problems as the auto industry? It seems likely they are experiencing even worse problems. Many HOGs are recreational equipment for their riders. In other words, many HOG owners don't absolutely have to make the payments (as they do for cars) because they can do without them.
In stark contrast to the Citi analyst's view, I think that HOG will catch Swine Flu this fall and winter. Health officials are now estimating that as much as 50% of the US population will be infected with Swine Flu this fall and winter. 2000+ students at Washington State University already caught Swine Flu this term, and the term just started. Tuesday, many public school students went back to school for their first day. It seems likely they will quickly spread Swine Flu throughout the US. It is already prevalent. We could have as much as 10% to 20% of the US population sick with Swine Flu within one month.
Do you think any of these sick people will really want to ride a motorcycle in increasingly colder and wetter conditions? Will they have the balance and the coordination? If they're healthy, will they want to use a motorcycle to transport a sick family member or friend to the doctor or hospital? Wouldn't they be afraid of getting Swine Flu from their sick passenger? Wouldn't they worry that their passenger might fall off or cause the bike to unbalance? With many of their friends sick, with the country in a recession, would they be thinking about taking a recreational trip (or ride) on their HOG? Would they rather be thinking of saving money? Would they rather be thinking of buying a safe car to transport people with? I certainly don't see a near term up trend. I don't know how the Citi analyst did.
More likely than HOG starting an up trend is HOG getting Swine Flu. We are pretty sure that's coming. Most analysts have failed to consider it in their Q3 and Q4 estimates. However, evidence is mounting that it will be a big factor. In the UK, hard hit early by the Swine Flu, 72% of businesses reported absenteeism due to Swine Flu. 38% of employers anticipated sales would be hit (Reuters). The US is not far behind. Estimates for Q3, Q4, and Q1 2010 will likely fall. Some will fall demonstrably. HOG seems more likely than most to catch a strong case of the Swine Flu. Somehow that sounds appropriate.
Far from HOG pushing upward as the economy recovers, it will be struggling even harder to remain afloat. The economy will be having a harder than expected time. Dr. Roubini is likely correct in his U-shaped recession recovery prediction. HOG is trading at approximately 41 times 2009 estimated earnings. Those earnings estimates are likely to go down. HDFS is likely to have ever more severe problems in the next year. The past due rate on auto loans is up. Unemployment is now 9.7%, and it appears to be going up still further. Moody's is predicting the peak for credit card defaults will be in mid 2010. It is likely the HDFS loan default rate will peak around then also. It is unclear HDFS will even have the money to operate next year. After a crippling, Swine Flu ridden, fall and winter, it may not.
Swine Flu may be the final straw for HOG. It is quite possible HOG may fail. HOG is a sell for Swine Flu season. After that you have to re-evaluate it. The 1 year average analyst price target is $18.62. The current price is $24.76. This is a more than 300% increase from the March low of $7.99. HOG is over due for a retracement. With the nice pop in stock price due to the Citi upgrade yesterday, today is a good day to short HOG. It has likely benefitted from a short squeeze. That squeeze should not last long. The fundamentals are unchanged. If the markets retrace (as I expect) soon, HOG should outperform to the downside based simply on its beta of 2.3. I have included some basic financial information about HOG below:
Current Price = $24.76
1 yr. target price = $18.62
Short interest = 18.37% of float
Beta = 2.3
PE based on 2009 earnings estimates = 41
Price/Book = 2.43 (likely to worsen soon)
Price/Cash Flow = 6.74
EPS Growth (MRQ) = -91%
Rev. Growth (MRQ) = -24%
The daily HOG chart indicates a break above the resistance level of $23.78. Normally one might think that this would mean further upward movement. However, the overall markets are poised to move downward. Plus there are many fundamental reasons that HOG is simply over priced currently. HOG is also above its upper Bollinger Band on the daily chart. It seems most likely this will be a failed breakout. The nearest good support levels below $23.78 are at $22.73 and $21.12. It seems highly likely HOG will reach $21.12 in the short term. There is further support in the $18, $17, $16, and $15 ranges. With a 1 year target price of $18.62, none of these support prices is out of consideration.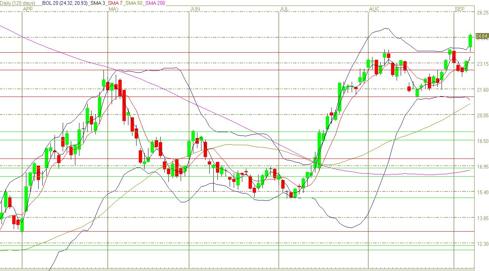 Disclosure: The author went short on HOG yesterday (9/8/2009). He hopes the Fed doesn't throw a monkey wrench in his trade today.