Global stock markets have been on an amazing run since March of 2009. Developed markets, with the U.S. out-front, have spearheaded this surge, powered by the twin engines of central bank purchases and global monetary base growth. Within the U.S. markets, a group of technology orientated, fundamentally challenged companies have posted the strongest gains. Star performers hailing from this group, in terms of common stock percentage gainers, have included Amazon.com, Inc. (NASDAQ:AMZN), Netflix, Inc. (NASDAQ:NFLX), LinkedIn Corp. (NYSE:LNKD), Salesforce.com, Inc. (NYSE:CRM) and Tesla Motors, Inc. (NASDAQ:TSLA). While a positive future case can be made for each of these companies, each one poses present-day challenges in calculating their current respective valuations, and this is true even if rosy future assumptions prove accurate. Going further, I believe that each of these companies represents an attractive short opportunity. Collectively, shorting them makes up one half of my dream pair trade. The other half of this pair trade would involve going long the undervalued, under-loved, under-owned commodity stocks. Standing out even among its over-valued, over-loved, over-owned peers, Tesla presents a terrific shorting opportunity, especially if it gallops higher after the company releases its second quarter earnings, which are scheduled for August 7th, 2013, after the stock market's close.
Spectacularly Overbought
Since the beginning of April of 2013 when Tesla announced it would post its first quarterly profit, Tesla's stock has been on a non-stop, parabolic advance. This move higher gained momentum with the release of TSLA's first quarter earnings on May 8th. As of this writing on August 5th, TSLA's stock is now trading over 140% higher than its 200-day moving average. The chart below shows how extreme this advance looks visually.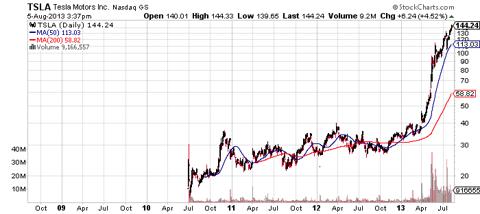 For perspective, I wanted to show TSLA's recent share performance compared to AMZN and NFLX, two "story" stocks that have captured the attention of investors (and the scorn of shorts) over the lifespan of the current cyclical bull market. We will look at Amazon first: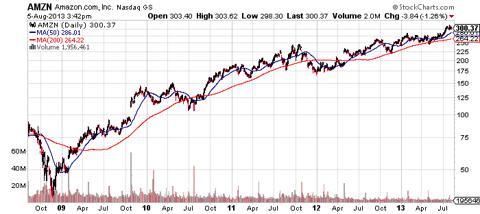 Amazon's advance has been remarkably orderly, trading at a price that approached 100% of its 200-day moving average only once. This occurred in October of 2010. One takeaway from AMZN's chart is that subsequent advances above the 200-day moving average, after the peak thrust achieved in the October 2010 move, have generally had less and less momentum, meaning the percentage gain above the 200-day moving average achieved has generally been smaller and smaller as the stock's advance has matured. Now let's take a look at NFLX: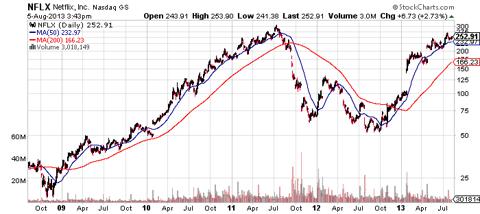 At first glance, Netflix definitely has had a more volatile stock price. The separation above and below the 200-day moving average is apparent, more so than in the case of Amazon. In the first quarter of 2013, Netflix traded at a similar premium to its 200-day moving average as Tesla does presently. However, in the sustained advance of NFLX's stock price from October of 2008 to July of 2011, NFLX's stock did not achieve the same thrust above its 200-day moving average that TSLA currently exhibits. This means that TSLA may even be more loved from a sentiment standpoint than NFLX was during the heyday of its advance, putting its stock price at risk if the behavioral pendulum swings the other direction. From a fundamental perspective, TSLA and NFLX have more in common than TSLA and AMZN. These similarities include market capitalizations that are in the same range, in addition to high degrees of short-interest at various points in their stock histories. Overall, the key takeaway for me is the massive drop in NFLX's stock price from July of 2011 through October of 2011. I think that this drop is indicative of a fall that TSLA's stock could have if it fell out of favor with the momentum crowd for some reason that is not readily apparent right now.
Tesla's Stock Could Surge Higher Before Faltering
The number of Tesla shares sold short remains very high, increasing the probability of a final blow-off phase of the continued short squeeze. Additionally, traders in the options universe are bearishly positioned, with puts substantially outnumbering calls in the front month option contracts, adding further potential fuel to a last gasp run for the exits for trapped shorts. Thus, shorting Tesla ahead of its second quarter earnings exposes an investor or trader to the risk of one final surge as the four-month-old short squeeze finally runs its course. While Tesla is an attractive fundamental short right now, from a risk/reward perspective, it would be more prudent to short after the upcoming earnings, ideally on a pop in TSLA's share price.
Bottom Line - Reversion To The Mean Will Halt Tesla's Advance
Tesla's stock price has been in a relentless advance since the beginning of April, creating an increasingly favorable risk/reward opportunity to short Tesla's stock in anticipation of the eventual reversion to mean. The extreme magnitude that Tesla's stock is extended compared to its 200-day moving average is striking, even in comparison to the stock price increases of Amazon and Netflix in the current cyclical bull market. Netflix's stock price offers the closer corollary, as its historical short interest and market capitalization more closely resemble Tesla's. The extreme volatility of Netflix's stock price should serve as a note of caution to Tesla's current shareholders, as Netflix's stock price plunged dramatically when it fell out of favor with its momentum oriented shareholders before staging a dramatic recovery. The current high level of short interest in TSLA's stock and the bearishly positioned options traders suggest caution in shorting Tesla's stock ahead of its earnings on August 7th. Any spike in TSLA's share price from levels that are already extremely overbought is likely the last gasp of the current short squeeze, and thus, it would provide an optimal shorting opportunity.
Disclosure: I have no positions in any stocks mentioned, but may initiate a short position in TSLA over the next 72 hours. I wrote this article myself, and it expresses my own opinions. I am not receiving compensation for it (other than from Seeking Alpha). I have no business relationship with any company whose stock is mentioned in this article.