Many have been forced out of the housing market by foreclosures. They are about to come back.
Banks tightened mortgage lending standards ever since the 2007 crisis. Anyone without a perfect credit score and 20% down payment is basically shut out. Those who underwent foreclosures have a big hole on their credit history. Getting a mortgage loan is impossible for them.
But things are about to change.
On average, a foreclosure drags down ones credit score by 100 to 250 points. A foreclosure record stays on the credit report for up to 7 years. But there are many ways to rebuild it faster, such as maintaining several credit lines and always staying on top of them. It is said that one can fix the damage in as soon as 2 years. While not everyone is capable for doing that, the average of 2 years (the minimum) and 7 years (the maximum), which is 5 years, is a good yardstick.
So 5 years after the peak of the housing crisis, the defaulters are ready to strike back. They will keep the housing market floated, maybe even lift it higher.
Chart 1 is borrowed from Wikipedia.com. Foreclosures started to get nasty in 2007. In 2008, there were about 700K cases per quarter. During the peak in 2009, it was about 1M cases per quarter.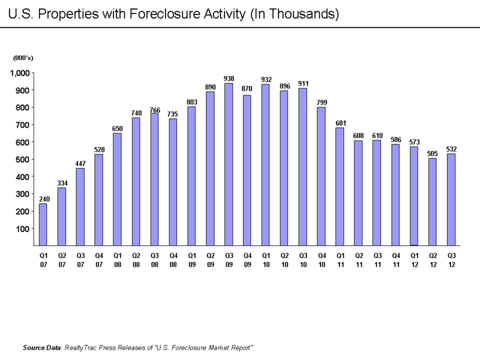 Chart 1. Foreclosure Activity
1M houses per quarter is huge. To help readers make a better sense of the numbers, I'd like to point out that in the past 3 months, new home sales were 466K in April, 459K in May, and 487K in June. In total it was 1.4M for a quarter. 1M is more than 2/3 of the new home sales we have today.
Not all those who went through foreclosures 5 years ago are able to afford a house today. Some of them were victims of the so called "liar loans" and were not able to afford a house even in 2007. They didn't have regular incomes, and foreclosures made their situations even worse.
But it is estimated that, during the 2009 peak, about 1/5 foreclosures were strategic default. People were able to make mortgage payments, but decided that defaulting was a better choice. Their financial strength should be stronger now as the economy has recovered, though slowly. 1/5 of 1M is 200K, which is 15% of the new home sales in past 3 months.
The housing market is already tight. In July the new home inventory is only 4.1 months' of demand at the current pace, a far cry from a balanced market characterized by a 6-month demand. A 15% extra demand on top of it is like pouring oil on the fire.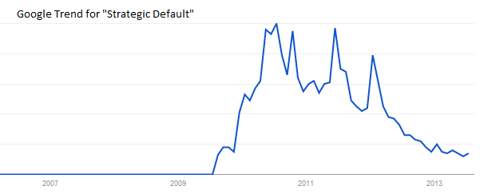 Chart 2. Google Trend for "Strategic Default"
The extra demand will have a lasting effect. The foreclosure numbers stay elevated even in late 2012, when is 3 years after the peak, and more than 4 years since foreclosures started to spike. And for strategic default, as shown in Chart 2, people were still highly interested in it in year 2012.
Now another barrier for getting a mortgage loan is the 20% down payment. But it should not be a problem for strategic defaulters. As the economy slowly recovered, U.S. household net worth already surpassed the pre-crisis peak (Chart 3). Strategic defaulters should have fared much better.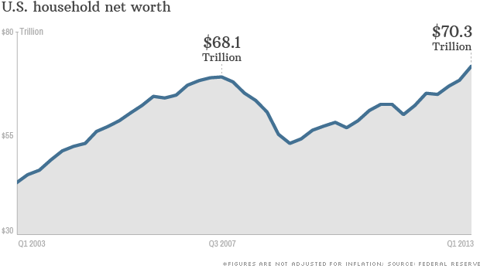 Chart 3. Household Net Worth
Foreclosure is not the only way to give up one's house. Short sale is another option. But as shown in a chart borrowed from RealtyTrac (Chart 4), there were far less cases for short sales than that for foreclosures. Nonetheless, a short sale also impacts ones credit report and locks one out of the housing market, though its effect is deemed to be less severe than that of a foreclosure.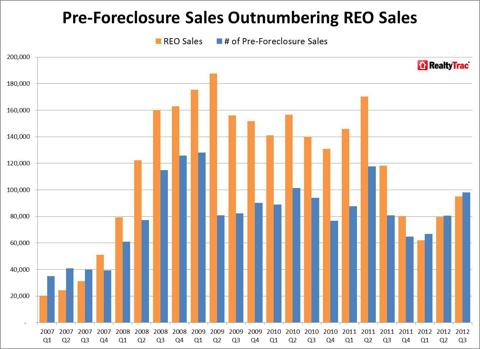 Chart 4. Short Sale
The extra demand from the strategic defaulters should concentrate on the new home market.
After foreclosures, defaulters' credit scores were wrecked. They couldn't apply for mortgage to buy a house. They couldn't even pass the credit check to lease an apartment. One of their few options is to lease an investment house from an individual investor who knows the situation and ignores foreclosures.
Many individual investors snapped up cheap houses during the peak of the crisis. It was a stealth investment. They could easily rent the house out. The monthly rent covered the mortgage payment and then some. In normal time, it's unimaginable that someone would rather rent a house for more than buy it for less. But strategic defaulters simply had no choices.
Most of the investment houses were low-end properties and not in perfect condition. The renters, who were financially capable of a better living standard, were locked up in a rough space. It's like a suppressed coil that will snap up once released. Strategic defaulters are likely to buy a brand new house loaded with upgrades as a reward to their families when the eventual exodus arrives.
Even if they decided to buy an existing home, they are less likely to buy a cheap one from those individual investors. They will buy a well maintained one from a decent family, who are then allowed to trade up and buy an up-scale new house. The chained effect is still reflected in the new home market.
New home sales and existing home sales both saw a steady uptrend lately. But in July, they diverged. July's new home sales number is higher than that of June, while existing home sales number is lower. The effect of strategic defaulters could have already emerged. The existing home market is plagued by individual investors hunting for cheap properties. As strategic defaulters started to move out of investment properties, individual investors could also have backed off from the existing home market.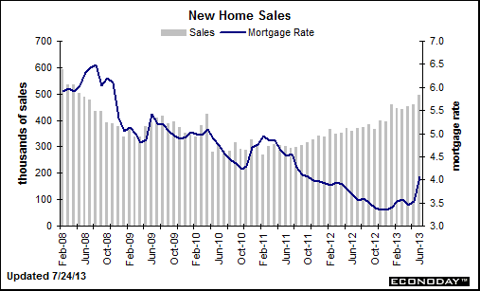 Chart 5. New Home Sales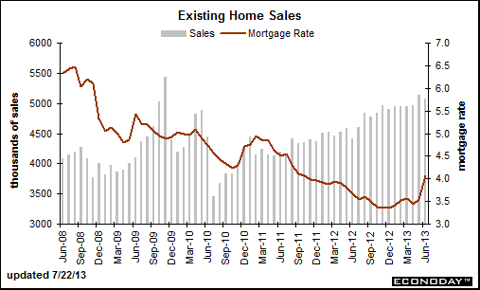 Chart 6. Existing Home Sales
In some rare cases, smart defaulters avoided being locked up in an investment house. They bought a new house before giving up their existing one. Before defaulting, they were in good financial condition and could apply for a mortgage. Around the end of 2009 and beginning of 2010, housing prices were down to the earth. The smart defaulters could buy a new one at a dirt-cheap price. Their old house was deeply underwater. Swapping it with a new and cheap one would lower their debt and at the same time, maintain their living standards. But as I said, these are rare cases. Even in these rare cases, the smart defaulters were locked out of the housing market ever since they gave up their old house. Now they are allowed to return to the housing market and may still produce extra demand.
Should they come back to buy, strategic defaulters are supposed to lift home builder's stock price [ITB]. Lately the Fed's tapering talk drove up mortgage rates and dampened housing market. But home affordability is still at historical high. Unless the housing price rises for another 20% or mortgage rates climbs above 6%, the affordability wouldn't see a substantial change. There are still rooms for builder's stock price to run.
I expect to see residential REITs Apartment Investment & Management Company (NYSE:AIV), AvalonBay Communities (NYSE:AVB), Camden Property Trust (NYSE:CPT), Equity Residential (NYSE:EQR), Essex Property Trust (NYSE:ESS), UDR (NYSE:UDR), BRE Properties (NYSE:BRE) being negatively impacted. Strategic defaulters couldn't rent an apartment from any of the residential REITs as they couldn't pass the credit check. When they buy a new house, they are not moving out of an apartment of any REITs, either. But when they move out of the investment houses of individual investors, the individual investors are put at direct competition against residential REITs. The competition could constrain residential REITs revenue and keep a lid on their dividend payout.
Strategic defaulters emerge to be an influential force. May the force be with you, investors.
Disclosure: I have no positions in any stocks mentioned, and no plans to initiate any positions within the next 72 hours. I wrote this article myself, and it expresses my own opinions. I am not receiving compensation for it (other than from Seeking Alpha). I have no business relationship with any company whose stock is mentioned in this article.