By Tom Vulcan
What Is Fluorspar?
Fluorspar (or, to use its mineral name, fluorite) is calcium fluoride (CaF2). While most commonly used to refer to the mineral when mined from the Earth's crust, fluorspar also refers to the calcium fluoride produced as a by-product in various chemical processes, such as the production of phosphoric acid, refining petroleum or enriching uranium for fuel.
Theoretically, pure fluorspar (51.1% calcium and 48.9% fluorine) is colorless, but in the earth, the many different impurities found in the mined mineral imbue it with a variety of wonderful colors, ranging from blue, green and purple, to pink, brown and black. Indeed, in the 19thcentury, much of the fluorite mined was used to make jewelry.
Times have changed, and while a minuscule amount of fluorspar still goes into ornaments, the vast majority serves very different purposes.
Whence Fluorspar?
These days, the purer the fluorspar, the better. The mineral is usually available in three grades: acid grade, or "acidspar" (≥ 97% CaF2), ceramic grade (85-95% CaF2) and metallurgical grade (60-85% CaF2). (These last two sub-acid grades are often lumped together and called, for convenience, "metspar".)
The U.S. produces no primary fluorspar, although a tiny amount is produced as a by-product of limestone quarrying in Illinois. (For many years, the U.S. Defense National Stockpile (USDNS) held quantities both of acid grade and metallurgical grade fluorspar, but over the past several years, it has sold off most of its inventory.) That means the U.S. is 100% dependent on imports for its fluorspar - particularly from China.
Based on U.S. Geological Survey (USGS) figures published this January, there were nine major fluorspar-producing countries last year, mining an estimated 5.92 million tonnes. As with many minerals, China was the world's largest fluorspar producer, mining some 3.2 million tonnes in 2008. Other major producers included Mexico (980,000 tonnes), Mongolia (400,000 tonnes) and South Africa (340,000 tonnes).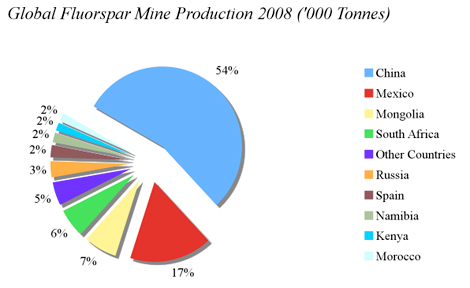 Source: USGS
Over the past several years, metspar has accounted for some 35-40% of the total mine production. (In 2008, therefore, this would translate to around 2.07-2.37 million tonnes.)
Although in the past the U.S. has relied heavily on Chinese fluorspar imports, recent data suggests the supply chain may be shifting. In 2007, Mexico, due to increasing metspar exports, became the U.S' leading fluorspar supplier, although China remained the main source of acidspar. In 2008, the balance had shifted even more, with the U.S. importing a total of 324,200 tonnes (249,000 tonnes of acidspar and 75,200 tonnes of metspar) from Mexico, and only 184,000 tonnes of acidspar from China.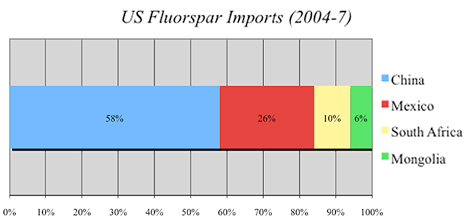 Uses Of Fluorspar
U.S. fluorspar usage stands as a good proxy for global use, with 15% of the mineral employed, according to the USGS, as "a flux in steelmaking, in iron and steel casting, primary aluminum production, glass manufacture, enamels, welding rod coatings, cement production, and other uses and products."
The other 85% of consumption goes into the production of hydrofluoric acid (NYSE:HF) and aluminum fluoride (AlF3). On average, it takes some 2.2 tonnes of acidspar to manufacture one tonne of HF.
In 2008, the U.S. consumed some 379,000 tonnes of HF, either imported or manufactured domestically by the likes of DuPont (NYSE:DD) and Honeywell International (NYSE:HON).
End Uses of HF in the U.S. in 2008
| | | |
| --- | --- | --- |
| HF Consumed ('000 Tonnes) | % Total | End Use |
| 270 | 71.2 | Production of fluorocarbon chemicals |
| 20 | 5.3 | Processing aluminum |
| 14 | 3.7 | Petroleum alkylation |
| 13 | 3.4 | Treating metals, e.g., pickling stainless steel |
| 9 | 2.4 | Processing uranium |
| 53 | 14.0 | Other uses, e.g., fluoridation, cleaning, etc. |
Source: USGS
By far, the largest use of fluorspar, via HF, is as a source of fluorine for the production of fluorocarbon chemicals; as the USGS describes it, "HF is the primary feedstock for the manufacture of virtually all organic and inorganic fluorine-bearing chemicals."
These chemicals themselves are primarily used to make hydrofluorocarbons (HFCs, for refrigerants) and hydrochlorofluorocarbons (HCFCs, particularly for the air-conditioning systems in automobiles or other vehicles). They're also used in thermoplastics such as Teflon, fire-retardant clothing, insulating foam and in plastics.
In particular, the U.S. Department of Defense uses thousands of tonnes of fluorspar each year, likely for refrigerant systems in various defense applications, such as military vehicles. Acid-grade fluorspar ranked fourth on the DoD's "regular 'top 11' standard materials," estimating the department's regular yearly demand at 56,544,5 short tons (one short ton is equal to 2,000 pounds, or 907.18474 kg). In fact, the U.S. Institute for Defense Analyses undertook an "initial risk review" for various materials to determine if shortages or near-shortages "in meeting defense-essential demands" could arise; the agency named fluorspar as one such mineral that could possibly suffer shortages.
Fluorspar also has an interesting, if niche, application. Because of its high transparency and very low dispersion, fluorspar is often used to make high-quality camera, microscope and telescope lenses, when there needs to be as little color aberration as possible. It's even used as a selling point; optical goods manufacturer Takahashi advertises on its Web site, "Accept no substitute. Get the fluorite advantage. Get Takahashi!"
The Fluorspar Market
Current conditions in the fluorspar market remain pretty dire, despite a few encouraging snippets of news over the last several months, such as Canada Fluorspar's sudden ability to raise funds and Kenya Fluorspar's hopes that it will resume operations in the third quarter.
Unlike a number of other strategic and essential materials, the prevailing adverse economic conditions only really started taking their toll on the fluorspar market in the first and second quarters this year. Spot prices for fluorspar from exporting countries have fallen precipitously from last year's highs in the third and fourth quarter. For example, acid-grade fluorspar delivered to the Gulf of Mexico last October hit $530/550 per tonne; on August 17, similar Chinese acidspar priced in at $350/380 (Industrial Minerals magazine). Mexican low-arsenic acidspar has also fallen, dropping from $400/420 a tonne to $300/360 (also quoted on August 17).
However, it's another matter entirely as to whether any trades have actually been executed at these levels. For consumers able to negotiate long-term supply contracts, the price levels have probably been even lower.
The poor economy has affected not only prices for the mineral, but also the producers' abilities to produce - particularly in Africa. In Africa alone, some four of the continent's six major producers are not currently operating. Kenya Fluorspar and both of the Sallies' mines in South Africa have currently shut down operations. In Namibia, production at the Okorusu mine, owned by Belgium's Solvay SA, was suspended earlier this month (ostensibly until October). That leaves the only African fluorspar currently being mined coming from Samine in Morocco, and Metorex's Vergenoeg operation in South Africa's Bushveld complex, 150 km north of Johannesburg.
Of the 10 or so fluorspar development projects worldwide started before the current economic downturn, it is anyone's guess how many will actually start producing any of the mineral anytime soon - if at all.
Fluorspar demand has sagged for all end uses, but it remains especially weak in the automobile industries, as well as the steel and aluminum industries. (Alcoa no longer even produces AlF3 at its Point Comfort facility in Texas.)
Even exports from China have fallen precipitously since the beginning of the year. A recent article in Industrial Minerals magazine warned that "high acidspar stocks and weak demand mean little trading as producers cut back."
Despite its current doldrums, fluorspar has continuing importance to industry in the U.S., Europe and the developed world that cannot be dismissed. Over the past five years, consumption in both Europe and the U.S. has remained relatively stable. China's consumption of the mineral over this period, however, has increased significantly. Mexico's consumption has also risen.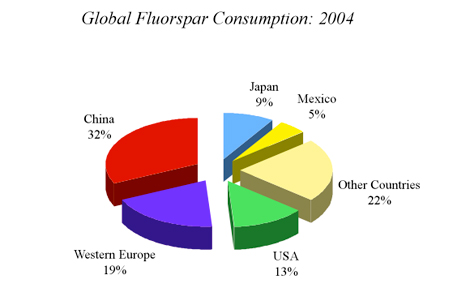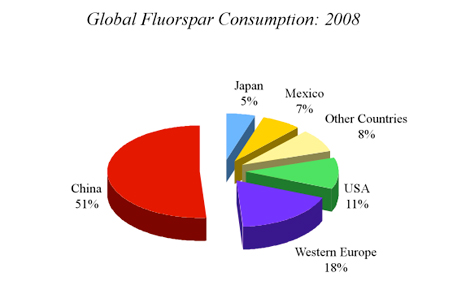 Source: Canada Fluorspar Inc
The West's growing concerns about China's dominance of the fluorspar market (among others), including possible export restrictions, came to a head earlier this year when, on June 23, the EU announced that both it and the U.S. "had requested WTO consultations with China regarding China's export restrictions on a number of key raw materials, which it considers are in clear breach of international trade rules."
In the words of the EU announcement: "European industries have raised concerns for a number of years on export restrictions - quotas, export duties and minimum export prices - which China applies on key raw materials, such as yellow phosphorous, bauxite, coke, fluorspar, magnesium, manganese, silicon metal, silicon carbide and zinc. Some of these resources cannot be found elsewhere." [Author's italics]
Opportunities In Fluorspar?
Although in the near term the fluorspar market appears to be signally depressed, this state of affairs may not persist long term. With not only China's increasing domestic consumption of the mineral, but also its restrictions on fluorspar exports, other import sources could become increasingly important.
For the likes of the Firebird Global Master Fund II, fluorspar is quite obviously an attractive proposition. Having made a sizable investment in privately owned Kenya Fluorspar at the end of 2008, the fund added some 13% of Canada Fluorspar Inc. [CVE:CFI] to its investment portfolio this June. Canada Fluorspar is seeking to develop its fluorspar project in St. Lawrence, Newfoundland, Canada.
Looking somewhat further afield, London-based Lotus Resources Plc is currently developing, through local joint ventures, various fluorspar (both acidspar and metspar) interests in Mongolia. Another significant player (privately owned and second only to Mongolrostsvetmet in terms of fluorspar production) in Mongolia is the Mongolia International Mining Corporation. In contrast with Mongolrostsvetmet, MIMC is a pure fluorspar play.
On August 25, Perth-based Australian mining and exploration company NiPlats Australia Ltd, announced "an updated Mineral Resource estimate for the Speewah Dome Fluorite Project based on the exploration programme completed in 2008." NiPlats intends to use this updated resource estimate to "raise further market awareness of the potential for a fluorite project" at the site some 100 km southwest of Kununurra.
In Vietnam, nobody is holding their breath for the former Tiberon Minerals-owned Nui Phao tungsten/fluorspar project to come on-stream, despite its recent acquisition by Dragon Capital Management. After continuing delays, we're still looking at some time in late 2010 for the mine to start up. Perhaps, though, as Dragon Capital Management suggests in its June 2009 update, with removal of North American Tungsten from the market, prospects for the project may become a little more promising.
In Sweden, the scoping work carried out by Tertiary Minerals plc (OTC:TTIRF) at its Storuman Fluorspar deposit has recently produced some encouraging results, not least that fluorspar concentrate has been produced to saleable specifications. The company's "conceptual target" is "a mining operation producing at least 100,000 tonnes per annum of acid grade fluorspar."
Of the well-established and larger producers, Sallies (OTC:SLYLY) in South Africa has, as previously mentioned, taken both its Witkop and Buffalo fluorspar mines off-line. Along with Solvay's Okorusu mine in Namibia, it remains to be seen when - or even if - they start producing again. (In the case of Okorusu, at least, it appears that there is a firm intention to get the facility up and running again by October 1.)
While Sallies may be a pure fluorspar play, Belgian giant Solvay SA's (OTC:SVYSY) fluorspar mining activity is just one of many (although it supports one of the company's core businesses, fluorinated products.) Concerned as far back as 1997 about securing its own fluorspar supplies, Solvay purchased the Okorusu mine from its then-shareholders in June of that year.
The major fluorspar producer in Mexico (and, indeed, "the largest worldwide producer of calcium fluoride") is Mexichem S.A.B. de C.V. But, as with Solvay, fluorspar mining is just one of Mexichem's many business activities.
Fluorspar In The Future
Using fluorspar for its fluorine seems set to continue for the near future, including as a substitute for ozone-depleting chlorofluorocarbons (even though these compounds have been identified as quite effective greenhouse gases themselves). And, as of today, only relatively small amounts of synthetic fluorspar are recovered through recycling efforts.
It remains anybody's guess as to how China's recent referral to the WTO will play out. Whatever the outcome, however, given China's own increasing domestic use of fluorspar, there may simply just be less available for export than in the past several years.
So while the market may be depressed at the moment, when the world's economies pick up, there's a good chance that consumers will want to secure their supplies as soon as possible, while protecting against unwarranted exposure to future supply interruptions. This may - and probably will - entail a search for suitable supply sources additional to current producers. As always, though, the question in these fraught economic times remains as to how many of the smaller would-be producers are able both to weather the storm and stay healthy enough to produce their fluorspar thereafter.
---
Resources
U.S. Geological Survey (USGS)1
1. I am indebted to M. Michael Miller of the USGS for his invaluable help with this article.