Three years ago, my colleague published an article entitled "Arena Pharmaceuticals: Understanding the Market for Anti-Obesity Drugs". In that article, John noted the high dropout rates observed in anti-obesity clinical trials, reviewed academic studies of patient adherence to anti-obesity drug treatment, and examined the historical market penetration of anti-obesity drugs in international markets. Considering each of these data sources, he reached the following conclusions:
The main factor limiting historical sales of anti-obesity drugs historically has been that most patients stop taking their pills, typically within 3-6 months of receiving their first prescription.
This poor adherence to therapy is mainly due to the modest efficacy of existing anti-obesity drugs.
Adherence to therapy and overall market penetration remains quite modest even when the cost of anti-obesity drugs is reimbursed.
Sales of anti-obesity drugs in the United Sates are strongly limited by the availability of generic phentermine.
Based on this analysis, the size of the addressable market, and historical sales of other anti-obesity drugs, John projected peak worldwide sales of $800M for Arena's (NASDAQ:ARNA) Belviq. In the present article, we analyze current Belviq prescription trends in terms of this prior analysis. We conclude that these sales trends are in line with the above prior analysis, but also that they are ultimately irrelevant to Arena's long-term success. We assert that Arena remains, first and foremost, a binary event driven company whose success is contingent upon the successful achievement of at least one of the following two goals:
Approval of Belviq in the European Union
Approval of a Belviq/phentermine combination pill (Bel-Phen) in the United States
U.S. Sales of Belviq - Slow Going
Belviq's commercial launch occurred on June 11th of this year. Weekly prescription counts have gradually climbed to 3000, a result that most consider disappointing. Equally troubling, the rate of weekly prescription growth already appears to be slowing. In Week 7, IMS reported 3074 Belviq prescriptions, only 852 greater than those of four weeks earlier. If Belviq prescriptions continue to grow at a rate of 215 TRx per week, it will achieve sales of about $660 million in its fifth year on the market - a far cry from the blockbuster many Arena bulls believed upon approval. Assuming that Arena receives 35% this amount in royalties and other payments, and applying a 6x price to sales ratio and a discount rate of 12%, suggests that the current prescribing trend supports a share price of less than $4.00. Even this value is likely an overestimate, as it appears that a large fraction of prescriptions to date have been filled with free sample coupons. No doubt, it is likely that the prescription fill rate will fall once this program is ended.
Figure 1. Belviq Weekly TRx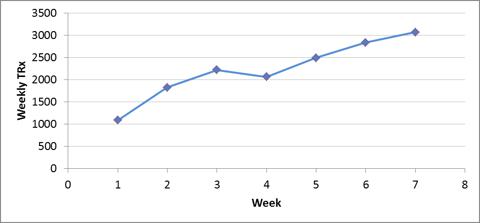 While the story seems very pessimistic up to this point, our goal in writing this article is not to write the company off based on early TRx data. Instead, we will argue that the modest prescribing rate seen to date is entirely expected based on John's 2010 analysis, and largely irrelevant to the drug's long-term success. That being said, there are two paths forward to achieving blockbuster status, and each involves addressing Belviq's most important challenge: competition from generic phentermine.
The U.S. is a Surprisingly Weak Market for Anti-Obesity Drugs
As noted in John's previous analysis, while most drugs generate approximately 50% of their worldwide sales in the U.S., this has generally not been true for anti-obesity drugs. As shown in Figure 1, from 2001 to 2007 only 20-30% of Xenical and Meridia sales were generated in the U.S. U.S. sales remained at or below $200M for Xenical and $100M for Meridia. Worldwide sales were 2-5 fold higher.
Figure 1. U.S. and WW Sales of Meridia and Xenical, 2001-2007.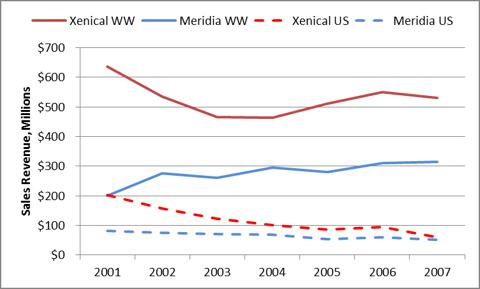 Modest U.S. Sales of New Anti-Obesity Drugs are Due to the Availability of Generic Phentermine
Why do obesity drugs fare so poorly in the U.S.? The answer is simple - because in the U.S., patented obesity drugs must compete with generic phentermine (phentermine is not available in most other major pharmaceutical markets due to regulatory agency actions taken in the aftermath of the Fen-Phen). Table 1 shows the 2005 price for one month of therapy with phentermine, Meridia, Orlistat or Belviq along with the average placebo-subtracted (completer) weight loss achieved at the end of one year. Phentermine is dramatically less expensive and provides greater weight loss than Meridia, Orlistat, or Belviq. Although it is labeled for a maximum of 12 weeks use, it is commonly prescribed by physicians for much longer periods (Hendricks 2009). The ability of Meridia and Xenical to compete in the U.S. at all probably results from concerns about phentermine's amphetamine-like properties and unknown long-term cardiovascular safety.
Table 1.
| | | |
| --- | --- | --- |
| Product | 2005 Price | Mean Weight Lossa |
| Phentermine | $40 | 8.2% |
| Meridia | $103 | 4.1% |
| Orlistat | $170 | 2.5% |
| Belviq | $200b | 4.8% |
a Placebo-subtracted, completers. b 2013 price
A U.S. FDA study examining anti-obesity drug prescriptions between the third quarter of 2002 and the third quarter of 2005 found that over two-thirds of U.S. anti-obesity prescriptions were for generic phentermine. Thus, the revenue potential of novel anti-obesity drugs in the U.S. is likely reduced by half or more by the availability of generic phentermine.
Figure 2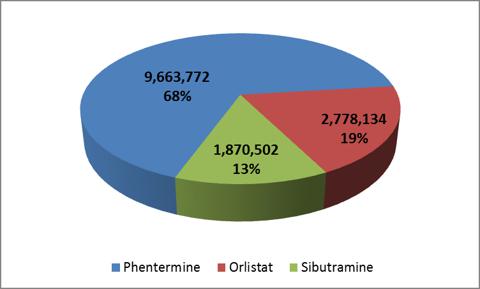 European Approval Could Triple Sales, but Appears Unlikely
The usual assumption in pharmaceutical marketing is that about half of worldwide sales will accrue in the U.S. As shown above, this has not been true for anti-obesity drugs, mainly due to the availability of generic phentermine. Given this observation, where are the main opportunities for anti-obesity sales? Based on the data in Table 2, we rate the revenue potential of international markets as follows:
The European Union is a highly attractive market due to its high per capita spending on pharmaceuticals, its high obesity prevalence, and the absence of significant generic competition.
The U.S. also has a large per capita spending on pharmaceuticals and a high prevalence of obesity, but as noted above, sales of new anti-obesity drugs in the U.S. have historically suffered from competition from generic phentermine.
China is unlikely to make a major contribution to sales in spite of its large total pharmaceutical spending; as per capita spending is only $50. This likely reflects the modest size of the Chinese middle class.
Brazil and Russia each have high obesity prevalence, though per capita spending on pharmaceuticals is relatively modest. These countries could contribute meaningfully to revenue, but are not key markets.
Other countries in the table are likely to be relatively small markets, as the number of eligible patients is relatively low.
Overall, the European Union appears to be the most important market for anti-obesity drugs. The number of patients eligible for treatment is nearly equal to that of the U.S., per capita spending on pharmaceuticals is high, and there is little or no competition from generic products. Given that two-thirds of patients in the U.S. are treated with generics, the potential market in the EU may be twice as large as that in the U.S., or even greater.
Unfortunately, the European Marketing Application for Belviq was withdrawn by Arena in May of 2013. A press release by the EMA stated that:
"Although a modest benefit in terms of weight loss was seen in the main studies, the Committee was concerned about the potential risk of tumours, particularly with long-term use, based on the results of laboratory tests. The CHMP also had other safety concerns, including the potential risk of psychiatric disorders (such as depression) and valvulopathy (problems with the heart valves), which were seen in some patients during the studies. Therefore, at the time of the withdrawal, the CHMP was of the opinion that the benefits of Belviq did not outweigh its risks."
These concerns are very similar to those expressed in the 2010 FDA Advisory Committee review of Belviq, which led to the issuance of a Complete Response Letter by the FDA. In 2012, Belviq received a positive Advisory Committee recommendation and was approved by the FDA after the submission of additional evidence regarding the clinical relevance of high dose preclinical carcinogenicity studies. However, the results of these new studies were presumably available for inclusion in the European Marketing application, so the potential for a more favorable CHMP evaluation at a later date is not clear. Investors should keep a close eye on the company's interactions with the EMA and weigh carefully any information that becomes available regarding the potential for European Approval.
Bel-Phen Represents a Real Opportunity in the U.S., But Could Face Cardiovascular Hurdles
A second strategy for boosting Belviq sales would be to provide a more efficacious product. John's prior analysis suggested that poor patient adherence to therapy was the single most important factor limiting historical anti-obesity drug sales. The high dropout rate seen in field studies means that rather the number of patients on therapy does not accumulate over time. Instead, a complete new set of patients must be recruited every 6-12 months. We further concluded that the dropout rate could be dramatically lowered, into the range seen for blockbuster cholesterol and blood pressure medications, in a weight loss drug with minimal side effects and 10% placebo subtracted completer weight loss. In addition to retaining patients, such a drug would have competitive advantages relative to generic phentermine, and could take a portion of the 7 million prescriptions written for phentermine each year.
At its August 1 earnings release, Arena announced that it had completed dosing in a Phase I drug interaction trial of Belviq with phentermine, and had agreed with Eisai on the design of a 12 week Phase II trial of the combination. The drug-drug interaction study was performed with 10 mg of lorcaserin and 15 mg of phentermine. The company declined to comment on what doses would be looked at in the upcoming pilot study.
Phentermine monotherapy at 30 mg QD (the dose of phentermine implied by 15 mg BID) provides placebo subtracted weight loss of 8.2% at 6 months; a lower dose of 15 mg QD provided last observation carried forward (LOCF) placebo-subtracted weight loss of 4.4% at 6 months. Assuming that the effect of combining Belviq with phentermine is slightly less than additive, we calculate placebo-subtracted completer weight loss of 11% for Belviq plus 15 mg BID phentermine. For the combination of Belviq and low dose phentermine, we estimate placebo subtracted completer weight loss of 8% to 9%. These estimates take into account that in the low dose clinical trial, patients in the low dose phentermine arm were still losing weight, but not those in the placebo arm(1).
One important potential barrier to the approval of Bel-Phen is its potential to raise cardiovascular risk. The cardiovascular risk of drugs is commonly thought to be related to whether an increase in the systolic blood pressure x heart rate product is increased. On chronic treatment, phentermine, topiramate, Qsymia, and Belviq all produce favorable changes in blood pressure. However, as shown in Figure 3, phentermine increases heart rate, topiramate reduces heart rate, and when they are combined in Qsymia the effects are roughly additive. The resulting small increase in heart rate was of concern to the FDA and the Advisory Committee, but Qsymia was eventually approved without a requirement for a pre-approval cardiovascular outcomes trial. We show in Figure 3 that the heart rate reducing effect of Belviq is smaller than that of topiramate. It may thus be less able to offset the heart rate increasing effects of phentermine. This may limit the dose of phentermine that Belviq can be combined with without a requirement for a pre-approval cardiovascular outcomes trial.
Figure 3. Changes in Heart Rate on Chronic Dosing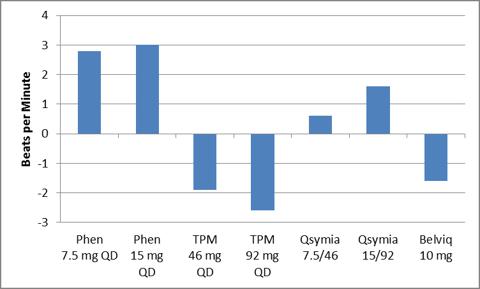 We are skeptical that a Bel-Phen combination pill containing full dose phentermine could achieve FDA approval, as the full dose of phentermine produces blood pressure and pulse changes that are predictive of increased cardiovascular risk. However, we are moderately optimistic regarding the combination with low dose phentermine. From a safety and tolerability standpoint, this combination would correspond to replacing the toprimate found in Qsymia with Belviq. The adverse event profile of the latter compound is much more benign than that of the former. An additional threat to the success of this development program would likely be the observation of an increased rate of CV events in Vivus' (NASDAQ:VVUS) Qsymia post-approval cardiovascular outcomes trial, as any increase in CV events would likely be attributed to phentermine, which has never before been examined for its impact on CV events.
Upcoming Catalysts and Conclusion
Per our previous analysis, we believe that U.S. sales of Belviq will continue to be slow going, but also that they are not of central importance to Arena's future success. The key issues are:
Approval in the EU, which would open up a potential market that we believe to be at least two- to three-fold greater than that in the U.S., and
The approval of Bel-Phen, which would have a greatly improved competitive profile relative to phentermine, and equally importantly, have a much higher patient retention rate
The initial interactions with the EU regulatory authorities have not been favorable, and given recent events with weight loss drugs in the EU (specifically, the withdrawal of marketing authorization for Meridia and Mediator), we think approval of Belviq in the EU is unlikely. We are very optimistic regarding the prospects for success in the pilot trial for Bel-Phen, and expect the stock price to react favorably to these results. We regard the outcome of the Qsymia CV outcomes trial as a bit of a toss-up, but that trial has not yet been initiated and results are not expected for several years. Furthermore, approval of Bel-Phen will not be truly de-risked until the FDA has combed over Phase III CV risk factor data with a fine-toothed comb and issued an Advisory Committee Briefing document.
As of August 5th, the market is reacting quite favorable to the announcement of progress on Bel-Phen, with the share price up to $7.50 a share after recently closing as low as $6.72. We assign a value of $2.41 per Arena share to U.S. sales of Belviq monotherapy, based on estimated peak U.S. sales of $400 million in 2017, a 6x price to sales(2) ratio, a 35% share of revenue to Arena, and a 12% discount rate. We similarly assign a value of $1.18 per share to U.S. sales of Bel-Phen, based on projected peak U.S. sales of $800 million in 2022, cannibalization of $200 million in Belviq monotherapy sales, and a 50% probability of FDA approval. We estimate non-European, ex-US sales at 25% of U.S. sales, and European sales at 250% of U.S. sales, respectively, and assign a 30% probability of European approval. Our estimated fair value for Arena shares then comes to $6.15. In sensitivity analysis, the most important factor is our estimated likelihood of European approval, with the share value rising to $7.69 at a 50% likelihood of approval and to $12.00 upon approval.
We believe the share price does not yet incorporate the Belviq European Marketing Application withdrawal or a sophisticated understanding of the importance of European approval to Arena's success. We would not be long-term holders of the stock until either Arena makes substantial progress on this issue, or the share price comes to recognize its severity. On the other hand, we expect considerable attention to be drawn to the company around the progress of the Bel-Phen pilot trial, and believe that those with a sophisticated understanding of trading and an appropriate tolerance for risk may find this an interesting opportunity. Similarly, any positive developments pointing toward European approval should lead to a substantial upward reconsideration of the company's prospects.
1 Company R&D Day slide deck, obtained courtesy of BioMedTracker.
2 We use a relatively high P/S ratio here as Arena has minimal SGA expenses associated with Belviq, which is being marketed by Eisai.
Co-Authored by John Tucker, PhD
Disclosure: I have no positions in any stocks mentioned, and no plans to initiate any positions within the next 72 hours. I wrote this article myself, and it expresses my own opinions. I am not receiving compensation for it (other than from Seeking Alpha). I have no business relationship with any company whose stock is mentioned in this article.