RightNow Technologies Inc. (NASDAQ:RNOW) recently agreed to buy enterprise-class social platform provider HiveLive Inc. The acquisition will combine RightNow's on-demand customer relationship management (CRM) solution with HiveLive's innovative platform for customer support, engagement and loyalty, and ideation communities to help organizations maximize every opportunity to deliver great customer experiences.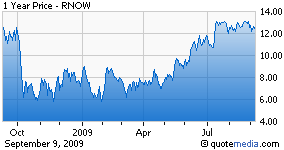 The deal will help RightNow to deliver the broadest social CRM solution in the marketplace. The HiveLive platform will be immediately available after close of the acquisition.
Online communities and social networking sites are becoming a critical source of information when consumers make purchase decisions or seek service and support. Most organizations strive not only to participate in social conversations, but to integrate those conversations into internal business processes and tap them for design ideas.
The HiveLive platform complements RightNow Cloud Monitor by empowering organizations not only to monitor the social web but actually facilitate their own communities. HiveLive will also add the social channel to RightNow's multi-channel contact center offering, which includes phone, email, mobile, web, feedback and chat.
Under terms of the deal, RightNow will acquire all outstanding shares of HiveLive for approximately $6 million in cash. The acquisition will add to the company's earnings from the fourth quarter of 2010. It sees operating expenses rising by about $1 million per quarter due to headcount additions. The company expects to close the transaction next week and will record in its financial statements for the quarter ending Sept. 30, 2009.
For the third quarter, RightNow reiterated its revenue and non-GAAP earnings per share guidance originally provided on July 29. RightNow expects increased expenses from the acquisition by way of amortization of acquired intangibles, which will be finalized once the purchase price accounting valuation is complete. As such, it withdrew its previous GAAP earnings per share guidance for the third quarter and full year 2009.
RightNow Technologies is a leading provider of on-demand CRM software solutions, designed to optimize customer service operations for businesses of all sizes. Its comprehensive customer service solution features a self-learning knowledge base that is designed to seamlessly support multiple communication channels, including web, interactive voice, email, chat, telephone and proactive outbound email communications. The company's major competitors include Oracle Corp. (NASDAQ:ORCL) and SAP AG (NYSE:SAP).