After a rough 2012 and a slow start to 2013, the price of oil has shot back up above $100 over the last three months. The opposite has occurred for natural gas. From April 2012 through April 2013, natural gas was one of the few commodities doing well, but since peaking a few months ago, it has done nothing but trend lower.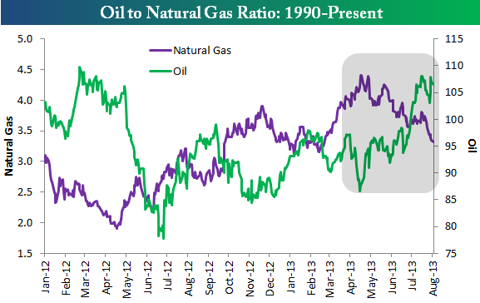 The move higher in oil and lower in natural gas since mid-April has the oil to natural gas ratio on the upswing again. Many of you will remember us posting on the huge spike higher in this ratio in early 2012 when it skyrocketed to astronomical levels.
As shown in the chart below, the ratio remained relatively steady between 5 and 15 from the mid-90s through the late 2000s, but in 2009 the ratio began moving higher and didn't stop until it reached the mid-50s! The ratio finally experienced gravity in the middle of last year, however, and by this April it was more than cut in half. The landing level in the ratio ended up being 20, and since bouncing there, it has moved back up to 32.08. It will be interesting to see how the two trade for the remainder of the year.