Introduction
In this article I'll have a look at CME Group's (NASDAQ:CME) Q2 financial results and its balance sheet. CME Group is a leading derivatives market place with trading facilities in New York, and Chicago. Approximately 87% of its trading volume happens through electronic trading, and almost half of the trading volume was caused by trades in derivatives using interest rates as underlying value.
After glancing over the Q2 and H1 financial results and the company's balance sheet, I'll provide a potential option trade in my investment thesis.
The Q2 Financial Results
The CME Group recorded revenues of $816.1M in Q2, up 2.5% from $795.9M in the same period last year. The company recorded a 7.6% increase in clearing and transaction fees revenue, which compensated for the heavy 28% drop in revenue from market data and information services.
Even though the revenues increased, CME Group was able to reduce its operating expenses by almost 6% to $308.3M, which resulted in an operating income of $507.8M, an increase of 8% over the same period of last year. The company's net income powered an astonishing 23% higher thanks to a $60M reduction in income tax provision.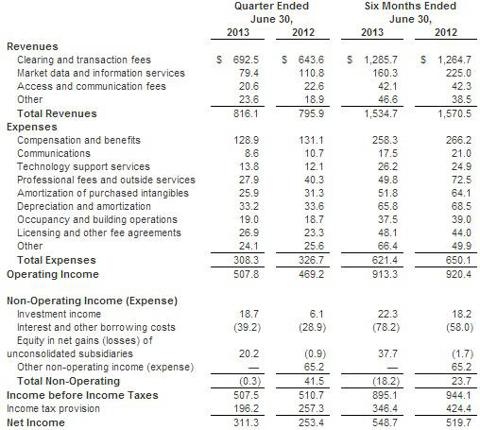 This resulted in a net profit per share of $0.94 versus $0.74 in the same period last year. Looking at the half-year numbers, CME's earnings per share came in at $1.65, up 6% from last year's $1.55.
The Balance Sheet
CME Group ended the quarter with a working capital of $731M, down from $1.1B at the end of 2012. This was caused by the increase of the short-term debt by approximately $750M (which corresponds with a $750M decline in long-term debt). Without this event, the company's working capital would have increased to approximately $1.5B.
The company's book value increased by $430M to $21.85B, which corresponds to a book value of a little bit higher than $65/share. Keep in mind approximately 60% of the company's balance sheet exists of intangible assets and goodwill, which is difficult to valuate.
Investment Thesis
CME Group had a very decent quarter and is currently trading at a Price/earnings ratio of 22 for 2013, and 19 for 2014. Whilst this might seem to be expensive, keep in mind the company has a very robust balance sheet and enjoys a dominant position in its sector, resulting in a high operating yield of in excess of 60%. The company's cash and marketable securities increased to in excess of $2B, and I'm wondering what CME's plans are for its increasing cash position. I would not exclude a dividend increase at this time.
I'd like to pick CME Group up at a share price around 15 times its 2014 earnings, so I'm looking to write some put options with various strike prices and expiration dates. Of interest are the Put 60s January 2014 with an option premium of $1.10. This results in an annualized yield of 4% and would allow me to acquire shares in CME Group at $58.90. This would result in a dividend yield of 3.05% using the $0.45 quarterly dividend and a yield of 3.4% should the CME Group increase its quarterly dividend to $0.50/share.
Disclosure: I have no positions in any stocks mentioned, and no plans to initiate any positions within the next 72 hours. I wrote this article myself, and it expresses my own opinions. I am not receiving compensation for it (other than from Seeking Alpha). I have no business relationship with any company whose stock is mentioned in this article.