Caterpillar (NYSE:CAT) shares have lost about 8% of their value this year. (See Chart Below taken from Interactive Brokers)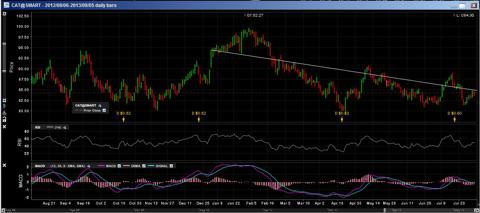 Click to enlarge
The causes for this decline are several: lower revenue than last year and a decline in profitability as well as an acquisition last year that has resulted in a major write down this year. Caterpillar dealer statistics show declines in every market except Latin America. (See Chart Below)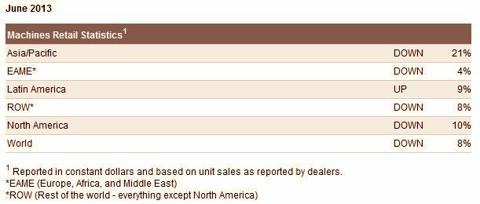 Click to enlarge
Since CAT generates 63% of its total revenue outside North America, declines in foreign sales can hurt the company in a huge way. On the other hand, CAT is a safe way to profit from growth in emerging markets while eliminating many of the unknown dangers of foreign markets and accounting.
If one were to chart the profitability of CAT quarter by quarter, one can see the profitability of the company hit its low in the 4th quarter of 2012 and has been slowly reviving in 2013.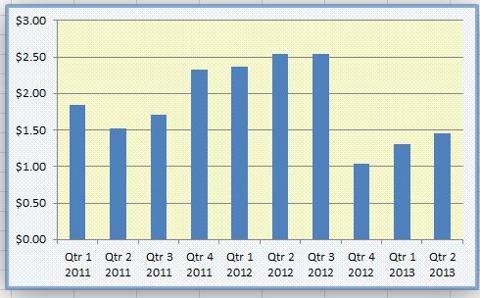 Click to enlarge
First Call estimates of CAT earnings going forward are charted below quarter by quarter.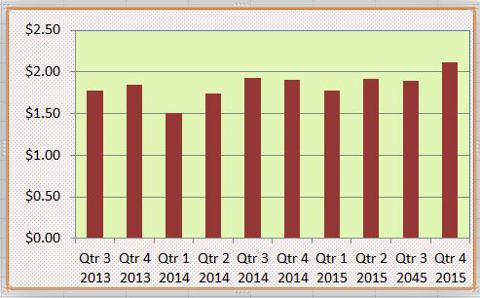 Click to enlarge
Notice that these estimates predict some earnings momentum going forward.
Caterpillar announced the following with their 2nd quarter earnings:
In February 2007, the Board of Directors authorized the repurchase of $7.5 billion of Caterpillar stock, and in December 2011, the authorization was extended through December 2015. In April of this year, we announced our intention to repurchase approximately $1 billion of stock, which we completed in June. Through the end of the second quarter of 2013, $4.8 billion of the $7.5 billion authorization was spent, leaving $2.7 billion in the authorization. Given the strength of our balance sheet and strong cash flow, we expect to repurchase an additional $1 billion of stock in the third quarter of 2013.
The company announced on July 29, 2013 that it has agreed to buy back approximately 11 million shares from Societe Generale for $1 billion. This transaction is expected to be completed in September. These buybacks at the lower price of the stock should help increase earnings per share going forward.
Here are some more statistics on Caterpillar as of June 30, 2013:
Annual Dividend $2.40 (yield 2.9%)
Payout Ratio 33%
Trailing P/E 13.12
Cash on Hand Nearly $4 Billion
Long Term Debt $39.55 Billion
Payout Ratio 33%
Historic grow of Caterpillar for the past 5 years:
EPS growth 9.58%
Revenue growth 7.94%
Dividend growth 7.92%
A Comparison of Caterpillar to General Electric GE, Illinois Tool Works ITW, Deere DE and Cummins CMI, other companies in the same industry is shown below:(Chart taken from TDameritrade)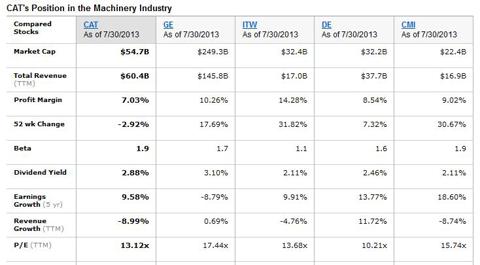 Click to enlarge
This comparison shows:
CAT is the only company where the stock price has declined this year
CAT's P/E is in the middle of the pack
Revenue decline for CAT has been the greatest in the group
CAT's profit margin is lowest in the group
CAT is the second largest company by market cap and revenue in the group
On March 25, 2013 CAT announced the opening of a new facility and the completed expansion of another facility in Wuxi, China.
Caterpillar opened its 23,000-square-meter power train facility in Wuxi to produce axles, transmissions and final drives for use in a range of Caterpillar earthmoving and mining machinery. The company has also completed a 17,000-square-meter expansion at an existing component facility in Wuxi to produce hydraulic cylinders for Caterpillar machines. Both facilities are part of Caterpillar's Advanced Components & Systems Division which designs and manufactures technologically advanced components for Caterpillar machines and customers around the world.
This should help lower costs of production of Caterpillar equipment and help with growing its profit margin.
CAT maintains that its mining business has hit bottom and should begin to lead to a relatively positive demand picture going forward:
The world's biggest mining trucks, built at Caterpillar's Decatur plant, have been a direct casualty of that downbeat sentiment. Cutbacks at the factory resulted in the just completed layoffs of more than 460 supplemental employees, with another 300 employees scheduled to be let go in July.
Twenty per cent of CAT's work force are "temporary contract agency" employees who are cut quickly in response to business cycles. CAT has also put 90% of its financial work force on a rolling program of layoffs that forces them to take 3 weeks of unpaid leave. It appears that CAT management is taking active steps in dealing with the downward spike in its mining business.
Conclusion:
CAT is a well-managed company that has suffered a hiccup in its business which has led to its stock price declining. Inventories now appear to be in-line at the company's distributors, and there should not be any further liquidation or reduction. Just on that basis alone, the company should garner an additional $500 thousand to $1 billion in additional business over the next year. The company has reduced its work force to a level that is consistent with its business. It also has an expanding business in Latin America and Asia. This should stand the company in good stead for the next few years.
However, the decline in CAT's shares may not yet be complete. When negative emotions surround a company, they often drive the stock price considerably below fair value. Therefore, I suggest selling October 18 puts priced at $77.50. These puts are currently selling between $1.15 to $1.25 each. If the stock is selling lower than $77.50 in the middle of October, you will purchase CAT shares at a cost of $76.50 per share. If the stock does not go below that price level, you will harvest the premium for selling the puts. You will likely be a winner in either case. It is a better option than buying the stock now and possibly seeing it decline between now and October.
Disclosure: I have no positions in any stocks mentioned, and no plans to initiate any positions within the next 72 hours. I wrote this article myself, and it expresses my own opinions. I am not receiving compensation for it (other than from Seeking Alpha). I have no business relationship with any company whose stock is mentioned in this article.