Let's get this out of the way first. We're not saying CenturyLink (NYSE:CTL) is going to cut its dividend again tomorrow. We recently highlighted the risk of the dividend before its most recent dividend cut here. What our dividend process does though is allow investors to see how much cushion (excess cash) above our forecasts of dividend growth the firm has. And in doing so, investors can see just how much more the firm could raise its dividend above and beyond our forward-looking expectations. With that said, let's dig into why CenturyLink's dividend is not healthy at all, even after assuming no future growth in it.
CenturyLink's Investment Considerations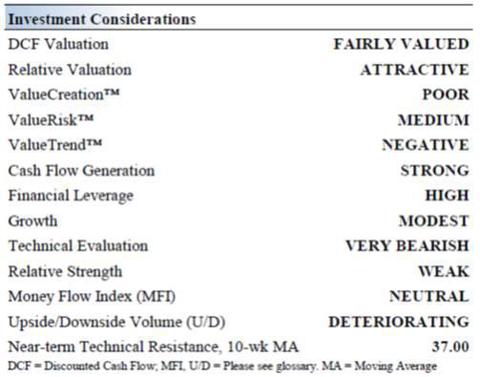 Evaluating Centurylink's Dividend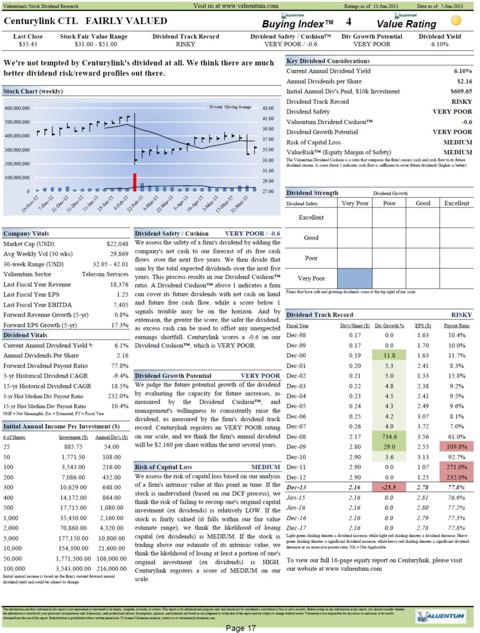 For starters, CenturyLink's dividend yield is elevated, offering a 6% annual payout at recent price levels. However, it's important to note that just because a firm's dividend is elevated doesn't mean it's a good dividend-growth or income holding. We prefer yields above 3% and don't include firms with yields below 2% in our dividend growth portfolio. So, up to this point in our analysis, Centurylink fits the bill.
But What About the Safety of the Dividend?
Well, that's certainly another story. We think the safety of Centurylink's dividend is very poor (please see our definitions at the bottom of this article). We measure the safety of the dividend in a unique but very straightforward fashion via the forward-looking Dividend Cushion™. The measure is a ratio that sums up the existing cash a company has on hand (on its balance sheet) plus its expected future free cash flows (cash from operations less capital expenditures) over the next five years and divides that sum by future expected cash dividends paid over the same time period.
Basically, if the score is above 1, the company has the capacity to pay out its expected future dividends. As income investors, however, we'd like to see a score much larger than 1 for a couple of reasons: 1) the higher the ratio, the more "cushion" the company has against unexpected earnings shortfalls, and 2) the higher the ratio, the greater capacity a dividend-payer has in boosting the dividend in the future. For Centurylink, this score is -0.6, revealing that on its current path the firm may not be able to cover its future dividends with net cash on hand and future free cash flow.
For comparison to how this calculation is performed and what constitutes a good measure, please see Hewlett-Packard's (NYSE:HPQ) write-up here, Colgate's (NYSE:CL) here, Coca-Cola's (NYSE:KO) here, and Procter & Gamble's (NYSE:PG) here. These sample firms have Dividend Cushion scores that are north of +1.
A Graphical Depiction of CenturyLink's Future Dividend Troubles
Please see below how the firm's expected cash flow from operations (over the next five years) are overwhelmed by its expected capital expenditures (over the next five years) and existing net debt position--this summation is the numerator, or the negative value on the left. Without financing activities, CenturyLink will not be able to sustain its dividend payments (five-year summation), the large cash outlay on the right (one that cannot be met by the shortfall on the left).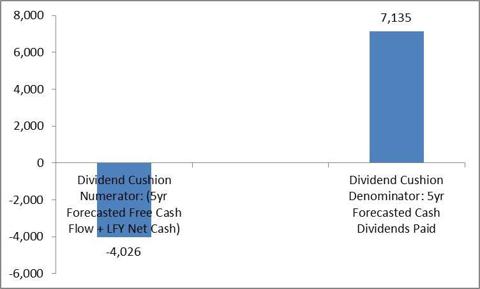 What About the Growth of Its Dividend?
Now on to the potential growth of Centurylink's dividend. As we mentioned above, we think the larger the "cushion" the larger capacity it has to raise the dividend. There is no cushion at all at CenturyLink (in fact, there is an expected shortfall). But such dividend growth analysis is not complete until after considering management's willingness to increase the dividend. To do so, we evaluate the company's historical dividend track record. If there have been no dividend cuts in 10 years, the company has a nice growth rate, and a nice dividend cushion, its future potential dividend growth would be excellent, which obviously is not the case for Centurylink. CenturyLink's dividend position is very ominous.
All things considered, we're not tempted by Centurylink's dividend at all. We think there are much better dividend risk/reward profiles out there, and while we're not expecting a dividend cut tomorrow, we wouldn't be surprised if another occurred in the next few years.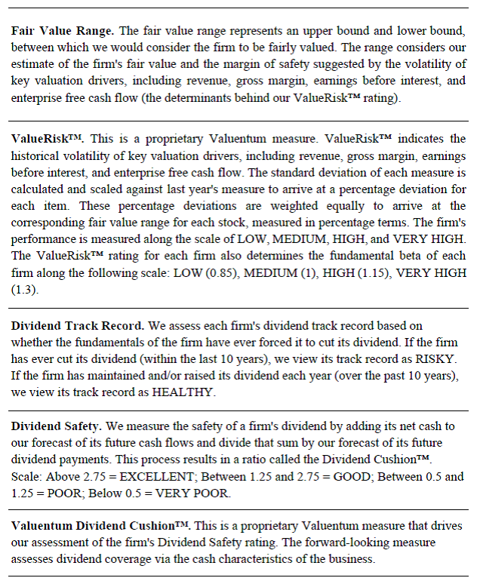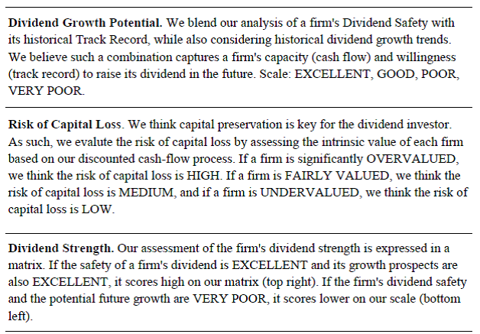 Disclosure: I have no positions in any stocks mentioned, and no plans to initiate any positions within the next 72 hours. I wrote this article myself, and it expresses my own opinions. I am not receiving compensation for it (other than from Seeking Alpha). I have no business relationship with any company whose stock is mentioned in this article.
Additional disclosure: PG is included in our Dividend Growth portfolio.