Before 2013 started, I listed my predictions for the market in 2013. Unlike many sets of predictions, I tried to stick with individual stock predictions. Four of my five predictions were for individual names, with one overall market volatility prediction. Now that the four individual stocks on my list have all reported quarterly numbers during this earnings season, I'd like to review my 2013 predictions, and discuss where these names go from here.
Prediction 1 - Apple (NASDAQ:AAPL) will only return to $700 if it does about $52 in earnings per share for the fiscal year. Grade: A
When Apple started the year at $532, analysts were looking for $48.81 in earnings per share for the fiscal year (ending in September). So this prediction was not that outrageous. I thought that Apple had a chance to get back to $700, but it needed to have a great year. My $52 earnings number would have represented 20.5% growth over the adjusted prior year number, when you take out the extra week. I thought it would take adjusted earnings growth of more than 20% to get this stock back to $700, a rally of 31.5%. With this level of earnings growth, I also thought Apple's multiple would expand, as more profits would also mean more cash returned to shareholders.
Unfortunately, Apple has not had the year many were hoping for. The weak PC industry has hit Mac sales, there was no iPad refresh in March, iPhone selling prices have been weak, and Apple really hasn't launched any new major products. Revenue guidance has disappointed the past few quarters, which has forced analysts to continuously take down their estimates. The following table shows how estimates have changed since the beginning of the year.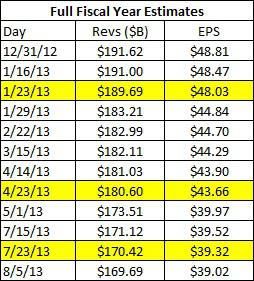 With just under two months left in the fiscal year, I don't see how Apple rallies back to $700 or gets to $52 in earnings this year. This prediction was solid and I don't expect that to change. But what about Apple the rest of the year? Well, Apple's latest earnings report wasn't great, but left some hope going forward. You can definitely see that in the stock, which is at a three month high. Apple shares are up 12% since reporting earnings. We should be less than two months away from the next major product launch, and that's when things get interesting. A refresh of the iPhone, iPad, iPad mini, as well as a potential cheaper iPhone could start to spur this stock even more. Once investors feel confident in Apple's innovation again, they will really start to pile into this name. I wouldn't be surprised to see this stock hit $500 at some point this year, but to think it is going back to $700 anytime soon is a stretch in my opinion.
Prediction 2 - Netflix (NASDAQ:NFLX) will add between 3 million and 4 million US total streaming subscribers in 2013. Grade: C
This prediction is looking a bit off, especially after Netflix added 2.66 million subs in the first six months of 2013. Generally speaking, Q3 and Q4 are pretty good sub add quarters. I'll admit I was a little bearish on Netflix, and part of that was based on last year's disappointment in total sub growth. When it came to Q4 of 2012, had Netflix come in at the lower end of their guidance range, this prediction probably would have been a lot better. But Netflix came in at 27.15 million streaming subs, above the high end of their range for 27.10 million, and they've continued to impress. If I had known how strong Netflix's Q4 was, this prediction would have been for 4-5 million sub adds.
At this point, the number to focus on is 5.48 million, which is the number of total domestic streaming subs Netflix added in 2012. Can they top that number in 2013, or will there be a slowdown in growth? Netflix's Q3 guidance midpoint is for 3.75 million sub adds through the first three quarters of 2013. If Netflix comes in at the upper end of their range, there is a chance that 5.5 million could be in play for the full year. If they come in at the bottom end of the range, maybe my prediction range won't be too far off.
Netflix has been one of the best performing stocks in 2013, and it will need to deliver solid results to justify its premium valuation. Questions still remain about their push into original content and balance sheet flexibility, but Carl Icahn has not sold one share. If Netflix delivers a solid second half of the year, I would not be surprised if this name makes a run at its all-time high. There were almost 7.6 million shares short at the latest update, which represented about 14.5% of the float, so another short squeeze is possible.
Prediction 3 - SodaStream (NASDAQ:SODA) will generate more than $525 million in revenues during 2013. Grade: A
This seemed like a bold prediction at the time, as the average estimate for 2013 was just $498 million, and the highest estimate was for $524 million. SodaStream has continued to report spectacular results, including their most recent quarter last week. SodaStream beat on the top and bottom line again, and raised their full year revenue guidance outlook from 27% growth to 30% growth.
Before last week's quarter, I had already raised my estimate for their yearly revenues a couple of times. Today, I am raising my estimate again to $575 million. The current average estimate on the street is $567.5 million, and the high estimate is $572 million. I've been one of the most optimistic on this name this year, and I will continue to be until this company proves otherwise. SodaStream continues to sparkle, which is why this name has rallied from $45 to $65 so far this year.
Prediction 4 - Amazon's (NASDAQ:AMZN) 2013 earnings per share will disappoint, missing current estimates for $1.76. Grade: A
This might have been the easiest prediction to make, given Amazon's recent history. Analyst estimates start out really high, and as the year goes on, they come down as Amazon guides lower. I detailed in my most recent Amazon article how a bunch of their numbers continue to worsen. Amazon missed Q2 revenue numbers, and posted a quarterly loss that was not expected. They also issued weaker than expected guidance, which they seem to do almost every quarter now.
Right now, analysts currently expect $0.86 in earnings per share this year, and I'm fairly confident that Amazon won't even hit that number. The average revenue estimate has come down by $5 billion since Amazon reported its Q4 and full year 2012 results, and I don't know of anyone who thinks estimates will start to rise in the near future. Amazon keeps piling on expenses to achieve higher revenues, but they aren't getting that expected revenue growth right now.
This low margin business continues to defy all logic, with shares just a stone's throw from their all-time high. In my Amazon article above, I made the case for a $285 valuation, which was seen as highly optimistic by many who commented on the article. Wall street analysts have a median target of $330 on the name, but there are so many out there that just don't understand this company's lofty valuation. It might take a few more bad quarters for this stock to head lower.
Prediction 5 - The SPDR S&P 500 ETF (NYSEARCA:SPY) will move more than 1% in either direction in more than 25% of trading days. Grade: D
I usually do better in analyzing single stocks than the overall market, so it is not a total surprise that my only market prediction has been the worst one. So far, the SPY has moved more than one percent in less than 17.5% of trading days, so this one isn't looking good. Will volatility pick up the rest of the year? It certainly is possible, but I'm not sure if it will be enough to turn this prediction around. With the Fed continuing their QE program at full blast, the market has gone higher and higher. At the same time, as you can see from the chart below, volatility has gone lower and lower.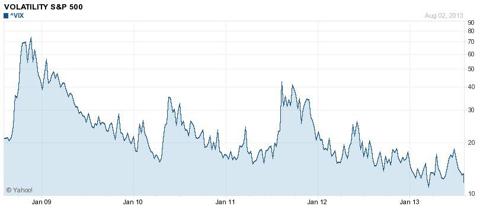 (Source: Yahoo! Finance)
The big issue is that we haven't gotten too many big down days, because if the market opens say a percent lower, you get an inflow of money on the pullback. That has really hurt my prediction for a lot of 1% plus move days. I'm not sure that will change, unless the Fed really starts to discuss tapering their purchases, but even then, I'm not sure if we'll hit 20% of days with 1% plus moves for this year.
Final Thoughts:
Three of my five predictions have fared extremely well so far this year. I am confident that my Amazon and SodaStream predictions will look even more right in the end, and I'm pretty sure Apple will not see $700 anytime soon. Netflix has surprised many, including myself, but they still have a lot to prove to justify their current share price. In terms of my S&P 500 volatility prediction, there is still time for it to turn around, but right now, it doesn't look good. Overall, these predictions have been fairly decent, and I will continue to update you as we get closer to year's end. One thing is certain. If things continue as they are trending, I will not do any overall market predictions next year!
Disclosure: I have no positions in any stocks mentioned, and no plans to initiate any positions within the next 72 hours. I wrote this article myself, and it expresses my own opinions. I am not receiving compensation for it (other than from Seeking Alpha). I have no business relationship with any company whose stock is mentioned in this article.
Additional disclosure: Investors are always reminded that before making any investment, you should do your own proper due diligence on any name directly or indirectly mentioned in this article. Investors should also consider seeking advice from a broker or financial adviser before making any investment decisions. Any material in this article should be considered general information, and not relied on as a formal investment recommendation.