It is easy to lose track of the value of true fundamental analysis in stock selection. Even professional analysts often lose sight of the forest through the trees, becoming distracted by factors that have little to do with driving long term performance of a stock. It is with this in mind that I am publishing the first of a series of fundamental analysis screens, their backtested results, and the current list of companies meeting the screen in question. The intent is not to promote specific stocks, but rather have this serve as a reminder that relatively intuitive, fundamental value assessments can potentially outperform more convoluted analysis. I would also like to tip my hat to John Dorfman of Thunderstorm Capital, who has published a plethora of similar articles on Bloomberg News, and who has generated an impressive historical track record of outperformance. I have never spoken with Mr. Dorfman, but his fundamental analysis and enlightening insight have served as an inspiration.
For the initial screen, my goal was to identify small capitalization stocks that exhibit favorable fundamental value and growth characteristics. My screen included the following criteria, and was back-tested on a 10 year basis, rebalanced monthly.
Begin with the Russell 3000 constituents
Current Price/Earnings ratio less than or equal to 15x
Current Price/Book ratio less than or equal to 1.5x
Sales growth greater than or equal to 10% in the last fiscal year
Free cash flow yield greater than or equal to 15% in the last fiscal year
Pays a dividend
Market capitalization under $1 billion
Each of these metrics on a standalone basis is a simple, well known fundamental ratio or figure. When combined, we generate a unique list of small companies that blend reasonably priced growth, cash flow generation, and a company willing to return a portion of that cash to shareholders.
Performance
The compound annual growth rate of this fundamental screen portfolio has been an impressive 14.89% over the past 10 years, while the Russell 3000 has been 6.01%. One important caveat is that the fundamental screen portfolio is naturally quite specific (the current screen results in five companies that meet the requirements). As a result, this small portfolio has a volatility of approximately double that of the broader index with 3000 constituents.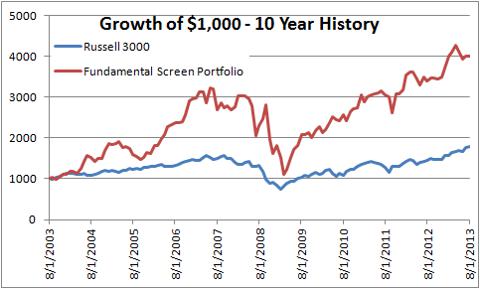 As market multiples have shifted over the past 10 years, the number of stocks that meet the criteria vary a great deal. The average number of total stocks included in the monthly rebalanced portfolio is 5.9, with an average of five from the previous month, and 0.9 new names. In 2006 and 2007 the average number of companies that met the criteria was only 1.25. It is no coincidence that given the luxury of hindsight, most acknowledge that stocks were relatively expensive during that time. Since 2009, the average has been 8.1 that met the criteria on a monthly basis. The discussion of whether a screen such as this could be an indicator of the degree of market value may be a topic for another article entirely.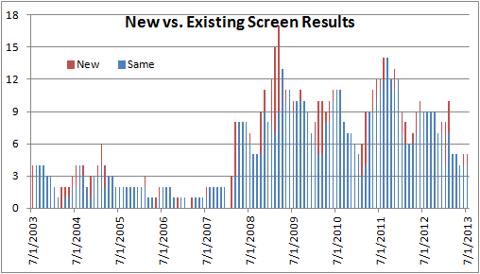 The Companies
The five companies that meet the criteria at the moment are as follows:
First Community Bancshares (NASDAQ:FCBC) offers commercial and consumer banking, wealth management, and insurance services across 74 locations in the southeastern United States. Last year, they acquired People's Bank of Virginia for $40.6 million, which added $285 million of assets to their balance sheet. They also made two smaller acquisitions during and after the financial crisis, one in fall 2008, and one in summer 2009.
Meta Financial Group (NASDAQ:CASH) operates primarily through their subsidiary MetaBank in Iowa and eastern South Dakota. They have twelve branches, with a focus on consumer banking and the agricultural sector, and they also operate a prepaid card division.
Alon USA Energy (NYSE:ALJ) is a refiner and marketer of petroleum products with total capacity of approximately 250,000 barrels per day. Macquarie recently downgraded them to Underperform from Neutral.
Dynex Capital (NYSE:DX) is a mortgage REIT, with approximately three quarters of their book consisting of agency MBS and the remainder being non-agency MBS. As a reminder, mortgage REITs borrow short term funds (typically in the repo market) and invest in mortgage bonds. Due to their high degree of leverage, the spread between their funding rate and the returns on their MBS portfolio is effectively multiplied, which generates attractive dividend yields. Many argue this levered carry trade makes mortgage REITs much riskier than they are given credit for.
New York Mortgage Trust (NASDAQ:NYMT) is yet another mortgage REIT, with a focus primarily on agency MBS. Similar to Dynex above, their high degree of leverage and reliance on short term financing to purchase longer term investments creates unique risk factors not present in most publicly traded entities.

I am intentionally avoiding a discussion of specific factors dealing with the status of each company listed above. There will often be a good reason for a stock being as cheap as these metrics imply they are. Whether it be nonperforming loan problems at banks, unhedged interest rate risk at mortgage REITs, or a host of other drivers, the simplicity of sticking to a consistent fundamental screening process to identify inexpensive companies is that with perseverance, one intentionally accepts these challenges, and understand that they are likely what is making the stock cheap in the first place. Owning stocks that consistently appear in screens such as the one mentioned above is not for the faint of heart. They carry risks that make a portfolio such as this more volatile than a broader basket of shares. However, for those seeking value in out of favor names, and who still believe in the power of fundamental analysis, sometimes a simple screening process is the most direct path to identifying attractive investments.
Sources: Bloomberg, Yahoo Finance, Google Finance, company filings
I do not own any of the companies mentioned herein, and have not received any form of compensation for writing this article.
Disclosure: I have no positions in any stocks mentioned, and no plans to initiate any positions within the next 72 hours. I wrote this article myself, and it expresses my own opinions. I am not receiving compensation for it (other than from Seeking Alpha). I have no business relationship with any company whose stock is mentioned in this article.