Diversification and GP Structure:
When it comes to the Kinder Companies, I prefer Kinder Morgan, Inc. (NYSE:KMI) for many reasons. One is KMI's diverse assets stemming from many different pipeline and storage systems. In total, KMI "owns an interest in or operates approximately 82,000 miles of pipelines and 180 terminals". See KMI's asset map: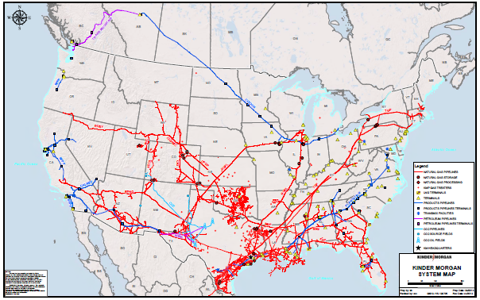 (Click to enlarge)
KMI's main subsidiary, Kinder Morgan Energy Partners L.P. (NYSE:KMP), "owns an interest in or operates approximately 46,000 miles of pipelines and 180 terminals":

(Click to enlarge)
So from a diversification point of view, KMI offers exposure to 74% more miles of pipe compared to that of KMP. In my view this makes KMI more attractive despite of KMP favoritism spawned from higher yield. However, KMI directly and indirectly owns approximately 13% of KMP, including the general partner. From KMP's 2012 10-k, KMI received approximately 51% of KMP's quarterly distributions of available cash. This is a great arrangement in my view, as just "13% ownership" allowed for more than half of last year's payouts. This general partner status over KMP is something investors should recognize as a superb reason to favor KMI.
As if skimming more than half of KMP's distributions was not convincing, KMI also owns a 41% limited partner interest and 2% general partner interest in El Paso Pipeline Partners, L.P. (NYSE:EPB). Assets include natural gas systems located in the Rocky Mountains, Wyoming, Colorado, Georgia, South Carolina, and Kansas. Combined, EPB's businesses total more than 13,000 miles of pipeline with associated storage facilities able to store nearly 100 billion cubic feet (BCF) of capacity: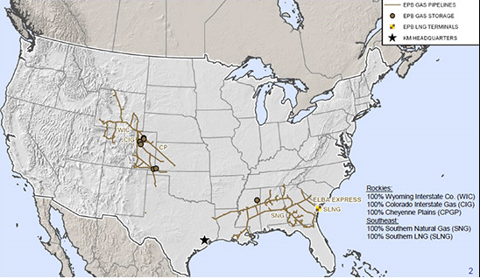 (Click to enlarge)
In total, KMI is great way to gain exposure to both EPB and KMP, in addition to other pipeline systems. KMI's GP interests in both companies creates an empowering business structure, as well as a more diversified entity for investors: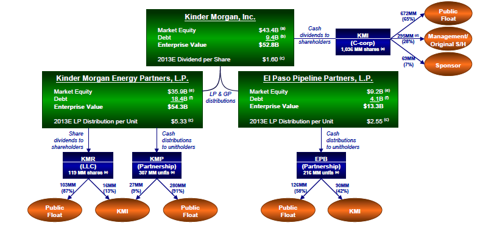 (Click to enlarge)
The future is exciting for KMI as the Copano acquisition is still being digested and fully harnessed. Moreover, management has stated that in 2014, the company intends to return to being virtually a pure-play general partner once more drop downs are completed, particularly those related to the EPB acquisition.
Faster Growing Dividend + Buyback:
Even though KMP's 6.4% distribution is substantially higher than KMI's 4.25% dividend, KMI's has been growing at a faster rate than KMP, or 110% faster over the past 2 years to be exact.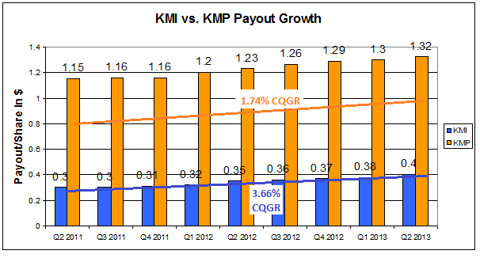 (Click to enlarge)
Just recently on the Q2 2013 conference call, Richard Kinder stated:
...we remain on target to meet or exceed our goal of $1.60 declared dividends for our full year 2013 and that compares with $1.40 in 2012... I think we are also well-positioned for future growth. We have about $14 billion now in expansion and JV investments that we are pursuing the building up across the Kinder Morgan companies.
We can assume from this recent statement KMI will again increase the dividend later this year to reach the $1.60 total. KMI's feverish rate of dividend increases are scheduled to continue through 2015 as per 10/17/12 comments from the CEO. In my opinion this will carry the share price higher through this period, and should allow KMI to outperform KMP on a total performance basis.
To further buoy KMI shares, the company announced a repurchase program allowing up to $350 M of either common stock or warrants. In my view most of this will be used to obtain additional warrants issued from the EPB acquisition. Regardless, both are accretive to the KMI shareholder. Coverage of these instruments can be further examined here. For the record, I think these warrants are also a buy for the more risk hungry investor.
Technical Strength + Kinder's Insider Buy
After touching $41/share this past spring, KMI is now trading for $37/share, which in my view offers an attractive entry since bouncing off the $35/share level, which also happens to be near the 50 day moving average, a major floor of support: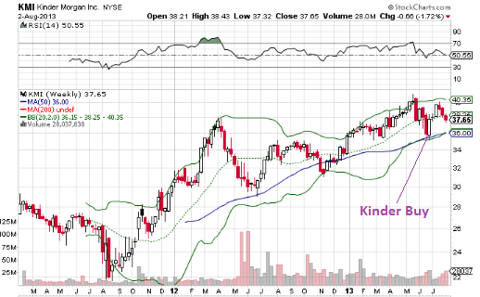 (Click to enlarge)
Further supporting shares is Mr. Richard Kinder's insider buy of 500,000 shares at $35.77 on June 24, 2013:


(Click to enlarge)
Richard Kinder highlighted a current new project backlog of about $14 billion, and gave updated guidance for the long term for both KMP and KMI:
...long-term growth rate at KMI is 9% to 10% a year and at KMP its 5% to 6% a year. We're on target this year to substantially see those targets, 14% growth at KMI and 7% growth at KMP. On top of that, we have an enormous backlog of future projects already nailed.
Judging from these projections, investors can better appreciate why Mr. Kinder chose to buy KMI, as it's scheduled to grow at twice the rate of KMP. As the GP owner of both KMP and EPB, KMI is seemingly destined to outperform going forward as it harnesses drop downs and distribution increases. There is no denying these three entities have been great investments, and I admit I have owned KMP in the past. However, KMI seems like the better investment at the current moment given the strengths I've highlighted, which include better diversification, GP control and IDR incentives, buybacks, and insider buys. KMI is a premier pipeline entity, and is a great way to play both EPB and KMP simultaneously.
Disclosure: I am long KMI. I wrote this article myself, and it expresses my own opinions. I am not receiving compensation for it (other than from Seeking Alpha). I have no business relationship with any company whose stock is mentioned in this article.