Paramount Gold and Silver Corp's (NYSEMKT:PZG) Sleeper Project north of Winnemucca, Nevada, once known as a high-grade open pit mine, hasn't seen production since 1996 when then owners Amax Gold closed its doors due to low metals prices and an assumption the mine had been spent. Now, please keep this in mind: between 1986 and 1996 Amax, at the Sleeper Mine, produced 1.66 million ounces of gold (1.66M oz. Au) and 2.3 million ounces of silver (2.3M oz. Ag), while production records indicate that less than half of the gold mined at Sleeper was recovered, which is a good thing, as we'll discover in a moment.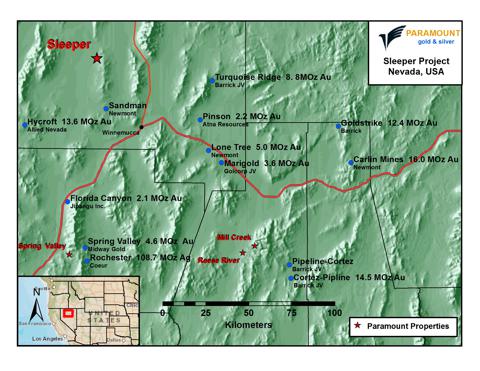 (Courtesy Paramount Gold And Silver)
Paramount's focus since obtaining the historically mineralized property in 2010 has been to explore the surrounding areas about the main pit, namely the West Wood area and Pad and Facilities zones (lying adjacent to each other) in an effort to prove value and improve shareholder value, a practice that continues in vigor. However, as announced August 1st, a new drill hole angled to reach under the bottom of the Sleeper pit has revealed new and promising results.
Though drill hole PGC-13-034 was drilled at an oblique angle to the mineralized zone for metallurgical purposes, the measured intervals are not true widths. However, the true width of the 32-meter intercept is estimated to be not less than 25 meters, still a good thing
Paramount CEO Christopher Crupi said in a recent press release:
We are increasingly confident that the structural setting for the original Sleeper mine has been repeated on our property and that we will be able to replicate its size and grade.
"To replicate its size and grade" is a very good thing for the company and its shareholders considering the amount of production realized when the original Sleeper pit was in service.
New discoveries are becoming commonplace for Paramount Gold and Silver and prove the Sleeper property was truly a good get. It is rich with mineralization as is Paramount's Dune project and Mimi Claim - just south of the Sleeper pit - extending downtrend to the property line of Newmont Gold's (NYSE:NEM) Sandman Project. In fact resources at Sleeper are beginning to rival those of Sandman.
Also worth noting is that approximately 49 million tons of above ground material exists in the heap leach pads at Sleeper. This gold bearing material is in part covering some exploration drill targets.
"We are having considerable success optimizing the Sleeper PEA. Recent drilling is likely to expand the resource within the proposed pit while also increasing the overall resource grade. We are also enriching our understanding of the Sleeper deposit which should help us to find analogous structures within our large land position," continued Mr. Crupi.
The Sleeper PEA prepared by Metal Mining Consultants of Denver, Colorado released on July 30, 2012 suggests the Sleeper Mine could accommodate approximately 30 million tons of ore per year throughput, resulting in a projected 17 year operation with average annual production of 172,000 ounces of gold (172K oz. Au) and 263,000 ounces of silver (263K oz. Ag), however the PEA does not include new resources discovered in the last year and a week.

The Sleeper Property of staked and purchased lands now totaling 2,570 claims, and covering about 47,500 acres, is an acquisition consistent with the company's strategy of district-scale exploration near existing infrastructure in established mining camps. Following this formula the company also owns the San Miguel Project, a large piece of land of 353,000 acres in the Palmarejo District of northwest Mexico. You can read about San Miguel here:
Paramount Gold And Silver Corp. is a Winnemucca, Nevada, based mining company with offices in Ottawa, Ontario, Canada and Mexico. The company is an exploration and development company with multi-million ounce, advanced stage, precious metals projects that remain fully funded. Exploration and engineering programs make progress everyday at both core projects. The company expects to generate substantial value for shareholders.
In case you were wondering, there is insider ownership at Paramount with CEO Christopher Crupi and CFO Carlo Buffone owning considerable shares of company stock, which in this opinion is another very good thing.

Disclosure: I am long PZG. I wrote this article myself, and it expresses my own opinions. I am not receiving compensation for it (other than from Seeking Alpha). I have no business relationship with any company whose stock is mentioned in this article.