On Tuesday, Microchip Technologies Inc. (MCHP) announced that results for the fiscal second quarter will surpass the guidance provided by the company earlier. Delaware-based Microchip Technologies is a leading provider of microcontrollers and analog semiconductors.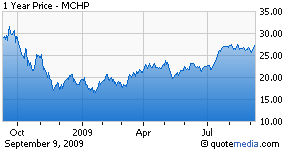 Management now expects net sales for the third quarter to increase by 12 % - 14% sequentially, up from the prior guidance of 7% - 11%, driven by good backlog and strong bookings and sales activities in the first two months for the quarter.

Management stated the company is experiencing strong demand for all of its microcontroller and analog product families in the quarter. In particular, 16-bit microcontrollers registered the highest sequential growth. On a geographical basis, the demand from Asia and the Americas continues to be strong. Europe is also showing strength where revenue was sequentially up in the second quarter for the first time in several years.

This implies revenue guidance between $216 million and $220 million. Gross margin is now anticipated to come between 54.9% and 55.4% compared to the earlier estimate of 54% - 55%. EPS (excluding restructuring items) is projected around 26-27 cents, an increase from the previous forecast of 23-26 cents. Inventory days are expected to decrease by 5 days to 103 days at the end of the second quarter. Hence, the company is planning to accelerate the capacity ramps in all its manufacturing facilities.

Last week, the Semiconductor Industry Association (SIA) announced that worldwide sales of semiconductors registered a 5.3% monthly increase and that the year-over-year rate of decline has moderated. The improvement in semiconductor sales reflects improving demand in the consumer sector particularly for products such as netbook PCs and mobile phones. The SIA President added that purchases of Information Technology products by the enterprise sector continue to be tempered by caution and longer replacement cycles but there is evidence of a return to seasonal industry patterns.

We expect a good second half for the company driven by improved business environment. The June quarter was a rebound from the March quarter, and the management believes the company is over the worst. We maintain our rating of NEUTRAL on the stock.