In today's article, I will introduce a small-cap oil and natural gas producer with properties located in western Canada. What is interesting about this producer is that the focus of its operations are oriented toward a prolific shale formation. After discussing the play, I will take a deeper look at the producer's operations and its core financials. Finally, its future outlook will be assessed in order to get the whole picture before an investment decision should be made.
Advantage Oil and Gas (NYSE:AAV)
Advantage is a growth oriented company headquartered in Calgary, Alberta, with a specific focus on developing its significant Montney natural gas resource play at Glacier, Alberta.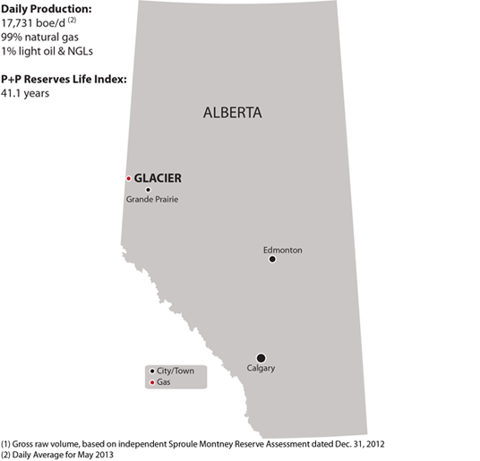 Source: Advantage Investor Presentation, July 2013
With an estimated drilling inventory of over 900 horizontal well locations at Glacier and total project capital expenditures that could exceed $2.5 billion, significant reserves and production growth are anticipated to grow shareholder value. In support of project development at Glacier, cash flow is obtained from a focused asset base consisting of long life oil and natural gas assets that have a reserve life index of 25.8 years and production of approximately 23,000Boe/d (barrels of oil equivalent per day) weighted 94% to natural gas and 6% to oil and NGLs (natural gas liquids).
Advantage is well positioned with financial flexibility and commodity price hedging to extract value from its large inventory of attractive internal opportunities and to capitalize on any external opportunities in the oil and gas sector. Let's take a deeper look at its shale gas play.
The Montney Formation
The Montney Shale Gas Basin is found primarily in northeast British Columbia. Horizontal development began in 2005 and, with the advent of multi-stage fracture technology, the true potential of the Montney was realized.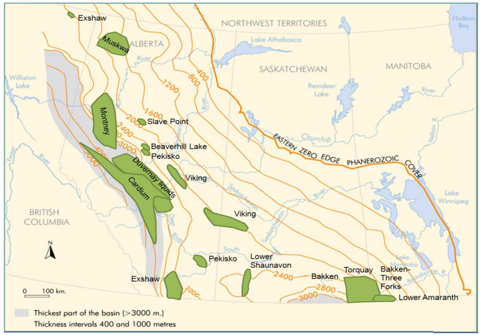 Source: NEB
Early development focused on the Upper Montney, which was only a portion of the full interval is often more than 1,000 feet thick and completely gas charged. A successful development has since proven deliverability from the Upper, Middle and Lower Montney, which could easily support three stacked horizontals. Many of the areas developed to date have proved deliverability out of all three zones with drill density expected to be 12 wells per drill spacing unit (~1 section) or four wells per zone.
Continued exploration has pushed the play boundaries to the North and West, focusing on a fairway that is approximately 190 by 80 miles or more than 15,000 square miles with current gas-in-place estimates as high as 700Tcf (trillion cubic feet), or more than twice that of the Horn River Shale play. The Montney is among the top six shale gas plays in North America from an economic perspective according to BMO Capital Markets, delivering a 10% IRR (internal rate of return) at $2.94 US/GJ (Gigajoule Unit), only out performed by the Marcellus, Fayetteville and Granite Wash formations.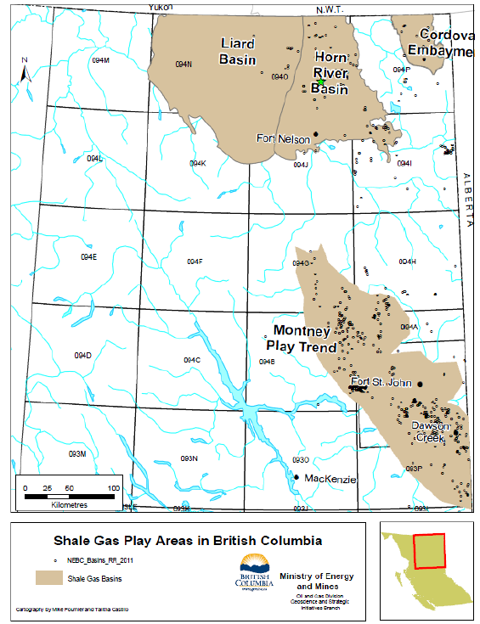 According to BMO Capital Markets, OGIP (original gas in place) calculations vary, based mostly on the changing overall gross thickness and porosity cutoffs but in general are reported by area operators to be approximately 200-350Bcf (billion cubic feet) per section.
The full Montney section is largely composed of very fine-grained sandstones and shelf siltstones with interbedded organic rich phosphatic shales. Storage in the reservoir can be good, with porosities ranging up to 10%, and with average porosities of about 6%. Permeability is the challenge, averaging below 1md (millidarcy), and requiring fracture stimulation to unlock the gas in place.
The unique positioning of the Montney Basin allows for egress to the West coast where LNG (liquefied natural gas) terminals are in various stages of development and has created demand for Montney assets as LNG feedstock.
Advantage Assets At Glacier
Advantage is a pure play entity focused on Montney development of its assets.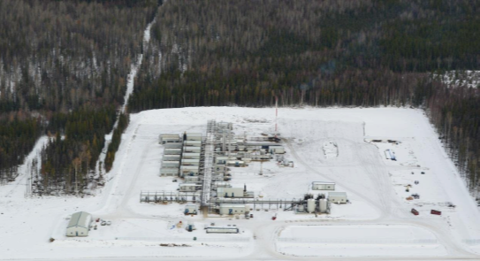 Source: Advantage oil and gas
The company is focused primarily on development and delineation of its 17Tcf of Montney natural gas resource at Glacier, Alberta. Advantage owns 84 gross sections (77 net) in the area.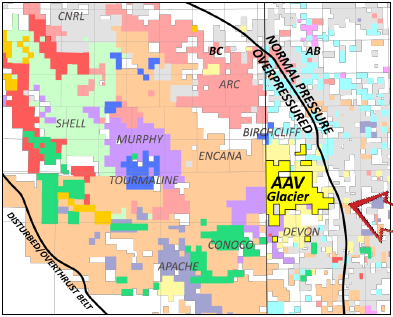 Source: Advantage Investor Presentation, July 2013
Since 2008, development has focused on the Upper Montney Formation where production has grown to approximately 100Mmcf/d (million cubic feet per day) and proved and probable reserves have increased to 1.6Tcf at year end 2012. Drilling in Q1 of 2012 revealed NGLs in the Middle Montney Formation which will be further delineated.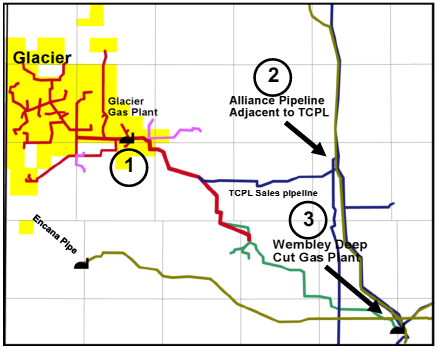 Source: Advantage Investor Presentation, July 2013
Core Study included over 400 data points covering all 5 Montney intervals. The company cut and analyzed 564 feet of full diameter core from 5 wells on the Glacier property. Core samples from 8 additional wells in the Glacier area were also analyzed.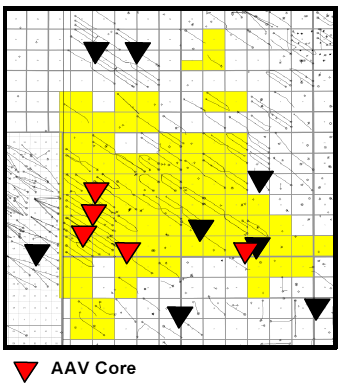 Source: Advantage Investor Presentation, July 2013
Study confirmed that all 5 intervals at Glacier are gas charged with porosities varying between 2% and 7%. Glacier production achieved 91.7Mmcfe/d for Q1 of 2013 while the company expects to rise its production for the subsequent quarters to an estimated 104.2Mmcfe/d.
Glacier is estimated to contain contingent resources of 3.54Tcf and total reserves plus contingent resources of 5.16Tcf of natural gas (best estimates).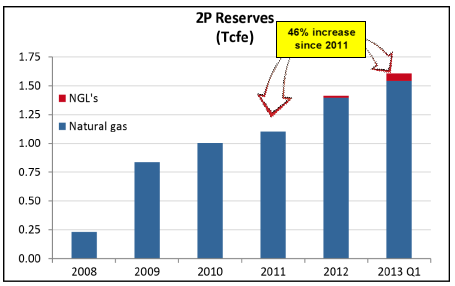 Source: Advantage Investor Presentation, July 2013
Financials At A Glance
Production during Q1 of 2013 averaged 21,257Boe/d, from which 93% was natural gas and was comparable to Q4 of 2012. Operating expense for the quarter was $5.18/Boe compared to $5.74/Boe during the same period of 2012. The reduction in operating costs reflects the continued efficiencies created by processing the company's natural gas production through its 100% owned Glacier gas plant.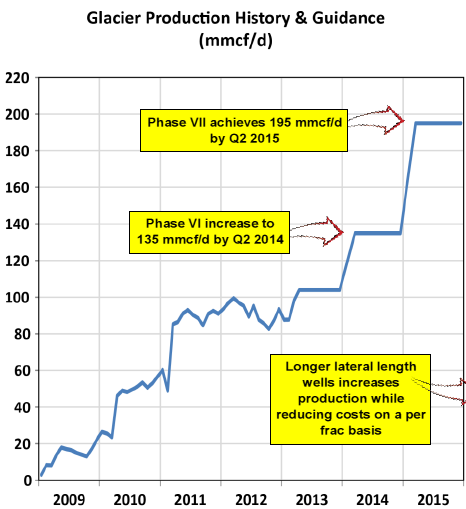 Source: Advantage Investor Presentation, July 2013
Productivity from these wells is anticipated to maintain Glacier production at approximately 100Mmcf/d for the remainder of 2013. Capex also included modifications to increase the water disposal capacity at the Glacier gas plant and included the drilling of a water disposal well which will further reduce operating costs.
According to its Q1 2013 earnings release, Advantage realized a net loss of $5 million for Q1 of 2013, a 53% decrease as compared to the same quarter of the prior year primarily due to higher funds from operations and less depreciation expense partially offset by unrealized derivative losses. Funds from operations have been significantly impacted as its realized natural gas prices, excluding hedging, increased 49% for the quarter when compared to the same period of 2012. Natural gas prices declined dramatically throughout 2012 due to increased supply and lower demand fundamentals that resulted in historic high inventory levels.
The producer realized a 13% increase in funds from operations to $36.3 million for Q1 of 2013 as compared to Q1 of 2012. Additionally, the company's netback for the quarter increased 25% to $14.74 per boe as
compared to Q1 of 2012. Funds from operations have been significantly impacted as its realized natural gas prices, excluding hedging, increased 49% for the quarter when compared to the same period of 2012. Furthermore, its crude oil realized prices decreased during Q1 of 2013 due to lower WTI pricing. Natural gas liquid prices have continued to remain soft due to oversupply attributable to successful liquids-rich drilling throughout North America.
Total capital expenditures for Q1 of 2013 were incurred primarily at Glacier and amounted to $54.1 million. The next chart shows the capex spent quarterly by the company in the last few years.
During the quarter, Advantage employed revised completion designs and completed seven Upper Montney wells and two Lower Montney wells which remained from its previous 2011-2012 drilling season. In addition, three new Middle Montney wells which were drilled in the second half of 2012 were completed during Q4 of 2012 and Q1 of 2013.
As shown in the chart below, the long-term debt of the company is currently at $355.21 million and its LT debt to equity ratio is at 33.79, which is fairly manageable. Compared to its industry's average of 68.06, Advantage uses its financing capital efficiently.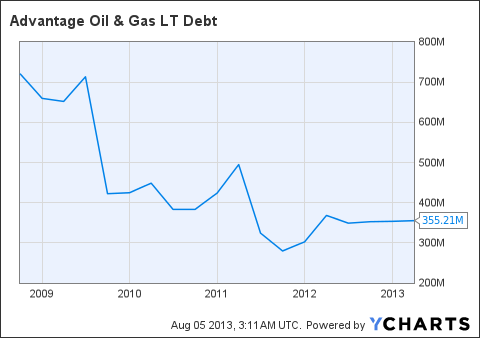 Adding to the overall value, the company has 45% interest in Longview Oil Corporation (LGVWF.OB). Longview was created to acquire certain oil-weighted assets of Advantage Oil & Gas which were located in West central Alberta, southeast Saskatchewan and the Lloydminster area of Saskatchewan. Longview's resource plays consist of 79% oil and liquids and the balance with natural gas.
Future Outlook
According to its Q1 2013 earnings release, the company is currently working on a two-year development plan that will increase natural gas throughput at Glacier to approximately 140Mmcf/d by the spring of 2014 and 200Mmcf/d by the spring of 2015.
Capital requirements would be funded through growing cash flow, undrawn credit facilities and current Advantage investments. Operational activities will include drilling of additional Upper Montney wells and further delineation of the Middle and Lower Montney intervals where only 2.2% and 27.6% of the total acreage, respectively, has been assigned reserves at year-end 2012. Options to process and extract liquids from the Middle Montney will also be evaluated and included in the development plan.
On the downside, the outlook for the company from a prolonged weak commodity price environment, particularly natural gas, would be reductions in operating netbacks, funds from operations and capital expenditures. Advantage has been proactive in mitigating commodity price risk and has entered numerous hedging contracts as a result. However, Advantage is still exposed to risks as a result of the current industry and economic situation and these uncertainties need to be carefully assessed before any investment.
Advantage has total reserves of contingent resources of 4.2Tcfe, of which 72% is contained in the liquids rich Middle Montney intervals, and 5.8Tcfe of proved and probable reserves plus contingent resources.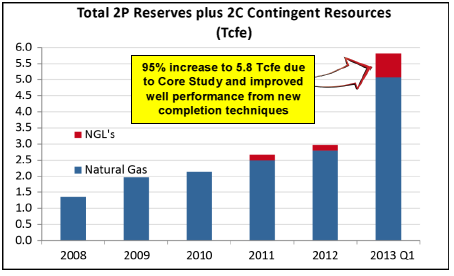 Source: Advantage Investor Presentation, July 2013
Bottom Line
Advantage plans to double production at Glacier by 2015. To achieve this, the company said that it has solid economics at current gas prices supported by its superior cost structure. Moreover, Glacier is estimated to support a production plateau of 580Mmcf/d for 18 years, according to management estimate.
In conclusion, I believe Advantage could be a great investment opportunity for an investment in a natural gas play. The company is entirely focused on a promising gas deposit that could generate significant cash flow for many years to come, creating much value for its shareholders. Here are the most significant upsides identified:
Good balance sheet
Proven low cost structure
Unique positioning in the promising Montney Formation
5.8Tcfe of proved and probable reserves plus contingent resources
Active hedging program to mitigate the volatility of the commodity's prices
Significant growth of its share value
However, here are the downsides that cannot be overlooked:
A prolonged weak commodity price environment could put pressure on operating costs and its long-term debt
Focusing mostly in the natural gas commodity exposes the company to the risk of price volatility
Profitability has not yet been reached and the future realization of profit is difficult to assess at this time
Disclosure: I have no positions in any stocks mentioned, and no plans to initiate any positions within the next 72 hours. I wrote this article myself, and it expresses my own opinions. I am not receiving compensation for it (other than from Seeking Alpha). I have no business relationship with any company whose stock is mentioned in this article.