Cablevision (NYSE:CVC), as far as related to growth, is in stasis, even though it has engaged in a number of transitions and initiatives which could give an appearance of it taking steps to expand.
After its recent earnings call, there is no doubt the company is no longer interested in growing, as it stated emphatically that it wasn't interested in boosting its footprint, but rather working within the one it currently operates. That's another way of saying it's attempting to retain customers it already has, which has led to the supposition the company is taking steps to be sold.
Since CEO James Dolan also said he sees a day when the company could offer only broadband services, it could point to the possibility of it selling off its cable division and keeping its Internet service. He also said for the first time he would never say never concerning selling the company if it benefited shareholders. It remains to be seen whether it was a ploy to strengthen the share price or a legitimate conviction of Dolan.
One thing for sure, after saying the company won't increase its footprint and isn't interested in acquisitions of any material value, Cablevision has essentially locked itself into a no-growth scenario with no visible catalyst other than it being sold.
I believe this is why the company has soared over 30 percent in 2013. There is no other reason for it performing as it has.
Little growth is nothing new though; if you go back to January 2004, Cablevision was trading at a little over $21.00 per share. Today, it's trading at under $20.00 per share, and for about two-and-a-half years has been trading in the $14.00 per share to $15.00 per share, with brief movements above and below that range.
Since June, 2013, the share price has jumped because of the assumption of the company will imminently be sold. If no deal is named or hinted at, over time the share price should drop back down into the $14.00 to $15.00 per share range.
source: StockCharts.com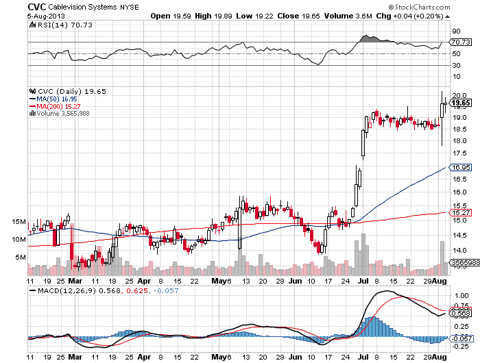 Latest Earnings Report
Before we get into the most important parts of the latest earnings report from Cablevision, we'll look at the basic numbers.
The company generated revenue of $41.57 billion, up 0.8% year-over-year. Earnings in the quarter came in at $135.4 million, soaring from $63.5 million last year in the same quarter, or 51 cents per share. Last year in the same period, earnings were 24 cents per share. Earnings per share from continuing operations dropped to 11 cents from 29 cents, beating the Street estimate of four cents per share.
Operating margin plummeted from 17.2% to 12.6%.
The selling of Clearview Cinemas theaters accounted for most of the one-off improvement in the numbers.
The sale of Optimum West and its $673 million in net proceeds weren't included in the consolidated cash position of the company in the second quarter, and so it will give the appearance of a stronger third quarter because of it is reflected in those results. Cablevision also sold its Clearview Cinemas theaters to privately owned Bow Tie Cinemas in April. That was included in the second-quarter numbers.
Other actions taken were the closing of OMGFast and Newsday Westchester, along with a large reduction in its annual investment in MSG Varsity. As you can see, overall these were defensive moves, even though they generated revenue in some cases.
The most important part of the report includes the actual customer numbers, which weren't good news for the company. It lost 20,000 video customers while adding 3,000 voice customers and 1,000 high-speed data subscribers.
With the overall loss of customers, it brought the total down to 3.2 million customers, plunging from the 3.6 million customers it had just a year ago. This is why the primary focus of the company is on improving products and services to its existing customers in hopes of retaining the majority of them.
Income Statement
source: Ycharts

Cash Flow Statement
source: Ycharts

Balance Sheet
source: Ycharts

Will Cablevision be Sold?
In the past, it wasn't considered a likely possibility that Cablevision would be sold. But that has changed in the latest quarter, as CEO Jim Dolan implied he was open to it for the first time. One possible element involved there is the recent decision between James Dolan and his wife Kristin to engage in a trial separation. She was "promoted" to "oversee sales, marketing and product management" at the company right after the announcement they were going to separate.
The point there is the family controls the business, and the status of the relationship between the couple could become extremely important to Cablevision shareholders if it turns negative. The place of the couple in the company ensures the personal and professional lives of the two cannot be separated; it could become material to the company. This is something that needs to be watched closely by shareholders and investors. It's possible this could be part of the reason for the openness of the company being sold; or at least a portion of it being sold.
Speculation is the industry will probably have to consolidate in order to be able to be stronger against the growing costs inflicted on it by content providers. Companies being thrown around as potential suitors for Cablevision are Time Warner Cable (TWC) or Charter Communications (NASDAQ:CHTR).
The ongoing actions and decisions by Cablevision point to the probability that it's positioning itself to be sold. Along with the announcement that it's not interested in growing its footprint, there is also the decision to declare a $0.15 per share quarterly dividend. That would help keep some shareholders in the fold who may otherwise sell without the incentive. If a significant number were to take flight, it would drive the share price of the company down, along with its value to potential buyers.
Hedge fund managers like John Paulson apparently see Cablevision as an acquisition target as well. He owns approximately 16 million shares in the company as of March 2013, an increase of close to 40 percent over the prior quarter.
Another factor is whether or not the company gave a hint that it may be interested in spinning off its cable business. When it was asserted on the earnings call that the company may get out of the cable business in the future, it could have implied a spin-off of the cable business into a separate company, or selling that business while retaining its broadband Internet services as its core business.
Taking all that into consideration, whatever happens, it appears Cablevision will be a much leaner company in the not too distant future; one that could become more appealing if it does operate primarily as a broadband Internet service without the weight of cable on it.
If it does sell itself in its entirety, it will still be a win for shareholders, and as long as they believe it's quietly looking for bids, the share price will probably maintain its support at around the $20.00 per share mark. Any temporary catalyst which would produce decent quarterly numbers would move the price of the stock up from there for a season of time.
How to Look At Cablevision's Operating Model
From now on, Cablevision's model should be considered to be one that is similar to that of cinema.
How that operating model works is they have a core customer that will continue to participate in the product offered even when prices are raised. There are fewer moviegoers these days, yet pricing power allows for the entertainment industry to be profitable if they churn out good content, even as fewer people go to the movies.
That's similar with Cablevision in the market it serves. The areas it serves, which include New York, New Jersey, Connecticut and parts of Pennsylvania. have a high-income demographic in general, and so it also has the ability to raise prices, lose some customers, yet grow revenue and earnings.
That has its limitations of course, but the company also must add value to justify the increase in prices if it wants to continue to enjoy that competitive moat.
As for growth within its existing footprint, the challenge there isn't so much what is called cutting the cord from cable, but rather that of younger people never getting the cord in the first place. This is where the higher price tends to lock out those with less disposable income. So while Cablevision enjoys pricing power, it's limited to older and wealthier customers. That also points to little in the way of growth in the markets it serves.
Fewer customers and higher prices will be the narrative for Cablevision, and there is little to suggest it will penetrate the younger market anytime soon, as the economy and low quality of jobs are dictating those decisions.
As long as Cablevision can incrementally increase prices, it should at least operate in the range of $14.00 per share to $15.00 per share. Add to that the premium associated with being an acquisition target and you have them trading where they are today, at about $20.00 per share.
That could go much higher if the market believes the company can command a significantly higher selling price. If the market starts to think Cablevision won't be sold, based upon the rumors of being an acquisition target, we'll probably see it drop about 20% to 25%, although it would be at a gradual pace. If a formal bid were to be made, it would go up as much in the other direction, probably a little above 25%. The strength of the company at the time of a bid would determine how much higher. It can't afford to lose customers at the rate it has over the last 12 months if it wants to get a premium price for it.
For now, the operating model of the company is employed in order to maintain the company at a certain share price level while it awaits a serious bid.
Pointing to the company possibly becoming primarily a broadband service, Dolan was referencing TV packages which force consumers to acquire a lot of content they have no interest in. The challenge there, as it was in the music industry, was the unbundling of albums, or in the cable industry, of content packages. If content is unbundled, the industry would face similar challenges the music industry faces. He sees a la carte as the future, but it's unclear whether Cablevision will have the courage to take that step. For now, it's not part of its business model, but to hear a cable CEO talk positive about it suggests there is growing pressure to make it such.
The cable industry is being driven by acquisition rumors and speculation at this time, and being on the bottom rung of the top companies, Cablevision shareholders and potential investors aren't interested in whether or not the company is losing subscribers, but whether or not its larger competitors will take them over.
As long as that's in play, Cablevision will enjoy share price support. If that narrative falters, it will quickly reverse course and plunge in value.
Conclusion
The latest comments from Cablevision CEO Jim Dolan and Vice Chairman and Chief Financial Officer Gregg G. Seibert were extraordinary. I don't know if I've ever heard the leadership of a company say they're not looking to grow the company, or to say the existing business model of the industry is ending, while at the same time attempting to put a positive spin on the company.
Although sounding like an afterthought on the surface, when Jim Dolan said he would "never say never" concerning selling the company, it seemed to scream out the company was for sale. The alternative is that he said it to help support the share price going forward. What could go wrong there is the share price would plunge if investors started to believe it was more of a ruse than reality.
The reason I don't think it was a feint was because it is totally focusing on maintaining its customer base. Normally that's the behavior of a company getting ready to be sold. Losing too many customers would deeply cut into the value of the company, and it appears it would be better for it to be sold sooner rather than later. I think that's why Dolan was, for him, abnormally blunt about the openness to being sold.
That, and having no interest in expanding its footprint, speaks to the probability it is looking for a suitor. Within its current service area it has successfully penetrated the market to the point of having very little room for growth, even at an incremental pace. Again, it would be extremely surprising to not see Cablevision be acquired when looking at the comments of its leadership and the strategy they're currently employing.
The problem for Dolan and Cablevision is if it has waited too long to be considered an attractive target by its larger competitors. It appears the major benefit of acquiring Cablevision is in improving scale for the buyer, which would possibly give a larger cable company more leverage against content creators.
Cablevision is improving its product and services, raising prices, and trying to increase margin. Now we'll have to wait and see if that's enough for it to attract interest. If it doesn't garner attention, it's unclear how the company can grow in any way in the future. By its own words, it has said it will no longer look to expand.
Pricing power will give it some growth in the near term, but that's a limited strategy, one which will gradually come to the end of how high it can price. Other than that, there are no more catalysts. Cablevision is riding the hopes of an acquisition, and only that will decide whether or not shareholders and investors will cash in big.
If margin falls and customers continue to leave the company, Cablevision's value will start to fall; and that is probably the biggest risk it faces in the current environment it operates in.
I'm not sure there's a lot of room for the share price to move higher, as a lot of the possibility of an acquisition has already been priced into it. It does look like next quarter should look better than it is because of including the sale of its cinema assets in the quarter, but beyond that, the outlook looks grim for Cablevision. That said, it wouldn't surprise me to see the stock jump on the news.
What would propel it upward would be if the good numbers were to coincide with a bid for the company. That's the big play for shareholders.
For now, I don't see the company plunging until and unless investors no longer believe the company is an acquisition play, In the meantime, the share price will continue to find support at the numbers mentioned earlier.
Disclosure: I have no positions in any stocks mentioned, and no plans to initiate any positions within the next 72 hours. I wrote this article myself, and it expresses my own opinions. I am not receiving compensation for it (other than from Seeking Alpha). I have no business relationship with any company whose stock is mentioned in this article.