Precious metals are making news again. A combination of factors have pushed metals into the spotlight – especially gold. India's wedding season is approaching along with hopes for a holiday buying spree. More important, fear of a falling dollar has caused the yellow metal to climb the charts yet again.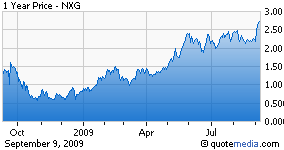 With gold consolidating in the 900's for the past few months, we think the yellow metal has a strong chance of staying near the $1,000 barrier. Last week it broke above its June highs and is fast approaching the March 2008 all-time highs. That rally was sharp and almost unmitigated by corrections. This time, the gains have been steady with ample consolidation.
In other words, gold looks strong enough to sail past its previous highs. In July, we gave you one way to buy gold with EMT. Today, we have a more-focused play on gold's resurgence – this one with Canadian and Australian roots.
Northgate Minerals Corporation (NXG) is a small-cap, Canadian mining stock. With a market capitalization of nearly $700 million, the share price of NXG is closely tied to gold. NXG is a leveraged bet on rising gold prices.
Northgate currently forecasts record production of 380,000 ounces of gold in 2009. With production spread between three operational mines in Australia and Canada, their risk is well-diversified. Senior management recently estimated production levels of 206,500 ounces of gold from the Fosterville & Stawell gold mines alone this year. These 2008 acquisitions are already paying off. After implementing a successful operational overhaul, Northgate expects a $100+ million net payday in 2009 just from these mines (at current prices).
Northgate produces copper as well, harvesting 51.9 million pounds of copper in 2008. Spot copper prices have been climbing, and we like Northgate's potential as copper continues its tear up the charts. Others seem to agree.
Like gold, Northgate shares bottomed late last year. But unlike gold, NXG has jumped more than 400% since then. A combination of production improvements and underlying commodity prices have moved NXG to a dizzying $2.75. If gold continues to rise, we see NXG going along for the ride and then some.
One word of caution: our weekly picks range from conservative to speculative. Depending on our analysis, our recommendation can be something as boring as cash to an ultra-risky uranium stock. Although we wouldn't categorize NXG as ultra-risky, it certainly has the potential for dramatic swings. If you play it, take note of these additional risks and set your stops accordingly. If it works out, it will be well worth the ride.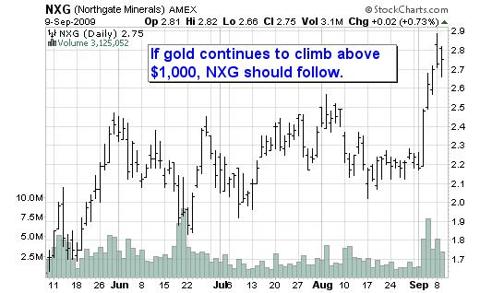 Disclosure: No positions