While investment bankers speculate when Twitter will become a public company, smart investors are getting a head start by acquiring cheap shares of GSV Capital (NASDAQ:GSVC) at below net asset value. Though the market has fallen asleep on the opportunity in GSV Capital, we have focused in on a high growth venture capital structure that has Twitter as its single largest investment.
GSV Capital is a publicly traded investment fund that seeks to invest in high-growth, venture-backed private companies. Led by industry veteran Michael Moe, it is essentially a public venture capital firm that focuses on technology. The firm is currently classified as a "C corporation," as of fiscal year 2012. The company can be described simply as a public venture capital firm, with performance fees baked into SG&A costs.
The Opportunity: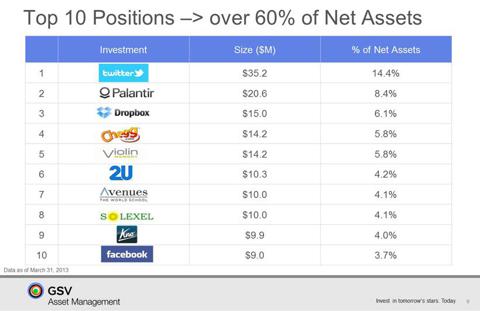 Click to enlarge
(Click to enlarge)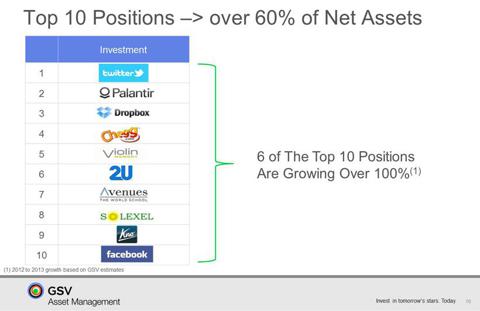 Click to enlarge
(Click to enlarge)
Twitters true value?
At first glance, GSV Capital's Twitter investment only appears to be valued at $35.2 million, as of 03/31/2013 by its metrics. We feel that those figures are way off the mark. First, the two main social media benchmarks, Facebook (NASDAQ:FB) and LinkedIn (NYSE:LNKD), have traded up significantly over the past three months; both stocks are breaking into new 52-week highs as we write this article. Second, we think that Twitter is growing substantially faster than either Facebook or LinkedIn, therefore deserving a higher multiple.
To compare, the conservative estimated valuation of Twitter is only $10 billion, with GSV Capital's stake of $35.2 million being approximately 18% ($35.2/$194 million market cap) of equity value. Nevertheless, we believe Twitter is worth far more than that figure, as shown below: In 2014, Twitter expects sales to be around $1 billion dollars.
| | | | |
| --- | --- | --- | --- |
| | Price to sales | Users | Market Cap |
| Twitter | 10x | 500M | $10B |
| Facebook | 15.6x | 1.15B | $90B |
| LinkedIn | 21x | 238M | $24B |
*Estimated figures based on 08/01/2013 closing data, and forecasted data with regards to Twitter Inc. Figures used to estimate expected value in 2014 only.
| | | | |
| --- | --- | --- | --- |
| Sales growth | 2012 | 2013 | 2014 |
| Twitter | $139.5M | $540M | $1B |
| Facebook | $5.0B | $7.28B | $9.43B |
| LinkedIn | $972M | $1.5B | $2.1B |
-Data provide by Capital IQ, San Francisco Chronicle
Given Twitter's significantly higher compound annual growth rate (OTCPK:CAGR)of roughly 193%, versus a CAGR of 23.50% for Facebook, and a CAGR of 29.3% for LinkedIn, Twitter's growth rate is six times higher than LinkedIn and has over twice as many users. Yet, is valued by GSV Capital metrics at a multiple of around 10X sales. We feel there is a large disconnect between the current estimated value and the public market value of a potential IPO in 2014. We see Twitter's public market valuation in the range of between 20-30 times sales, which is consistent with the initial public offerings of both Facebook and LinkedIn. Considering the median sales ratio of 25 times sales, that would mean GSV Capital's Twitter investment at the time of an IPO could be worth roughly $88 million ($35.2m x 2.5) or approximately 45% of the total market capitalization of GSV Capital's equity.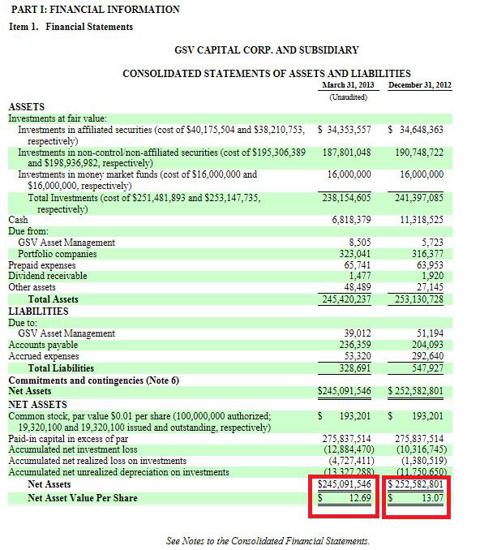 Click to enlarge
(Click to enlarge)
While the net assets are valued at the end of Q1 2013 at $245 million, a decline of approximately $7.5 million quarter over quarter, we see the Q2 2013 numbers being the largest increase in NAV in the company's history (since public). We think the NAV increase for Q2 2013 could be as much as 15-20% quarter over quarter, with albeit very conservative assumptions on portfolio valuations.
A history of insider buys: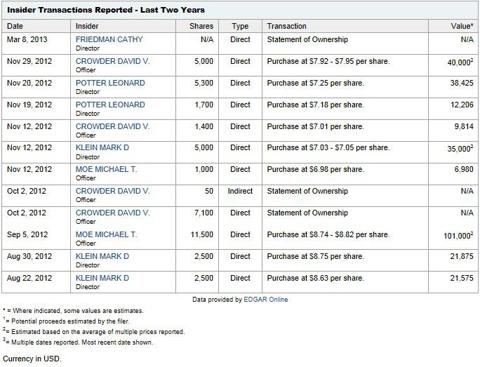 Click to enlarge
(Click to enlarge)
Upcoming IPO catalysts: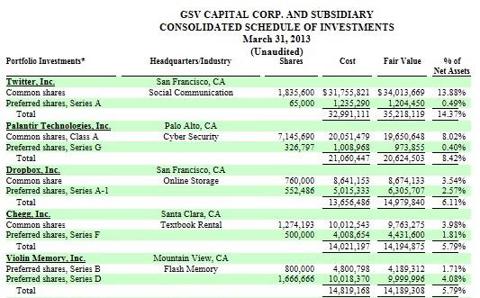 Click to enlarge
(Click to enlarge)
We have shown that all the top five holdings in GSV Capital's portfolio are in some form of coming public and eventually filing an S-1. We view these events as highly beneficial for shareholders, given the companies structure is analogous to a venture capital fund. It just so happens that this quasi venture capital fund is about to harvest a significant amount of value within the next six months while trading substantially below NAV (~ 27%). We continue to think that GSV Capital's shares will trade closer to NAV as value is unlocked over the next six months. We also feel that the market has not yet priced in an increasing NAV, which should propel shares significantly higher going into 2014 with the potential IPO of Twitter.
Disclosure: I am long GSVC. I wrote this article myself, and it expresses my own opinions. I am not receiving compensation for it (other than from Seeking Alpha). I have no business relationship with any company whose stock is mentioned in this article.
Disclaimer: This report is intended for informational purposes only and you, the reader, should not make any financial, investment, or trading decisions based upon the author's commentary. Although the information set forth above has been obtained or derived from sources believed to be reliable, the author does not make any representation or warranty, express or implied, as to the information's accuracy or completeness, nor does the author recommend that the above information serve as the basis of any investment decision. Before investing in a security, readers should carefully consider their financial positions and risk tolerances to determine if such a stock selection is appropriate.
At any time, the author of this report may trade in or out of any securities that are mentioned in the report as long or short positions in his own personal portfolio or in client portfolios that he manages without disclosing this information. At the time this report was published, the author initiated a long position in GSVC either in his personal account or in accounts that he managed for others.
THIS REPORT IS NOT A RECOMMENDATION TO BUY OR SELL ANY SECURITIES MENTIONED. THE AUTHOR ACCEPTS NO LIABILITY FOR HOW READERS MAY CHOOSE TO UTILIZE THE INFORMATION PRESENTED ABOVE.