Continuing on with a series on satellite communications providers, I want to dive into the details at Eutelsat Communications S.A. [(OTCPK:EUTLF) (OTCPK:EUTLY)] ("Eutelsat" or "the company"). [1]
Eutelsat is a leading global satellite communications provider based in Paris, France. Eutelsat's satellite fleet comprises 30 satellites located at 21 positions covering Europe, Africa, the Middle East and large parts of the Asian and American continents. Similar to Intelsat (NYSE:I) (which I profiled here), Eutelsat provides services via its position in the fixed satellite services ("FSS") industry. Its three main segments are:
Video applications: Eutelsat delivers/broadcasts television and other content for its customers (Pay-TV providers, etc). Video applications represents the largest revenue driver (€865 million) for Eutelsat, up 4% year-over-year.
Data & value added services: Eutelsat provides data and network communication capabilities for enterprise level customers. Revenues came in at €187.5 million, up 7.6% year-over-year, driven by the 'value added services' segment. The value added services include Eutelsat's efforts to produce a direct-to-consumer broadband network over its high-speed Ka band spectrum (similar to ViaSat (NASDAQ:VSAT) with its Exede service in the US). I expect the Ka band broadband service to represent an increasing portion of revenues and cash flows at Eutelsat, as satellite operators are able to provide rural consumers broadband access where terrestrial (cable/fiber) providers are unable to due to economics of building out the fiber infrastructure.
Multi-usage: Includes leased capacity on Eutelsat's satellite infrastructure to government customers. Revenues came in slightly down (0.7%) year-over-year at €145.4 million, likely on the back of government austerity measures in Europe.
On July 30, 2013, Eutelsat reported its FY2013 numbers, with revenues up 5.1% to €1,284.1 million on a company wide basis, resulting in €995.3 million in EBITDA (77.5% EBITDA margin).
However, management guided down its revenue growth to 2.5% for FY2014, but then expects a return to its historical 5% growth rate in FY2015 and going forward. In addition, management expects average annual capital expenditure investment to be in the €550 million neighborhood, funded mostly by Eutelsat's expected 77% EBITDA margin. In FY2013, Eutelsat reported net income of €1.612/share, representing a last twelve month's ("LTM") P/E ratio of 13.5 times earnings.
Investors, however, gave a collective thumbs down to revenue growth guide down, and sent shares tumbling about 6%.
(click to enlarge)

Concurrent with the earnings report, Eutelsat announced that it purchased Satelites Mexicanos ("SatMex"), a satellite operator in Mexico, for $831 million, including the assumption of $311 million in debt, for cumulative consideration of $1.14 billion for SatMex. The purchase price equated to a 9.7 times EBITDA multiple of LTM earnings. SatMex generated $89.1 million in EBITDA on revenue of $111.8 million, an EBITDA margin of 79%, in line with Eutelsat's margins.
In my view, the SatMex acquisition was more than a tacit indication by management that it is having trouble growing sales organically, and looking for strategic acquisitions in higher growth markets. The Latin America market is expected to grow at a 7% compound annual growth rate ("CAGR").
To give an idea of Eutelsat's global scope, here is a look at Eutelsat's geographic coverage (before its acquisition of SatMex). As seen below, Eutelsat's total addressable market for communication services is quite large, and global in nature.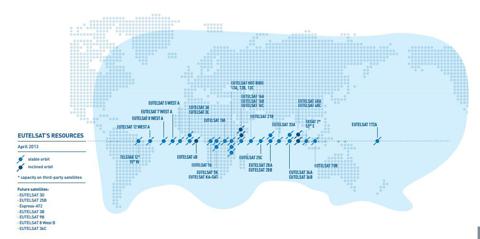 Shareholders
In addition to the high barrier to entry industry it operates, its global scope and rich margins, Eutelsat also enjoys stable ownership, with 41% of Eutelsat's shares held by strategic and or sovereign wealth funds ("SWF"). The 41% is broken out by the following:
In June 2012, CIC purchased its 7.1% stake (15.54 million shares) in Eutelsat from Abertis Telecom for €385.2 million, or $483 million at the then prevailing euro/USD exchange rate.
That deal valued Eutelsat at €5.46 billion (€24.78/share), or $6.84 billion ($31.08/share). Eutelsat currently trades at €4.7 billion, or $5.9 billion (holding the exchange rate constant from the time of the CIC deal, $1.254 per euro). Therefore, investors can now purchase shares at about a 15% discount to the price paid by CIC, meanwhile prospective shareholders get the benefit of the increased, high-margin earnings stream and cash flows from the recent SatMex deal.
Abertis also sold another block of shares in January 2012 for €27.85/share, a 6% discount to the then prevailing market price.
The thought among the investment community is that Abertis will likely divest its remaining share to focus on its infrastructure holdings, including toll roads and airports. In my mind, CIC represents a logical buyer as it looks to potentially increase its stake in the company. FSI and CIC should be viewed as long-term investors in Eutelsat, especially given the importance of access/control of communications capabilities to each respective government.
Given that the potential of 41% of the shareholder base to be SWF's with very long-term investment horizons and other strategic reasons for being invested, those facts combined should mitigate any forced selling in the near, medium and long term.
Capital Structure
Eutelsat is significantly less indebted than its competitor, Intelsat. As of June 30, 2013, Eutelsat was encumbered by gross debt of €2,154 million, with no major maturities until 2017. Because of that, in my view, Eutelsat's equity is valued higher than Intelsat's.
I posited in my column on Intelsat, that its evolving capital structure stood to disproportionately benefit Intelsat's equity. In particular, Intelsat's preferred equity, as Intelsat continues to use its free cash flow and reduced capex program to lower its net debt position through 2017.
While the increased financial leverage at Intelsat makes it appear more risky than Eutelsat, the lower price ascribed to Intelsat's equity relative to Eutelsat allows for more upside potential, in my opinion. Further, because the FSS industry is characterized by high fixed costs (thereby reducing the threat of new entrants), long-term contractual relationships with clients (clear revenue visibility) and extremely high operating leverage in the satellite provider's business models (EBITDA margins in the neighborhood of 80%), the risk of default is relatively low, in my opinion. The resultant reduction of financial leverage should flow directly to Intelsat (and Eutelsat) equity holders.
However, investors who are loathe to invest in highly indebted companies, but are interested in owning a satellite communications provider, Eutelsat may be a better option than Intelsat. Also, with the recent collapse in Eutelsat's share price (and purchase of SatMex and earnings stream), Eutelsat appears to be offering an interesting entry point for prospective investors, given the recent 21% decline in the quote.
If revenue growth picks back up to 5% in 2014, as Eutelsat expects it will, roughly 80% of those revenues will remain left over to cover increased dividend payments and investment in its satellite infrastructure, allowing for further expansion.
Dividends
Eutelsat has used its growing revenues and resultant free cash flows over the past half decade to materially increase the dividend. Management has indicated to its shareholder base that between 65% and 75% of its net income in each year will be used to pay dividends. Given the high operating leverage in the Eutelsat model, any increase in revenues will leave a surplus of income to be distributed to investors in the form of higher cash dividends.
| | | |
| --- | --- | --- |
| Eutelsat S.A. | | |
| Dividend Analysis | | |
| | | |
| Year | Dividend | % Growth |
| 2006 | €0.54 | |
| 2007 | €0.58 | 7.4% |
| 2008 | €0.60 | 3.4% |
| 2009 | €0.66 | 10.0% |
| 2010 | €0.76 | 15.2% |
| 2011 | €0.90 | 18.4% |
| 2012 | €1.00 | 11.1% |
| 2013 | €1.08 | 8.0% |
| | | |
| CAGR | | 12.0% |
The 2013 proposed €1.08 dividend represents a 67% payout ratio. Considering Eutelsat's recent $1.14 billion acquisition of SatMex and its high margin earnings stream, the dividend will likely grow modestly again next year.
That said, a €1.08 dividend ($1.41), represents a 5% dividend yield at the current quote. US investors, however, should note that France withholds 30% for dividend tax, but which investors can use as a credit against income if held outside a retirement account.
Conclusion
Based on the profit and revenue growth warnings issued by Eutelsat recently, I expect that Eutelsat will remain in the penalty box for the time being. But along with the revenue growth and profit warnings has come a significant price correction, with shares down some 21% since late May.
I don't see any catalysts to drive price appreciably higher for Eutelsat shareholders in the near term, but if price continues to drift downward, an adequate margin of safety may be available for patient investors. Meanwhile, intrinsic value should continue to climb, given the general trend towards growth in bandwidth needs globally.
Given the satellite communications industry dynamics, high margin models and growth in bandwidth needs over the next several years, in my view, a P/E multiple of 16 to 17 times LTM earnings seems reasonable, indicating upside of about 20%. That would place Eutelsat's price back to about the price CIC paid for its stake in Eutelsat (with the added SatMex earnings stream).
Although I'm passing on Eutelsat shares currently, I certainly don't see much downside risk in owning Eutelsat shares at these levels, given its 5% dividend yield and stable cohort of SWF investors.
I remain interested in Intelsat preferred shares given their liquidation preference over the common shares, a healthy 4.5% dividend yield, and remaining upside with respect to the mandatory conversion to common shares in May 2016. The evolving capital structure at Intelsat provides for the possibility of a nice pop in equity value as management delevers its balance sheet.
Expectations for Eutelsat going forward remain muted, which will allow the company to better meet or beat lowered expectations.
What they say about life is true with respect to investing:
The key to happiness (investment success) is low expectations.
Notes:
[1] Eutelsat has two ticker symbols for shares trading over the counter in the United States. The EUTLY ticker is an American Depositary Receipts ("ADR") is sponsored by Bank of New York Mellon (NYSE:BK), and has a ratio of 4 ADRs to 1 ordinary share. The EUTLF ticker represents ordinary shares that trade OTC.
Disclosure: I have no positions in any stocks mentioned, and no plans to initiate any positions within the next 72 hours. I wrote this article myself, and it expresses my own opinions. I am not receiving compensation for it (other than from Seeking Alpha). I have no business relationship with any company whose stock is mentioned in this article.