The EIA reported that U.S. gas storage on September 4, 2009 stood at 3.4 trillion cubic feet, approximately 17% higher than year-ago levels and 17% higher than the five-year average. It looks like E&P companies are not doing much to change the excess inventory in natural gas and are continuing their production levels from Q2. E&P companies are much more focused on delivering production growth to their shareholders and are not letting high storage levels get in the way of their business. Below is a table of Q2 natural gas production results for some of the top U.S. producers.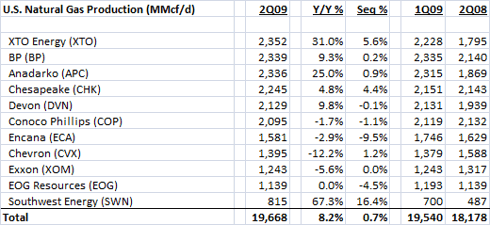 Click to enlarge
Companies Mentioned: XTO, BP, APC, CHK, DVN, COP, ECA, CVX, XOM, EOG, SWN.
This action by E&P companies as a whole could be shortsighted. If production continues to increase without a proportionate increase in demand, gas E&P companies may be forced to curtail production. Besides the threat of further price declines, which could render some exploration and production activities uneconomical, the biggest restraint could actually be diminished storage capacity (estimated at about 4.0 trillion cubic feet). As EOG Resources CEO Mark Papa mentioned after the company reported Q2 earnings, "…if gas storage fills across the nation, pipeline pressure could go up, increasing pressure back at gas wells. That could result in automated curtailment pretty much across the board…Then, production would just drop for everybody."
While there have been rumors of increasing the storage capacity, that should hardly be the solution for a commodity that is severely oversupplied. The U.S. should not be encouraging more production by adding more storage. Furthermore, one could argue that these storage levels are not a true reflection of available inventory, as they do not take into account the gas located in the immeasurable number of shut-in wells ready to be opened with any sign of inventory reduction. For the sake of E&P companies, let's hope that the winter is cold and that industrial production picks up significantly. Otherwise, shareholders might be disappointed with lower future production growth.
Disclosure: In the next few days, may buy puts on a company mentioned above.