On December 19, 2012, I wrote an article found here stating that investors should consider three particular biotechnology companies that were beginning to gain momentum. These companies were Pacific Biosciences of California (PACB), OPKO Health (OPK) and Solazyme (SZYM). Now a little under 9 months later, I want to revisit these names in light of ongoing progress.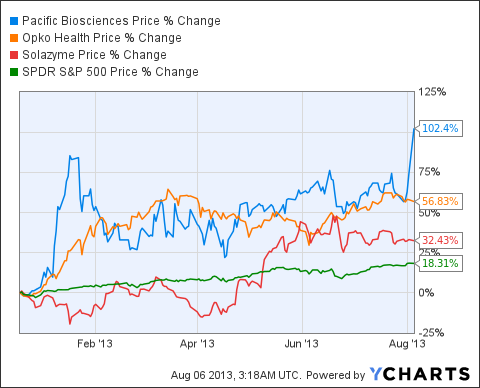 As seen in the chart above, all three companies have performed well. Using the SPDR S&P 500 (SPY) as a baseline measure, each of these companies have exceeded the overall market's performance by a significant measure. Since December 19, the share price of Pacific Biosciences has gained an impressive 102%, Opko Health has seen its stock rise 57% and Solazyme has begun to recover with a modest 32%.
Each of these companies address a unique aspect of biotechnology. Pacific Biosciences addresses the development of integrated systems used for scientific studies. OPKO Health is both a pharmaceuticals development company and the designer of diagnostic test equipment. Solazyme has integrated its understanding of heterotrophic algae to address large-scale industrial and commercial applications.
Pacific Biosciences:
The Q2 2013 earnings results for Pacific Biosciences showed significant improvement on almost every metric over the prior year. Orders have begun to significantly pick up as clients begin to appreciate the vast improvements to the PacBio RS system and dismiss its misconceptions over accuracy concerns. According CEO Michael Hunkapiller, some attendees to this year's "Sequencing, Finishing and Analysis in the Future" conference even noted that PacBio technology obtained Q60 accuracy or 99.9999% accuracy. Such a noteworthy improvement in client perception has both radically and positively altered the company's sales outlook going forward. Hunkapiller noted that bookings are on pace to at least double those of last year.
Pacific Biosciences has also begun to gain widespread support amongst published academic articles. Some respected authors have even gone as far as to urge their peers to adopt a policy of using the PacBio system for all of their bacterial sequencing, according to Hunkapiller in the aforementioned results. For the company, this ongoing recognition momentum is likely to also reflect accordingly on the market. As investors begin to reshape their expectations to account for more revenue growth, the company's stock is less likely to be molded by fundamental metrics as it once again incorporates a premium for future potential.
The ongoing cash burn and lack of net profitability remains a risk as the company's balance sheet stands far from being strong. In the last quarter, Pacific Biosciences' cash and investments dropped from $112.31 million to $106.97 million. However, this loss was largely offset by $11.3 million of cash received from the sale of stock. Yet with the company now on track for long-term growth, it would not be surprising if the market carries this company higher even in light of this ongoing dilution.
Pacific Biosciences now trades with a market capitalization of $206.2 million at its current price of $3.33 as of August 5. The company carries a price-to-book ratio of a modest 1.76 based on a book value per share of $1.62. The company carries a respectable current ratio of 8.09 along with its $106.97 million in cash and investments. However, over the last year alone Pacific Biosciences totaled a net income loss of $94.5 million.
OPKO Health:
The pipeline of OPKO Health continues to dramatically improve. In January, OPKO acquired two Phase 3 products addressing kidney disease and patients undergoing dialysis. It also expanded the reach of its operations into Brazil and Russia through two separate acquisitions. Most notably, the company now awaits for the completed acquisition of PROLOR Biotech (PBTH) in an all-stock transaction originally valued at roughly $480 million. PROLOR's pipeline includes drug candidates for growth hormone deficiency, hemophilia, obesity and diabetes.
Until late July, OPKO's CEO Phillip Frost had been tracked to regularly purchase company stock on a near daily basis. Most recently, however, the company's largest shareholder has restrained his intense buying efforts. His last purchases were significantly more spaced apart coming in on July 24 and July 17, respectively. Although in the past, the CEO has paused his atypical buying habits in light of impending company events, it is yet to be seen if this is the case. Why any of this matters is due to the fact that Mr. Frost has practically single-handedly bolstered OPKO's stock. By leveraging his fortune and putting it into the company, OPKO has developed into a very promising name as written about in my article found here.
OPKO now trades with a $2.51 billion market capitalization at the current price of $7.46. The company carries a rather high price-to-book ratio of 7.89 with a book value per share of only $0.95. For some time, the company has carried a rather large short interest. As of July 15, there were 33.71 million shares short representing 21.5% of the share float. Nevertheless, OPKO remains well capitalized having completed its offering of convertible senior notes in January 2013. By raising $175 million, the company has secured a significant amount of cushion for its ongoing cash burn. In 2012, OPKO only burned through $25.4 million as a result of its operating activities.
Solazyme:
This innovative company has had a bit of a mixed experience over these last 9 months. On the one hand, the company increased its reputation as it entered into long-term relationships with Mitsui & Co., Ltd. and leading global paint company AkzoNobel. On the other hand, it dissolved one of its oldest joint ventures with Roquette Freres as it appeared the French starch manufacturer wasn't moving at the same speed Solazyme had expected to progress.
At the same time, Solazyme's ability to control oil design has vastly improved. The company has gained the ability of "positioning" which allows oils to be structured in ways previously unable to be obtained on a commercial scale. This new tool should allow the company to imbue higher margin properties into its future oil sales.
Investors now look forward to Solazyme's upcoming earnings call on August 7 where it is expected for the company to further detail its plans for its nutritionals business. Solazyme's first large-scale commercial facility based in Brazil is also expected to come online in the coming months. These near-term catalysts supplement the long-term picture now unfolding at this innovative company.
Now trading at $11.33, Solazyme carries a market capitalization of $700.5 million. The company carries a high price-to-book ratio of 4.28 based off of a book value per share of $2.66. Nevertheless, investors continue to anticipate a rapid ramp-up in revenue growth. The Brazilian facility will add more than fifty times the amount of production capacity now owned by the company. Solazyme retains a very healthy balance sheet as reflected by the company's current ratio of 13.40. Analysts expect revenues of $262.96 million in 2014 compared to the $52.62 million anticipated for 2013.
Final Thoughts:
Each of these companies continue to grow in their own respective way. Pacific Biosciences was able to tweak its technology to overcome its initial woes. OPKO Health has had the benefit of a significant shareholder able to mold the company through his heavy-handed investments. Solazyme has vastly expanded its market potential through leading industry partners.
Each of these companies also retain various risks worthy of consideration. Pacific Biosciences carries a rather weak balance sheet in light of its ongoing cash burn and steady growth capability. OPKO Health carries a rather high valuation based on developing potential rather than on proven operations. Solazyme remains rather dependent on its core partnerships while it also introduces a novel technology to its target markets.
Nevertheless, those following these companies will also note that the full potential of each name has yet to be truly recognized or accounted for. Once dismissed, Pacific Biosciences is now beginning to prove itself to be in possession of industry-leading technology. OPKO Health has managed to piece together some impressive market synergies and is on the brink of introducing its core diagnostic tools. Last of all, Solazyme is about to unveil its large manufacturing facilities and address multiple markets in need for improved sustainable solutions. Altogether, it remains clear the story has just begun for these innovative companies.
Disclosure: I am long PACB, OPK, SZYM. I wrote this article myself, and it expresses my own opinions. I am not receiving compensation for it (other than from Seeking Alpha). I have no business relationship with any company whose stock is mentioned in this article.