The Potash Cartel and the continuing demand for nutrients
Prakash Hariharan, Chairman of the Board for AnalytixInsight spoke yesterday on BNN Canada on the continuing demands for Potash in developing countries and the breakup of the Potash cartel in Russia. Demand for nutrients in the developing world continues to be high. Can Canadian potash companies like Potash Corp. (NYSE:POT) rise to compete with companies like Uralkali (URKA)?
We look at the challenges facing the Potash Corp. of Saskatchewan, Inc., which produces crop nutrients, including potash, phosphate and nitrogen. Its products include fertilizer, feed, industrial, purified acid and metal finishing. Yesterday, the company's shares rose over 2%.
Potash Corp. of Saskatchewan Inc. is burdened by relative asset inefficiency
The company's relatively high profit margins (currently 25.9% vs. peer median of 18.9%) are burdened by asset inefficiency with asset turns of 0.4x compared to the median of 0.6x. Overall, this suggests a margin driven operating model relative to its peers. Our peer set used in the analysis comprises: The Mosaic Co. (NYSE:MOS), Agrium Inc. (NYSE:AGU), Yara International ASA (YAR), CF Industries Holdings, Inc. (NYSE:CF), Sociedad Quimica y Minera de Chile S.A. (SQMB), Terra Nitrogen Co. L.P.(NYSE:TNH), Compass Minerals International Inc. (NYSE:CMP) and Intrepid Potash Inc. (NYSE:IPI).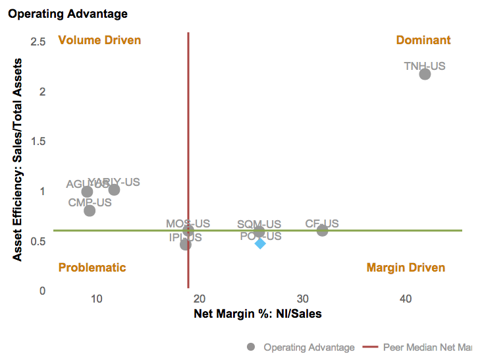 Potash Corp. has maintained its Margin Driven profile from the recent year-end.
The company's net margin continues to trend downward and is below (but within one standard deviation of) its five-year average net margin of 30.2%. Compared to 2012, net margin has remained relatively stable for both the company (25.9%) and the peer median (18.9%).
Potash Corp's asset turnover is downward trending and is below (but within one standard deviation of) its five-year average asset turnover of 0.5. Though its asset turnover has remained relatively stable at 0.4 compared to 2012, its peer median has decreased to 0.6 from 0.7 during this period. Overall, asset turnover and net margin trends suggest that the company's ROA at 11.6% has maintained its downward trend and is below (but within one standard deviation of) its five-year average ROA of 17.3%.
Potash Corp.'s lagging revenues and earnings imply a lack of strategic focus and/or ability to execute
Changes in the company's annual top line and earnings (-9.0% and -32.5% respectively) generally lag its peers. This implies a lack of strategic focus and/or inability to execute. We view such companies as laggards relative to peers (see graph below).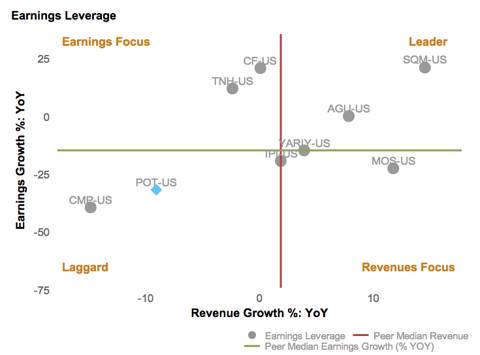 POT: Free Fundamental Analysis Report Download (email registration required)

Disclosure: I have no positions in any stocks mentioned, and no plans to initiate any positions within the next 72 hours. I wrote this article myself, and it expresses my own opinions. I am not receiving compensation for it. I have no business relationship with any company whose stock is mentioned in this article.