Durect Corporation (NASDAQ:DRRX) shareholders have been on quite a rollercoaster over the last few years. For Durect shareholders, there have been many ups and many downs while investing in this company. As you can see, investing in Durect over the last few years has not been good for investors. However, Durect has now positioned its pipeline to reverse this trend and to provide long-term value for shareholders.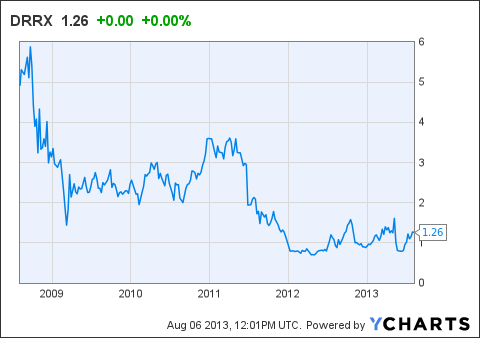 One of the more recent rollercoasters was the news that Pfizer (NYSE:PFE) is reviewing the Remoxy program, which was negative for Durect; as it needs the support of Pfizer to help the drug progress through clinical trials. The Pfizer news was a rather big blow to shareholders, and with the possibility of Pfizer dropping the development of Remoxy, it appears as though there could be a potential negative catalyst for long-term oriented shareholders.
However, even without Remoxy the company still has a pipeline focused on substantial ability for long-term growth. In the case that Pfizer decides to continue with the development of Remoxy that will only be additional icing on the cake for shareholders and should be a catalyst either way for long-term oriented shareholders. The long-term pipeline opportunity at Durect will help for long-term shareholders to be rewarded with an increasing stock price, and hopefully getting off of the rollercoaster.
Remoxy
Remoxy is the most advanced drug in Durect's pipeline. Remoxy is a form of oxycodone that is designed to be abuse resistant. Durect estimates that this could be a substantial market opportunity if ultimately approved by the FDA. Remoxy was developed through the use of Durect's ORADUR technology, and was subsequently partnered with Pain Therapeutics (NASDAQ:PTIE). Pain later sublicensed the drug to King Pharmaceuticals, which was acquired by Pfizer. With a large pharmaceutical partner like Pfizer, people were more confident that the drug would ultimately receive FDA approval. Remoxy, however, has not had a great time when it comes to FDA decisions to say the least.
Remoxy has undergone FDA review multiple times. The drug has been a recipient of two Complete Response Letters, and now Pfizer is estimating that if a response is prepared, that it will not be possible to respond to the letter until 2014. Pfizer has announced that they are deciding whether or not to continue the development of the drug. This would not be a very good situation for Durect or Pain, if Pfizer decides to ultimately take a pass on Remoxy. A positive outcome of the partnership for Durect is that Pfizer has assumed all of the development of the drug. While this may seem bad, the fact that Durect no longer has to put any money on the line in order to conduct research and development activities for the drug helps to minimize the impact that the drug will have on Durect's net loss.
Also important is the idea that if Pfizer chooses to continue the development of the drug, that Durect's share price should rise. This would be due to the fact that investors would have more insight regarding the development plan moving forward. However, with Remoxy possibly not being developed any further, Durect has been smart to put Remoxy on the back burner and chose to develop other drugs. Investors will have to take a wait and see attitude towards Remoxy as it is no longer a given that Pfizer will continue development of the drug. Investors should know more regarding the development of Remoxy in the fall of this year, as that is when Durect expects that Pfizer will make a determination.
With that being said, Remoxy does represent significant upside potential for long-term oriented investors, should Remoxy be approved Durect will receive royalty payments. Durect will receive a royalty of between 6.5% to 11% of net sales on the drug, depending on the sales volume. This would provide revenue to Durect at no cost, which would of course help to offset some of the costs associated with Durect's other development programs. Remoxy has the potential to provide investors with unexpected upside should Pfizer choose to continue development of the drug and ultimately receive FDA approval for the drug.
POSIDUR
Posidur is a drug that is a unique delivery system for delivering Bupivacaine. Bupivacaine is already an FDA approved drug, and is approved as a local anesthetic. What Durect is aiming to do through its Posidur technology, is to continuously release Bupivacaine in therapeutic levels for up to 72 hours. Durect believes that this will help to reduce post surgical pain.
Posidur is one of the most important drugs for long-term oriented investors to consider. It is currently undergoing the FDA review process and has a PDUFA date of February 12, 2014. PDUFA dates can represent very important catalysts for stocks, and often have the potential to substantially move the stock price in anticipation of the FDA decision, and also once the FDA has finally made a decision. Significantly, the FDA has allowed for the submission of Posidur under the 505(b)(2) pathway. This is significant, as it allows for Durect to rely on previously available FDA findings regarding the effectiveness and safety of Bupivacaine in its application. This is important as it cut down on the number of clinical trials that Durect had to run in regards to its Posidur program.
Durect hopes to have its Posidur program provide many benefits for doctors. Conventional versions of Bupivacaine provide for only 6 hours of pain management. Durect aims to have Posidur provide for up to 72 hours of pain management, which would be a significant improvement over currently marketed alternatives. Durect also believes that Posidur would curb opioid use in the management of post operative pain. Unfortunately, clinical data on Posidur has been rather shaky up to this point. Posidur during one of the Phase III trials conducted by Durect showed a tendency to lower pain intensity and lower the use of opioids in pain management, however, the primary endpoints were not met to a degree of statistical significance. Durect made the decision to go ahead and submit the New Drug Application (NDA), after discussions that took place with the Food and Drug Administration regarding the path forward for Posidur.
Posidur has over the years received significant attention from large pharmaceutical partners. For a significant amount of time, the drug was partnered with Hospira (NYSE:HSP) in the United States and Takeda Pharmaceuticals (OTCPK:TKPYY) in Europe. However, with these partners giving all of the development rights back to Durect following Phase III data, I would not be overly bullish on FDA approval. I do believe, however, that Posidur will eventually be approved by the FDA and that Durect will ultimately attempt to find another partner for the drug. Finding a large pharmaceutical partner for the commercialization of the drug could represent a significant opportunity for shareholders, as the addition of a large pharmaceutical partner would help to validate investor confidence in Posidur.
It is also a possibility that Durect will attempt to have Posidur approved in other indications. The drug was shown to be safe and effective in a Phase IIb trial in shoulder pain. This could represent a different pathway forward for Durect in terms of developing Posidur in order to eventually get the drug onto the market.
Posidur represents many medium to long-term catalysts for shareholders. The primary catalyst that shareholders should be focused on for right now would be the approval of Posidur in the United States. The FDA decision will help to shed more light as to the long-term prospects of the drug. Furthermore, if approved the next significant catalyst would be signing on a partner to aid in the commercialization of the drug. Other catalysts could include, if a CRL is issued, other Phase III trials that would have to be conducted. Another interesting catalyst would be any trials initiated in the shoulder pain management indication, as there has already been a study, which showed the drug to be safe and effective.
Posidur is very important for investors to watch closely, and any bad news from the FDA in terms of a CRL, could represent an interesting buying opportunity for shareholders depending on whether or not shareholders believe that this drug will ultimately work. I personally believe that the drug will ultimately gain FDA approval, maybe not this time around, but that the drug will ultimately be shown to be a safe and effective treatment option. This drug could provide a large amount of upside to shareholders if ultimately approved.
Transdur
Durect has a few other drug development programs as well. One that I find to be especially promising for shareholders would be Transdur. Transdur is a patch containing Sufentanail, an already approved drug. This patch is designed to deliver the drug for a period of up to seven days after a single application. This is quite favorable compared to other products that are currently on the market, which deliver the drug for 2-3 days on a single application.
To date the clinical trial results have shown the patch to be safe and effective in the maintenance of chronic pain. Should this trend continue through Phase III testing, shareholders could see some significant upside in Durect shares. Furthermore, from the recent quarterly report, Durect is looking to partner this program:
"We are in discussions with potential partners regarding licensing development and commercialization rights to these two transdermal programs for which we hold worldwide rights."
This statement from the most recent quarterly press release announcing financial results helps to show the opportunity for significant potential upside in Durect shares. If Durect is ultimately successful in securing a development partner for its Transdur program or its Eladur program, I would expect to see the stock rise significantly.
Transdur represents an interesting opportunity for shareholders. The program was once partnered with Endo Pharmaceuticals (OTCPK:ENDO), however, on August 26, 2009, Durect received the commercialization rights back from Endo. While this is not necessarily a very promising sign towards the development of the drug, if Durect is able to secure another large pharmaceutical company as a partner, it should help for shareholders to become more confident in the approvability of Transdur.
Relday
Another product that I would like to highlight here is Relday. Relday is a rather early stage product in Durect's pipeline, which is being developed for the treatment of schizophrenia and bipolar disorder. One thing that is particularly attractive about this drug is the fact that it is partnered with Zogenix (NASDAQ:ZGNX). Under the terms of the licensing agreement, Zogenix is responsible for all clinical development and commercialization activities in regards to the drug. Durect received an upfront payment in order to secure the partnership, and is eligible to receive milestones and royalties as the drug continues to progress through the development process.
While Zogenix is not a large pharmaceutical company, it is encouraging for shareholders nonetheless as Durect will not have to pay for the development of the drug. Zogenix recently announced positive Phase I results for Relday. Zogenix is ironically looking for a development partner for the drug, so if Zogenix is able to lure a large pharmaceutical partner, then there would be the possibility for significant price appreciation for Durect. Remember that Durect is still entitled to royalties and the original milestone payments regardless of the deal that Zogenix signs with another pharmaceutical company.
Other product candidates
Durect also has a few other programs, which have the potential to generate significant return for investors. Durect is also developing Eladur for post-herpetic neuralgia. The company is also developing Oradur for ADHD, for which Durect has US and European rights (the drug is partnered with Orient Pharma in Asia). Each of these products has the potential to generate price appreciation for Durect.
Financial Position
Durect has a rather solid financial position. While the company is currently losing money, Durect is in a financial position where it will not have to dilute for quite a while, and should a partnership come up, Durect might not have to dilute at all throughout the drug development process for some of its key programs. Durect is rather rare amongst small pharmaceutical companies in the fact that it is currently generating revenue, many developmental stage pharmaceutical companies do not generate revenue without licensing deals or without a drug on the market.
Durect derives revenue from the sale of Alzet pumps and Lactel polymers. The company for the second quarter of 2013 had a gross margin on these products of 66%. For the most recent quarter, Durect had sales of $3 million total for the product lines. Most significantly, however, is the fact that these products are cash flow positive for Durect, which help to offset Durect's drug development costs.
For the second quarter of 2013, Durect had net cash consumed in the quarter of $4.2 million. However, Durect is sitting on a cash pile of $21.3 million, so I would expect that Durect is not necessarily looking to dilute at this moment. At the very least, Durect should be able to take Posidur through the PDUFA date without having to dilute shareholders. Furthermore if Durect is able to license one of its development programs with significant upfront payments, then it is possible that Durect will not have to dilute at all. Durect will likely bring down expenses if it is able to partner its development programs, as most of the agreements that Durect has signed so far have made it so that the partner is responsible for all development activities. Durect's financial position is solid, and considering that the company does not have a large amount of long-term debt, Durect's current financial status should help to make investors less concerned about the risk of dilution.
Conclusion
Durect has the potential to substantially reward long-term oriented investors. The share price is currently depressed due to concerns about the Remoxy program and to concerns about whether the NDA will be approved. While these might be short-term concerns, I do believe that Posidur will ultimately be approved (maybe not this time around but possibly the next time around), which should help to provide a significant catalyst for long-term growth. Should Pfizer decide to continue the development of Remoxy that would provide a significant catalyst for shareholders. The pipeline products mentioned above all have the potential to drive substantial share price growth, and when combined with Durect's solid financial position, investors should have no problem taking a long position on Durect stock.
Disclosure: I am long DRRX. I wrote this article myself, and it expresses my own opinions. I am not receiving compensation for it (other than from Seeking Alpha). I have no business relationship with any company whose stock is mentioned in this article.