By G.C. Mays
The recent slide in potash prices sent shares of Potash Corp. (NYSE:POT) reeling. The breakup of a joint venture in the former Soviet Union merely served as an early catalyst. Falling crop prices have weakened demand, and a robust harvest season would have caused already falling fertilizer prices to move closer to their cyclical trough. Despite the free fall, the stock will continue to underperform its peer group in my opinion. I have written this in prior reports, now it is time to explain why.
In the spring of 2012, I noted that Potash Corp. had a price-to-sales ratio of 4.4, which at the time was twice the median peer group average of 2.2 and above the group mean average of 2.8. I also noted that with a standard deviation of only 2 percent, the group priced most closely on the price-to-sales ratio and not the more commonly used PE ratio.
Today the price-to-sales ratio is still the most relevant relative valuation metric in my view. With a standard deviation of 1.5 percent, the group trades even closer on the price-to-sales ratios these days.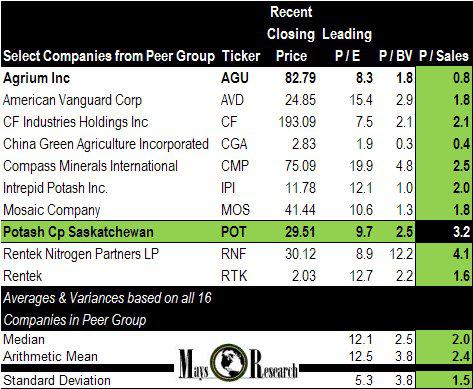 How did this happen?
The company has a history of sizeable stock splits. Since August 2004 Potash Corp. has done one 2-for-1 and two 3-for-1 stock splits. The price-to-sales ratio is the ratio of the current stock price and sales per share. Calculate sales per share as the ratio of net sales and shares outstanding. Potash Corp. sales per share of $9.26 is less than half of close competitor Mosaic (NYSE:MOS) at $23.42 per share, especially considering that sales over the most recent 4 quarters are quite close.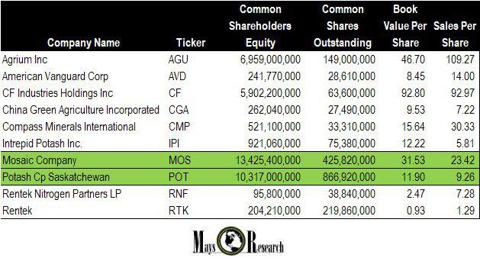 In May 2007 amid takeover rumors throughout the industry Potash Corp was trading at $203.78 per share just before the first 3-for-1 stock split. In 2011, after the Canadian Government rejected the $40 billion, $130 per share bid by BHP Billiton (NYSE:BHP) because it was not in the best interest of Canadians the stock continued higher, closing at $173.78 before the last 3-for-1 stock split took effect. Authorizing two large stock splits in the midst of all the M&A activity and speculation permanently baked a large takeover premium into the stock price in my opinion.
Can a share buyback help?
Potash Corp. management may have finally recognized the problem. On July 24, 2013, the company announced a $2 billion share buyback that intended to buy 5 percent of the company's 866.9 million outstanding common shares. However, less than a week later the company received an unexpected gift when the shares plummeted more than 16 percent to close at $31.63 following the announcement that OAO Uralkali (OTC:URALL) has decided to end or at least put on hold its joint venture with competitor Belaruskali and switch its Potash exports to its own trader, Uralkali trading. Belaruskali had begun shipping potash to customers outside of the agreement. That $2 billion will now buy a few more million shares around the company's recent share price of $29.51.
It would take many more 5 percent buybacks and higher revenues to bring the price to sales ratio of Potash Corp. closer to the peer group average. Since the company's last stock split in February 2011, both companies have underperformed the market by a large margin.

Despite Potash's higher allocation of Canpotex sales, in my opinion Mosaic is the better stock to invest in once the fertilizer business cycle troughs given its relative under valuation. Market risks include the ever-present Federal Reserve "tapering" program that will likely pull the broader market lower when finally implemented. The stocks of both companies will move higher in an industry upswing, but as long as Potash Corp continues to trade with a built-in takeover premium, Mosaic will outperform in my opinion.
Disclosure: I have no positions in any stocks mentioned, and no plans to initiate any positions within the next 72 hours. I wrote this article myself, and it expresses my own opinions. I am not receiving compensation for it (other than from Seeking Alpha). I have no business relationship with any company whose stock is mentioned in this article.