Procter & Gamble (NYSE:PG) filed an 8-K yesterday, summarizing the contents of a presentation made to a conference of institutional investors. The tone was positive, including a statement that the company expects to see a resumption of organic growth during its second quarter, ending December 2009. Organic growth is projected in a range of 1 to 4%. The CFO, Jon Moeller, noted that comparisons will get easier going into the second quarter. The stock was up 4%, closing at 56.04.
I included PG in a bullish series of diagonal spreads I did during August, and wrote up here on Seeking Alpha, the reasoning being that large, well-capitalized companies with strong brands can be expected to perform well as the safety and reliability of their earnings streams is better appreciated during what may prove to be a slow recovery.
Target - My valuation methods for companies of this type rely on 5 year average earnings, with consideration given to margins and growth. Based on historical Price/5 year average earnings ratios, PG is trading at a discount, primarily due to loss of growth and expected pressure on margins. If growth can be restored and margins maintained, a target of 69 is well within reach, by year end 2010. The projected return of organic growth is a positive indication, strengthening the rebuttable assumption that management, having ample resources, will address the company's issues effectively.
Issues – management has been active over the past 5 years, acquiring Gillette in 2005, selling Folger's in 2008, and most recently announcing the sale of the company's pharmaceutical operations to Warner Chilcutt (NASDAQ:WCRX) for 3.1 billion. All of this has opened to the door for critical analysts second guessing management's strategic direction. Slumping revenue has added fuel to the fire. A few years ago there was speculation that the Gillette acquisition was being impeded by culture clash, presenting a decent buying opportunity. Dividends4Life did a good job discussing some of the more recent concerns in an article earlier this month.
As a general rule, when a company has problems with growth or margins, I check to see if management is aware of the situation and has a plan to address them, as well as the resources to execute effectively. PG has ample resources, management is very well aware of the sales decline, and has plans to turn things around. Today's announcement is the first evidence that these efforts are bearing fruit.
Strategy – my options position, long the Jan11 45 call and short the Jan10 55 call, is developing favorably, but regretfully there is no upside potential beyond 55, assuming shares continue to rise. I spent some time earlier this week working on the risk and return for this strategy, developing the analysis that follows: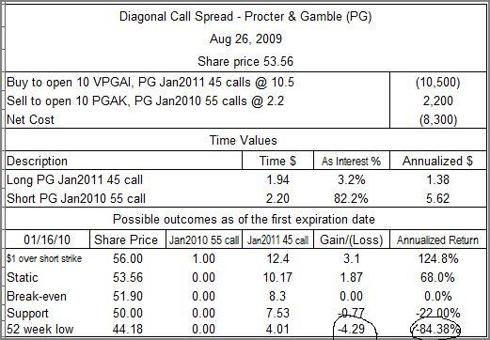 Now that the company is projecting a return to organic growth, I regard the risk of a return to the 52 week low as remote, and consider the risk reward profile of this strategy as very favorable. I added a few more Jan11 45 calls but did not sell any shorter expiration calls over them, leaving room for share price appreciation. Here is a chart showing why I see support at 50:
Monitoring – This situation has a way to go. I plan to review the company quarterly, including the conference calls, paying special attention to organic growth. I regard the sale of the pharmaceutical operation as a plus, and would like to see that come to fruition in November as planned before making any more additions to my position.
Disclosure: Net long PG as described.