Income investors usually favor stable businesses, with good profitability levels, and a strong cash flow generation capacity. One sector which usually meets these criteria is the utilities sector. Furthermore, utilities regularly pay a large part of their profits as dividends, and usually are relatively resilient to macroeconomic cycles making them relatively safe over the long-term. In the U.S., the utilities sector (NYSEARCA:IDU) offers on average a dividend yield of about 4%, which is attractive for income investors. However, there are some utilities that yield even more, like Duke Energy (DUK), which currently yields 4.3%. Duke Energy is a major American utility, it has a market capitalization of about $50 billion and is listed on the New York Stock Exchange.
Company Background
Duke Energy is the largest electric power company in the U.S., it has approximately 58,000 megawatts of electric generation capacity. It has almost 28,000 employees. Its utility regulated operations serve more than 7 million electric retail costumers, located in six states in the Southeast and Midwest. It has also some gas customers in Ohio, and Kentucky, and a small renewable business. Abroad, the company principally targets power generation in Latin America.
In 2012, Duke Energy was able to complete its merger with Progress Energy, increasing its size considerably and its business risk profile improved due to the increased proportion of the business that is regulated. Its total assets almost doubled, from $62 billion in 2011, to $114 billion in the past year. Additionally, it expects to achieve almost $700 million in merger-related savings over the next five years, improving the company's profitability even further.
Combined, its regulated activities represent almost 90% of its total business making it therefore stable and predictable, which is great for income-investors. Its fuel sources are diversified, with 44% of its combined regulated generation coming from coal, declining strongly from 60% in 2011, due to the merger with Progress Energy. Nuclear represents about 34%, 21% comes from natural gas, and 1% from hydro. The company expects to use much less coal over the next couple of years and much more cleaner-burning natural gas, which should reach 24% of the total fuel source by 2015.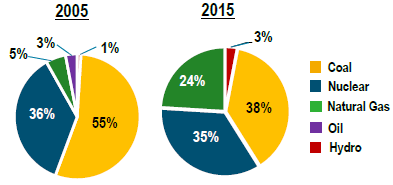 Duke Energy generated almost $20 billion in revenues during the last year, an increase of 35% due to the inclusion of Progress Energy beginning in July 2012. Its net profit was $1.8 billion, or a 9.2% profit margin. It delivered adjusted diluted earnings of $4.32 per share, near the top end of its guidance range of $4.20 to $4.35 for the year. Since 2009, the company has achieved a earnings compound annual growth rate of 6%, which is quite good for a large company. From 2013 to 2015, the company's objective is to continue growing annual adjusted diluted earnings per share by an average of 4% to 6%.
In the first quarter of 2013, Duke Energy reported operating revenues of $6 billion, compared to $3.6 billion in the same quarter of 2012, which does not include Progress Energy's revenues. Its net income more than doubled from $295 million to $634 million. Net cash provided by operating activities also increased from $827 million in the first quarter of 2012, to $1,091 million in the last quarter. Duke Energy will release its second-quarter 2013 earnings results on Wednesday, August 7.
Dividends
Duke Energy has an outstanding dividend track record, given that it has paid dividends consecutively for over 87 years. Generally, it pays dividends on its common stock on the 16th of March, June, September and December to shareholders of record on the Friday closest to the 15th of February, May, August and November. In 2012, its annual dividend per share was $3.03, an increase of 2% from the previous year.
For the past four quarters, the dividend was $0.765 per share but this was recently increased. In the next quarter, the dividend will be $0.78 per share, an increase of 2%. The ex-dividend date is August 14. Taking into account this new quarterly payment, the annual dividend in 2013, should be $3.09. Based on the current dividend, Duke Energy is paying more than $2.1 billion in dividends annually.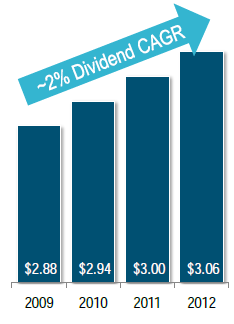 The dividend payout ratio was 70% in 2012, slightly higher than in the two previous years when it was 68%. This ratio is calculated using adjusted diluted earnings per share, a non-GAAP measure that Duke Energy's management thinks better reflect the company's operating performance. This is adjusted to reflect the per-share impact of special items and the mark-to-market impacts of economic hedges. Given that Duke Energy has a mature and stable business, this dividend payout ratio is acceptable and should be sustainable over the long term. Indeed, the company wants to continue growing the dividend over the next few years, within a 65% to 70% target payout ratio.
Moreover, the company's dividend policy is supported by its relatively stable operating cash flow generation capacity. In 2012, it generated more than $5.2 billion in operating cash flow and should increase significantly in 2013 due to the full-year contribution from Progress Energy. Additionally, its balance sheet is also strong with a balanced funding mix between equity and debt.
For the next three years, the company expects to spend between $6 to $6.3 billion in capital expenditures. Less than 10% of projected capital expenditures are discretionary so if a material adverse change in operations occurs, the company will most likely cut dividend distributions or increase its debt levels. This low flexibility regarding investments is Duke Energy's main weak point for its dividend sustainability over the long term.
Major Risks
Duke Energy's operations may be negatively affected by several factors, that could hurt its revenues, profitability, and cash flow generation resulting on lower financial flexibility and less capacity to distribute dividends to shareholders. Among the major risks the company faces, are the following:
Declines in demand for electricity as a result of economic downturns reduce overall electricity sales and have the potential to lessen Duke Energy's cash flows, especially if retail customers reduce consumption of electricity;

The company's businesses in the U.S. are subject to regulation on the federal and state level. Regulation can have a great impact in the way the company operates, and new legislation and changes to regulation cannot be anticipated or hedged;

Duke Energy's earnings are impacted by fluctuations in commodity prices. Exposure to this risk generates higher earnings volatility in the unregulated business. However, to mitigate these risks, the company enters into derivative instruments to hedge some known exposures;

The company's operations located outside of the U.S., expose it to risks related to laws of other countries, taxes, economic conditions, fluctuations in currency rates, political conditions and policies of foreign governments. As the company grows its international businesses, all these risks become more relevant.
Conclusion
Duke Energy is a low-risk, large-cap regulated utility with a very good dividend track record offering an attractive dividend yield of 4.4%. Its highly-regulated business makes this dividend safe for the foreseeable future and savings from the merger with Process Energy should boost dividend growth over the next couple of years. For income investors this is a very appealing investment that provides the best of both worlds: safety and good income.
Disclosure: I have no positions in any stocks mentioned, and no plans to initiate any positions within the next 72 hours. I wrote this article myself, and it expresses my own opinions. I am not receiving compensation for it (other than from Seeking Alpha). I have no business relationship with any company whose stock is mentioned in this article.