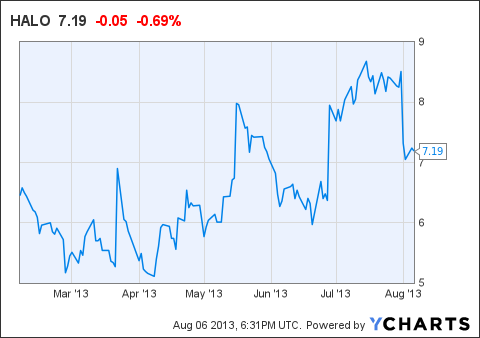 On June 17, 2013 I published an article titled "Halozyme Firing On All Cylinders: Should Investors Get Behind The Wheel?"
Well, that question was met with a resounding yes only 11 days later as Halozyme (NASDAQ:HALO) would receive a positive opinion from the EMA for their drug Herceptin SC, an updated version of the blockbuster breast cancer drug Herceptin. Halozymes' new drug Herceptin SC is a drug developed through a partnership with biotech giant Roche.
At the time of my article shares were trading at roughly $5.97 per share and have since rallied as much as 47% to hit a high of $8.84.
However on August 1, 2013 shares of Halozyme sold off precipitously after it was announced that Viropharma (VPHM), another Halozyme partner would end their phase II trial with Cinryze due to antibodies showing up in patients during the trial.
At first glance, one might question whether there is a risk to other products or trials or if the safety profile of the technology itself would be in jeopardy.
I'm here to present the facts, and those facts strongly convince me otherwise. Antibodies appearing in trials with biologics are nothing new to the FDA, the EMA, Halozyme, or any other company engaged in developing biologics. After all, that is what the human body is designed to do.
The regulatory entities chief concern is safety, and their focus in regards to antibodies are not so much whether there are antibodies or not, or whether there is a higher amount of antibodies present than normal. Their focus is on the safety profile of long term use and exposure to biologics that cause the body to create higher levels of antibodies.
This has actually happened before to Halozyme. Last year the FDA gave Baxter (NYSE:BAX) and Halozyme a complete response letter, in which the agency requested long term safety data which Baxter and Halozyme had readily available. They did what was needed, and have recently had positive dialogue and meetings with the FDA in regards to Hyqvia. They expect to file the new BLA by years end, with approval in H1 2014.
There was no additional trials required, but the agency usually takes at least a year when reviewing new amendments to a BLA in regards to long term safety data, as was the case with Baxter and Halozyme.
There was a very similar case which was much more high profile than Halozyme. Amylins' Bydureon, a blockbuster type 2 diabetes drug had its own troubles with the FDA three years ago.
Their partner Alkermes (NASDAQ:ALKS) technology enabled Bydureon to be a once weekly injection rather than an every day injection. Although approval was considered a shoo in, the slow release technology created a large number of antibodies, and even heart challenges in some patients because the drug would stay in the body longer term. The agency requested additional long term safety data, and the approval was shelved for two years over long term safety concerns. The drug was eventually approved and the company bought out.
That brings us to Viropharma and their drug Cinryze. When it was discovered that the antibodies were present during the phase II trial, the FDA told Viropharma that they want long term safety data, which is exactly what the agency told Baxter.
Here's the difference... Baxter has long term patent protection on Hyqvia, and there isn't another competitor entering the market until late 2018 at earliest. So it was worth it for Baxter to stay the course and do what was needed to get Hyqvia approved. Hyqvia recently was approved in Europe, so that too should bode well for U.S. approval next year.
That is not the case with Viropharmas' Cinryze. As a matter of fact, Cinryze loses its patent protection early next year, and its orphan drug status in 2015, so it is imperative for Viropharma that they have a subcutaneous version of Cinryze to fend off the onslaught of generic drug makers flushing the market with cheaper versions.
That is why when their trial was temporarily halted last year by the FDA during the Baxter hiccup, Viropharma as a precaution started a parallel subcutaneous route just in case they would have to provide additional safety data, they would have an alternate route and not lose any time.
Time, or a lack of it is why Viropharma chose to end the trial. They were only in phase 2, and would've had to do extra trials including long term safety trials which would have taken way too long. It was not the antibodies that scared away a partner, it was the time it would have cost them in the FDAs' process that scared them away. If you read the press release, it was more strategic than anything. There were also no adverse affects or events in the trial.
Shares of Halozyme shed roughly 13% on the news with uncertainty and speculation fueling the selloff. Investors reacting before reading, as often is the case on Wall Street, have created a huge opportunity in Halozyme and an excellent entry point ahead of some major positive catalysts in the near term.
Brokerage house Jefferies, who has made more bad calls in biotech than that NBA referee that was caught shaving points, reiterated their underperform rating on Halozyme after the news. I'd like to personally thank them for creating an extra day or two of uncertainty so I can accumulate more shares.
Just to be clear, Jefferies has never been right on Halozyme, exhibiting a poor track record of putting a strong buy on shares when they were trading at all time highs of $13, and a strong sell rating when shares were trading at a low of $4. I'd be sour too.
What is even more intriguing over the past few years was Jefferies' bone headed $10 price target on Amylin, or their statement that Amylin "would never be bought out"... Amylin was in fact bought out at $31 per share. Lets also look at their overweight rating and preposterous $28 price target on Amarin... We all know how that panned out.
So now that we've dismantled the situation to its core, it is time to focus on what makes this a good trade and an even better investment. There are some major catalysts ahead that I feel will propel Halozyme to new all time highs.
The first, is Halozymes' quarterly update next week on August 7, 2013. Expect management to address in detail the Viropharma trial, and how it is simply an isolated event which should not effect Herceptin SC approval in Europe or the upcoming Mabthera SC recomendation. We should also expect a quarterly highlight session, detailing how other pipeline developments are coming along, and an update on its recent dialogue with Baxter and the FDA regarding Hyqvia.
Pfizer (NYSE:PFE) also scored a collaboration with Halozyme, and has been testing up to 6 compounds of their own with Halozymes' enzymes. Last week there was a report that Pfizer was in fact working on a subcutaneous heart drug being developed in clinical setting. I expect Pfizer to announce relatively soon which compounds they are targeting, which adds a whole new dimension in valuing Halozyme.
Halozyme will also be getting substantial milestone payments soon on the heels of European approval of both Hyqvia and Herceptin SC, which will be detailed in the conference call.
We should also see final approval on Herceptin SC this month, as well as the upcoming launch of Hyqvia in Europe and the launch of Herceptin SC in Europe, which gives Halozyme 2 new blockbusters on the market with huge partners marketing the drugs for them.
Perhaps the biggest catalyst is the approval of Mabthera SC, the blockbuster lymphoma drug which like Herceptin SC, is partnered with Roche.
The PRAC, which is sort of like an FDA panel in Europe, has already taken a positive stance on approval of Mabthera SC, as witnessed in the May and June CHMP minutes. That is how I knew Herceptin SC would be approved, and why I feel Mabthera SC is next.
This will undoubtedly have shareholders checking the EMA website after every CHMP meeting for the rest of the year... And rightfully so, because I feel when Mabthera SC is approved, Halozyme shares will then command a huge jump in its valuation model.
Halozyme will receive mid single digit royalty payments for Herceptin SC and Mabthera from Roche, which equals about $1 billion in revenue per year by 2019. With Halozymes' market cap a touch under $700 mm, I believe HALO is severely undervalued, and is worth at least double its valuation today.
I believe there is a very good chance that Halozyme gets acquired by Roche, and it may happen sooner than you think. Their largest shareholder is billionaire Randal Kirk, who has actively been aggressive in buying shares of Halozyme. As a matter of fact, Kirk, along side his biotech incubator firm Third Security LLC owns approximately 23 million shares.
He also owns a company Intrexon, who will debut in the market next week in an IPO led by J.P. Morgan, which also has a partnership with Halozyme. He has a history of developing new technologies, and selling them to the highest bidder.
With 2 newly approved drugs, and another shortly on the way, Halozyme represents a great opportunity for Roche to administer the technology across their newer cancer franchises.
Rather than pay billions in royalties to Halozyme for the next 10 years or more, I'm sure that they would rather take two $2BB now and own them outright. Keep in mind that long time CFO Kurt Gustafson has left the company recently to take the CFO job at Spectrum Pharmaceuticals (NASDAQ:SPPI).
Mr. Gustafson and I have spoken numerous times over the years, as he was a long term player at Halozyme and a crucial part of its financing activities. He has left for another opportunity, which is fine. I find it interesting that he would leave now, especially while the company has finally matured and achieved what it set out to do from the beginning. He was a big part of it, right?
I also find one of the topics for voting at this years annual meeting of shareholders for Halozyme in 2013 to be very intriguing too. There was an amendment to Halozymes' corporate charter that got my attention immediately, as it was a main topic that was voted on at the meeting. Upon execution, the amendment called for an increase in the number of shares from 100m shares to 150mm shares in the float. One of the main purposes of the amendment and the offering of additional shares was listed as "A vehicle for the company to block a potential hostile takeover of the company".
This was the same exact method and filing Amylin used prior to being acquired and literally 3 months later, they were scooped up. I have been investing in biotechs for some time, hence the name Bio Jedi, and I am very familiar with the landscape.
I think HALO shares look outright juicy, and would be aggressive in accumulating shares on any weakness. We will revisit this call in the near future.
Disclosure: I am long HALO. I wrote this article myself, and it expresses my own opinions. I am not receiving compensation for it. I have no business relationship with any company whose stock is mentioned in this article.