Janus Capital Group (NYSE:JNS) is an active investment manager that is facing an existential challenge. Despite what looks like a cheap valuation, this author believes that the JNS stock still has significant down-side potential.
Background
Janus Capital Group is an investment manager that operates through three subsidiaries: Janus Capital Management LLC, INTECH Investment Management LLC and Perkins Investment Management LLC:
Janus manages primarily growth equity portfolios using fundamental research and is willing to make concentrated investments.
INTECH manages institutional portfolios using an investment process based on a mathematical theorem that seeks to add value for clients by capitalizing on the volatility in stock price movements.
Perkins manages value-disciplined investment products focusing on building diversified portfolios of what it believes to be high-quality, undervalued stocks with favorable reward characteristics.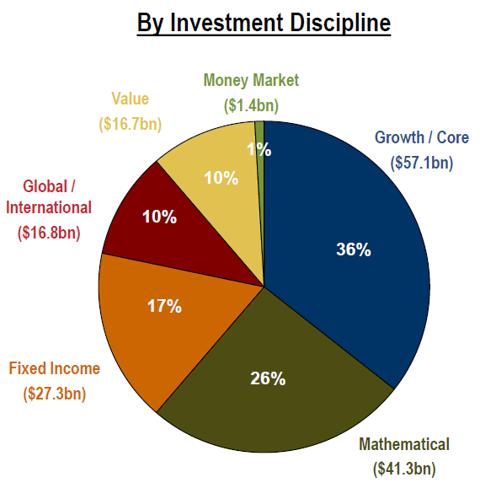 (Source: JNS 2Q13 Earnings Presentation)
JNS's Performance Problem
JNS's business model is based on delivering market-beating investment performance through active management. Actively managed funds generally charge much more than passively managed funds, but investors are willing to pay for it if they believe that the investment manager is able to generate superior net-of-fees returns.
Thus, confidence in the active manager's ability to deliver superior returns is the underlying force in driving the active investment management industry. If an active investment manager consistently underperforms, then this confidence will erode and the manager will be out of business.
Complex-wide, JNS is in the unfortunate position of delivering consistent underperformance.
JNS's performance problems began in 2009. Complex-wide, 2009 ended with relatively strong investment performance and remained strong with approximately 75%, 88% and 86% of JNS's mutual funds in the top half of their Lipper categories on a one-, three- and five-year total return basis, respectively. (Source: JNS 2009 Annual Report)
However, a closer look shows that ALL of INTECH's relative investment performance underperformed their respective benchmarks, net of fees, over the one-year period, suggesting highly variable investment performance within the JNS complex.
By the end of 2010, as a result of underperformance in key fundamental equity strategies, the percentage of mutual fund assets in the top half of their Lipper categories on a one-year basis fell to 33% as of December 31, 2010. (Source: JNS 2010 Annual Report)
By the end of 2011, fundamental equity strategies continued to underperform, resulting in 43%, 34% and 81% of complex-wide mutual fund assets ranked in the top half of their Lipper categories on a one-, three- and five-year total return basis, respectively. Note that the 3-yr investment performance is especially important, and that JNS's 3-yr numbers fell to 34% from 88% in 2009. (Source: JNS 2011 Annual Report)
By the end of 2012, despite better 1-yr results, JNS's key 3-yr and 5-yr performance slipped to 27% and 54%, respectively. (Source: JNS 2012 Annual Report)
Although JNS's current performance improved slightly from 2012, it is still underperforming peers in the 1-, 3-, and 5-yr category: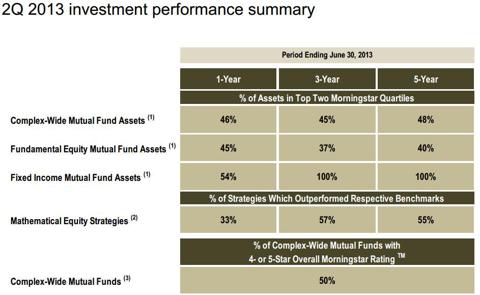 (Source: JNS 2Q13 Earnings Presentation)
Outflows, Stale AUM
High variance in investment performance, especially down-side variance, over such a long period of time has greatly diminished JNS's reputation. As a result, investors continue to run away from JNS.
A key performance metric for asset managers is net flows, which is total sales less total redemptions. JNS has been experiencing net outflows since 2010:
FY2010: $10.8B in net outflows.
FY2011: $12.2B in net outflows.
FY2012: $12B in net outflows.
2013 Q1: $3.9B in net outflows.
2013 Q2 $5.4B in net outflows.
As the result of the horrendous outflows that continues to plague JNS, the company's AUM as of 6/30/2013 is $160.6B, barely $1B higher than its 2009 ending AUM despite the large rally in equity markets.
(Source: JNS Annual & Quarterly Reports)
Janus's Revolving Door
In May 2013, three portfolio managers resigned: Ron Sachs, Brian Schaub and Chad Meade. Ron Sachs ran the Janus Twenty (MUTF:JAVLX) and Janus Forty (MUTF:JACTX), which has a combined AUM of ~$13B. Schaub and Meade ran the Janus Triton (MUTF:JATTX) and Janus Venture (MUTF:JAVTX), which were the only two diversified U.S. equity funds run by in-house Janus managers that landed in their categories' best quartiles. Most of the others landed in their categories' worst quartiles.
According to Morningstar, this is the firm's 4th wave of portfolio-manager defections over the past 11 years, suggesting that the firm's corporate culture and incentive programs are not working well enough to encourage good investment managers to stick with the firm for the long haul.
Since the stability of investment teams is an important metric for financial advisors and institutions when considering which funds to invest in, this "4th wave" is another major blow to JNS's efforts to finally gathering assets rather than losing it.
In addition, JNS has also employed 5 CEOs since 2003.
Conclusion
An active investment manager like JNS depends on delivering market-beating results to justify its high fees relative to index funds. However, looking at complex-wide investment performance, JNS has failed to deliver on its fundamental promise since at least 2010. As a result, the firm has been suffering horrendous outflows, including $9.3B in net outflows in the first two quarters of 2013. JNS's highly unstable investment team and high CEO turnover does not suggest that the firm is on stable footing. If investment performance does not improve - and there is little reason to believe that it will - JNS will continue bleeding assets and the viability of the company will be questionable.
For a list of key metrics in evaluating investment managers like Janus Capital, click here.
Disclosure: I have no positions in any stocks mentioned, and no plans to initiate any positions within the next 72 hours. I wrote this article myself, and it expresses my own opinions. I am not receiving compensation for it (other than from Seeking Alpha). I have no business relationship with any company whose stock is mentioned in this article.