Korn/Ferry International (NYSE:KFY) reported a narrower-than-expected fiscal first-quarter loss on lower operating expenses. The company posted a loss per share of 5 cents, excluding restructuring charges, which was a penny better than the Zacks Consensus Estimate. On a GAAP basis, the net loss came in at $14.3 million, or 33 cents per share, compared to GAAP net income of $15.9 million, or 36 cents in the year-ago quarter.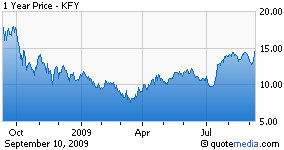 Korn/Ferry is the largest provider of executive recruitment, leadership and talent consulting and talent acquisition solutions, with the broadest global presence in the recruitment industry. The company offers its services through a worldwide network of over 78 offices in 37 countries. The company served 4,238 clients during fiscal 2009, which included approximately 45% of Fortune 500 companies. In June this year, the company completed the acquisition of Whitehead Mann, an international talent management firm.

The Los Angeles-based company's total revenues plunged 43.3% year over year to $123.3 million, primarily due to a 43.2% reduction in fee revenue to $116.8 million. The decline in fee revenues was caused by a 33% decrease in the number of engagements billed due to depressed global economic conditions, which severely affected recruitment plans of clients.

The company said fee revenue remained sluggish across all geographic segments, including North America, EMEA, Asia Pacific and South America, which recorded declines ranging from 41% to 43%, compared to the year-ago period. Revenues generated by Futurestep division also slumped 50.4% year over year to $15.5 million on account of a 36% decline in engagements billed.

Compensation and benefits expense fell 36.4% year over year to $90.4 million, mainly due to a reduction in global headcount coupled with a reduction in variable compensation. General and administrative expenses declined 17.6% to $28.1 million primarily due to primarily due to a contraction in overall business activities. Korn/Ferry also recorded a restructuring charge of $18.2 million during the quarter, related to the acquisition of Whitehead Mann, in an effort to eliminate redundancy and consolidate premises. Sluggish revenue partially offset by lower operating expenses led to an operating loss of $25.0 million, compared to an operating profit of $23.8 million in the year-ago quarter.

The company ended the quarter with cash and equivalents of $265.9 million, compared to $330.3 million at the end of the previous quarter primarily due to the payment of annual bonuses. During the quarter, the company also utilized about $10.3 million towards the acquisition of Whitehead Mann.

During July, competitor Heidrick & Struggles International Inc. (HSII) reported second-quarter adjusted loss of 18 cents per share, missing the Zacks Consensus Estimate for a 12-cents loss. The company said net revenue slipped 45.1% year over year to $93.1 million as performance was hit hard in the Americas and Europe.

Moving forward, Korn/Ferry anticipates economic conditions to continue affecting demand for executive searches as well as leadership and talent consulting services, despite signs of stabilization. Accordingly, the company expects fee revenue to range between $110 million and $120 million during the fiscal second quarter.

Meanwhile, the Zacks Consensus Estimate, derived from 7 covering analysts, for fiscal year ending April 2010 is currently pegged at a loss of 9 cents per share, which has improved by 5 cents over the past 2 months.