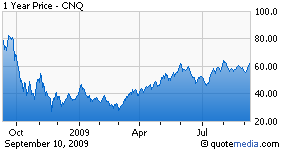 Buy-recommended Canadian Natural Resources (NYSE:CNQ) offers unlevered appreciation potential of 20% to a McDep Ratio of 1.0 where stock price would equal Net Present Value (NPV) of US $80 a share. On July 14 we reduced NPV from US$85 when we reduced estimated Present Value of North American Natural Gas by 20%. Released today, second quarter results exceeded our estimate for unlevered cash flow (Ebitda) from three months ago. The new Horizon oil sands mine and upgrader made its first cash contribution of about US$80 million on the sale of 47,000 barrels daily (bd) at US$56 a barrel less operating cost of US$37 a barrel.
Startup appears to be proceeding smoothly toward capacity of 110,000 bd. An unusually narrow discount for the heavy crude that accounts for half of the company's oil production also contributed to better than expected results. The good news is welcome as oil and Horizon drive 80% of NPV in our valuation, which capitalizes cash flow at unlevered multiples (PV/Ebitda) related to reserve life (Adjusted R/P). Pointing to possible further gains, oil futures prices for the next six years crossed the 40-week average into an uptrend at the end of May.
Originally published on August 6, 2009.