Aflac (NYSE:AFL) trades at a mere 8.9 times earnings. That's approximately half their historical normal P/E ratio of 17 plus. Cursed as a financial, their stock price collapsed in 2008, yet operating earnings were strong. Our fundamentals-at-a-glance research tool provides 20 years of data. As Figure 1 clearly shows, Aflac has not been this inexpensive relative to earnings over this entire time period. Monthly closing stock prices (black line) have correlated closely to earnings (green line with white triangle) until June of 2008. Then as the graph depicts, Aflac became extremely undervalued based on earnings.
Fig. 1. 20yr EPS and Price Correlation History (see short video)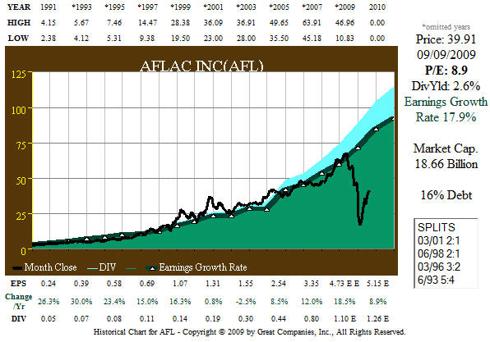 Although there are no pure competitors to Aflac, the following four well known companies sell competing products in the United States. Figures 2-5 show that none of these named competitors match Aflac's consistent earnings history, and all of them had earnings collapses during the recession that justified their stock price drops (see red circles, Figures 2-5), except, of course, Aflac (Figure 1).
Fig. 2. (NYSE:MET) 11 yr EPS and Price Correlation History (see short video)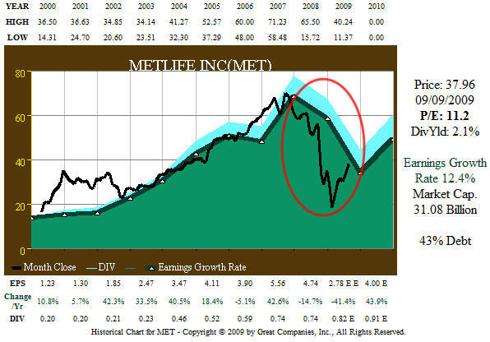 Fig. 3. (NYSE:ALL) 18 yr EPS and Price Correlation History (see short video)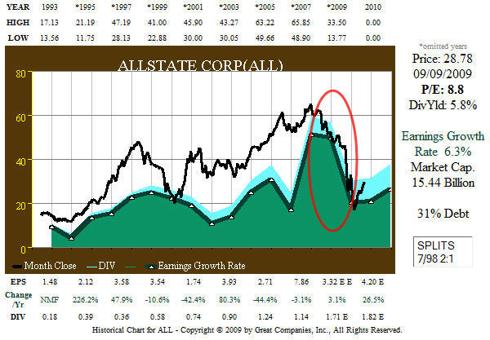 Fig. 4. (NYSE:AEG) 20 yr EPS and Price Correlation History (see short video)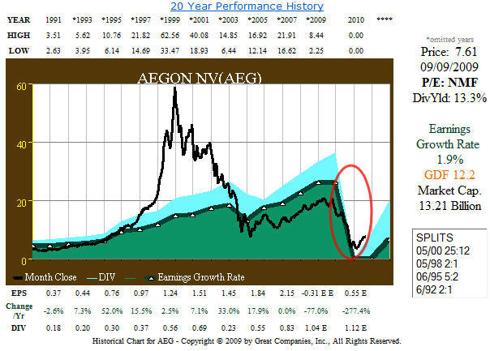 Fig. 5. (NYSE:AIG) 20 yr EPS and Price Correlation History (see short video)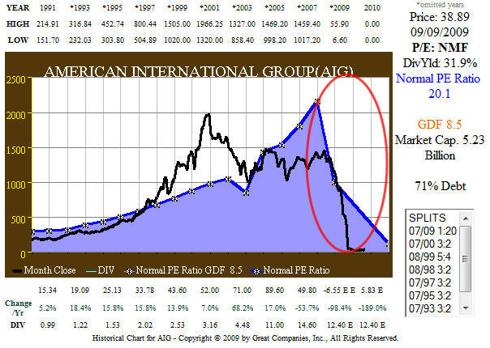 About Aflac
Headquartered in Columbus, Georgia, Aflac sells supplemental health and life insurance in the United States and Japan. We deem Aflac to be the best run company in the life insurance sector given the Company's record of 15% to 20% earnings growth over the last 20 years (see Figure 1) with a consistently above average return on equity. Aflac established itself as the dominant supplemental health insurer in Japan (primarily through the sale of cancer policies), and derives over 75% of its revenues and earnings from that country. Aflac experiences extremely high renewal rates in Japan, thereby establishing a recurring revenue stream. One in four Japanese households use Aflac and premiums are usually paid through automatic payroll deductions.
Although Aflac has only scratched the surface in the United States, the growth drivers are the same in both countries, i.e. rising health care costs combined with a shrinking safety net and aging populations. In the U.S., management sees enormous opportunities in the immature supplemental health insurance market. The small business market is especially underpenetrated. This market holds 50% of the employed population, and Aflac currently has only between 7% and 8% of this business. We expect U.S. premium growth to accelerate over the next several years for two primary reasons.
First, an increase in selling agents: Management's goal is to increase recruiting and the recession is ironically helping as salaried jobs are hard to come by. Therefore, Aflac's opportunity to expand its commissioned sales force is enhanced. Aflac also announced the acquiring of Continental American Insurance Company that focuses on selling voluntary group products at the work site through broker distribution. This fulfills a high priority goal of Aflac's that allowed them to build this scalable platform through purchase rather than from scratch. Aflac expects this acquisition to be accretive to earnings.
Second, several new product introductions and a creative new marketing initiative expanding on the strong branding of the Aflac duck: They refer to it as Aflac Wingspan under the tag line: "We've got you under our wing." Management believes that Aflac Wingspan will make their products more relevant to employers and consumers alike, thereby stimulating sales growth.
In Japan, where market growth is much slower due to an already high penetration rate, the Company's plan is to accelerate earnings by offering new products with higher margins. For the most recent quarter, pre-tax operating margins improved in both the U.S. and the Japanese segments. Also, new product regulation in Japan is expanding distribution channels by allowing Aflac to sell its policies at bank branches. Aflac already has agreements with over 340 banks to sell its products, more than any other insurers operating in Japan. Additionally, Aflac was selected as the exclusive provider of cancer insurance by Japan Post Network Co., Ltd., a subsidiary of Japan Post Holdings Co., Ltd. On October 1st, 2008, Aflac started selling its Cancer Forte product through Japan Post Network Company in 300 of Japan's post offices. As of July 1st, 2009 the number of post offices selling Aflac's products has increased from 300 to 1,000.
Financial Strength
Aflac's business continues to generate excess capital with remarkably high rates of return given the high regulatory capital level requirements. Although the Company has continued to return this excess capital to shareholders through share repurchases and increasing dividends, management has indicated a currently cautious stance on the deployment of excess capital to shareholders. We believe they are more likely to reduce share repurchases than refrain from increasing the dividend. However, management has been clear, that their primary interest is maintaining a strong capital position to protect the company during these uncertain times. To this end, management has aligned officer incentive compensation to a Risk-Based Capital (RBC) ratio of 375%. However, they are still using traditional bonus criteria like premium, earnings and sales growth and expense control. Figure 6 below shows that Aflac generates both operating and free cash flow in excess of earnings.
Fig. 6. AFL 20 yr Operating & Free Cash Flow (see short video)
In both the first and second quarter of 2009 Aflac reported strong operating earnings thanks to a continuing improvement in the benefit ratio in Japan, steady growth in the U.S. and a foreign exchange kicker. Management did book some impairment charges on perpetual securities, however, they will not impact GAAP shareholder's equity. We believe the total risk for these perpetual (hybrid) securities are manageable as Aflac's RBC ratio remains over 450%.
Aflac's Competitive Strengths
Products – A wide portfolio of affordable supplemental insurance products unequaled in the industry.
Advertising & Brand Awareness – The Aflac Duck in eight years has driven brand awareness to 93%.
Distribution – Strong agent recruiting and new partnerships with insurance brokers, serving new and large distribution channels.
Technology – SmartApp Next Generation software tool reduces sales agents' time on administrative duties. One example of Aflac's commitment to cutting-edge technology.
Conclusion
Even considering today's challenging times, Aflac's management remains committed to their proven business model. From an earnings perspective Aflac's management continues to expect a 13 to 15% increase in 2009 even without share repurchases. Their longer term goal of 15 to 20% is expected to return as world economies stabilize. The consensus of 16 analysts reporting to First Call forecast 14.5% five year growth essentially consistent with management's guidance. See Figure 7 below.
Fig. 7. AFL 5 yr EPS Forecast (see short video)
Therefore, we believe that Aflac offers compelling future returns to the prudent investor with a long-term horizon. There is leverage based on potential P/E ratio expansion from its current single digit level to a normalized 15 to 20 P/E. Aflac offers a 2.6% dividend yield that has historically grown faster than earnings due to an increasing payout ratio…finally, above average earnings growth with high visibility.
Full Disclosure: Long AFL at the time of writing.