By David Russell
Put activity surged in KeyCorp today as bears positioned for the regional lender to fall before the end of next week.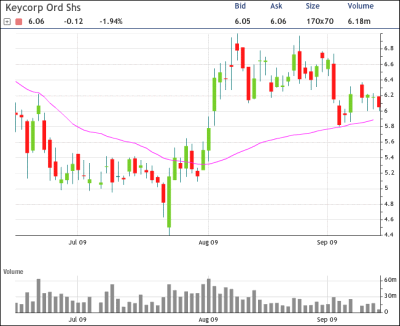 Volume in the September 6 puts surged to 19,641 contracts against open interest of 15,416, according to optionMONSTER's Depth Charge monitoring program. Institutional-sized purchases at $0.20 to $0.30 accounted for most of the order flow.

KEY fell 1.94 percent to $6.06 in morning trading. The regional lender is down 7 percent in the last month, lagging positive returns for the broader financial sector and regional-banking subgroup.

KEY needs to fall by about 6 percent by next Friday for the puts bought today to turn a profit. One potential catalyst that could move the stock before expiration is KEY's scheduled participation in the Barclays Capital Global Financial Services Conference at 2:15pm eastern time on Tuesday.

Options volume in KEY was more than four times average today, with the September 6 puts accounting for 88 percent of the activity.
(Chart courtesy of tradeMONSTER)