On Tuesday evening, Pixelworks (NASDAQ:PXLW) announced Q2 earnings and provided guidance for the remainder of 2013. Judging by the headline numbers, one would have thought the stock would be in for a rough ride. Revenue came in at $9.55 million, shy of the single Wall Street estimate of $11.0 million. EPS fared no better, coming in at -$0.26 (loss), versus a -$0.14 estimate.
However, that's where the bad news ended.
In the press release, Bruce Walicek (President and CEO) stated:
"Growth resumed in the second quarter as order patterns improved and we expect a significant increase in third quarter revenue driven by an improving environment, ramping of the PA168 advanced video processor and success in our licensing initiative. We are seeing outstanding demand for Pixelworks' video processing technology, which is proving to be essential for delivering the highest video quality as resolution requirements increase across a growing number of displays."
That was enough to get the stock creeping higher in after-hours trade…but the real action was yet to come.
On the conference call, Walicek started by informing listeners that its weak Q2 was driven by customers working through their inventory overhead. He also told investors that this issue was now behind them and "while the quarter started on a sluggish note, overall book to bill was greater than 1, reflecting a steadily improving environment and customers beginning to ramp the PA168, our next-generation video processor, into volume production."
He went on to disclose that the company had also made significant progress on its previously announced co-development project. However, Q2 expenses included non-reimbursed costs for its efforts, which resulted in higher operating expenses year-over-year. That being said, he also stated that PXLW expects to complete milestones and realize $3.5 million of reimbursement credits during the remainder of 2013. The chip created as a part of this agreement is expected to result in significant revenues beginning in 2014. Mass production is expected to commence in the first half of 2014 and ramp "very heavily through the balance of the year."
At this point, the takeaway was clear. PXLW's Q1 results represented the trough in its business. Still, the call was about to take on an even more bullish tone:
"Based on an improving environment, ramp of the 168 and success with our licensing initiatives, we expect Q3 revenues to be up more than 50% and see non-GAAP profitability for the balance of 2013."
Specifically, CFO Steven Moore delivered Q3 guidance, calling for $14 million to $16 million in revenue (versus the Wall Street estimate of $13.8 million) and a large EPS range of $0.02 and $0.17 (versus the -$0.01 estimate). The expectations for Q3 include growth for PXLW's projector, television and license businesses.
The strength of this guidance was explained by the details in PXLW's accompanying 8-K. The filing revealed that its licensing pipeline is swelling. Also, the company captured a significant license for its advanced video technology. Finally, in Q2, PXLW began mass production shipments of its next-generation PA168 ultra-HD video display processor and expect volume production to ramp during the balance of 2013.
Indeed, Pixelworks' technology is designed to optimize UltraHD TVs, tablets, and Ultrabooks. The company stated that it is seeing strong demand for its technology, driven by the "third wave of video processing requirements." For example, within the projector product line, PXLW discussed its partnership with Sony (NYSE:SNE), which is meant to enable wireless connectivity to projectors from mobile devices such as tablets, mobile phones and Ultrabooks.
The revelation sent the shares into overdrive. Before the call was over, PXLW was up more than 20%. By the close of after-hours trading, it was up $1.52 or 41%, making it the biggest gainer of the extended hours' session.
The move was steep, but validated each of the themes we outlined in our Seeking Alpha initiation piece in June. Further, the guidance confirmed the EPS leverage we have been envisioning at PoisedToTriple Research. Specifically, investors should take note of the large spike in EPS (15-cents, from 2-cents to 17-cents) that accompanies the $2 million gap between the low-end and high-end of guidance.
Revenues are expected to grow 35% next year, yielding 20-cents per share in earnings. We believe that similar growth in 2015 would yield about 70-cents of EPS, giving it a P/E of 5 based on Tuesday's closing price. The shares are also cheap when compared to its R&D spending. Traditionally, 3x R&D has proven to be a bargain for investors. PXLW's valuation is even below that level. The company has invested over $100 million in R&D over the past 5 years and over $300 million over the past ten.
From a trading perspective, we believe PXLW is in the midst of a Fibonacci arc, which could push the stock to $6 before year-end. At those levels, the stock might move into the second phase of a cup and handle formation. Fundamentally, investors might take a pause until we get better visibility into PXLW's potential to achieve 70-cents of EPS in 2015. Because of this, investors should exercise caution by paying heed to the stock's risk / reward profile and sizing positions accordingly. That being said, the second half of 2013 looks bright, so we continue to believe that PXLW remains poised to triple.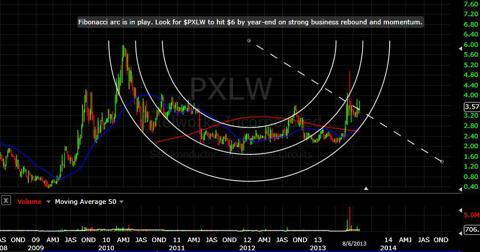 Source: PoisedToTriple and freestockcharts.com
Disclosure: I am long PXLW. I wrote this article myself, and it expresses my own opinions. I am not receiving compensation for it. I have no business relationship with any company whose stock is mentioned in this article.