I know, I just cursed the stock. Once you say $1,000 it is over, right? We will see. Purchase, New York seems like a fitting location for a company like MasterCard (NYSE:MA). The company is a large-cap company ($77b) that provides global payment solutions in support of the credit and payment programs of financial institutions.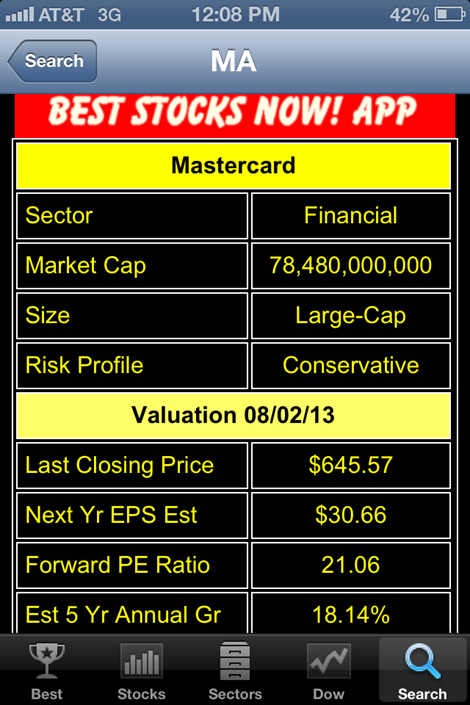 Data from Best Stocks Now App
I stepped up to the plate and added MasterCard to the conservative growth portfolios that I manage back in December of last year. This was during the fiscal cliff crisis. Since I bought it, MA is already up 33%, but I would have no problem adding to my position today. The stock continues to do well and the company recently reported blowout earnings.
On my recent radio shows, I have been discussing how earnings season affects your portfolio a lot. When a company exceeds analysts' estimates the stock follows almost immediately upward. Why? Because stocks trade based upon expectations, and when the expectations of a company increase, the price follows almost right behind the stock. When the earnings estimates go up, we raise the target price and the stocks follow almost immediately. MasterCard recently once again beat their earnings estimates quite handily. I still like the stock. Here is why…
I am a money manager that requires a stock to meet at least three major criteria before I will consider buying it. Those criteria are performance, value, and a healthy stock chart. Is that too much to ask? It certainly does narrow down a very large field.
Valuation
Let's begin with the current valuation of MasterCard. The company is expected to make $30.66 per share in earnings next year. It is expected to grow those earnings by about 18 percent per year over the next five years. That seems doable as the company has been growing their earnings by 27% per year over the last five years.
Now when I take those current earnings estimates of MA and grow them by 18 percent per year over the next five years, I come up with potential earnings of almost $60 per share five years from now.
Next, I choose a multiple that I think is appropriate for a company like MA. I look at its trading and multiple history. I also look at other financial stocks that compete with MA such as American Express (NYSE:AXP), Visa (NYSE:V), and Discover (NYSE:DFS) to see what multiples they are trading at.
I then choose a multiple that I think is appropriate for MasterCard. I believe that a multiple somewhere in the 18-20X range would be appropriate. When I do the match, I come up with a five-year target price on MasterCard of $1,160. I believe that the stock is well on its way to being $1,000 plus stock at some point in time!
Consider that the shares were trading at $40 per share back in 2006 and now they are trading at over $650 per share! MasterCard meets my first criteria-it passes my valuation test. I require 80% or more upside potential over the next five years. It currently gets a value grade of B right now.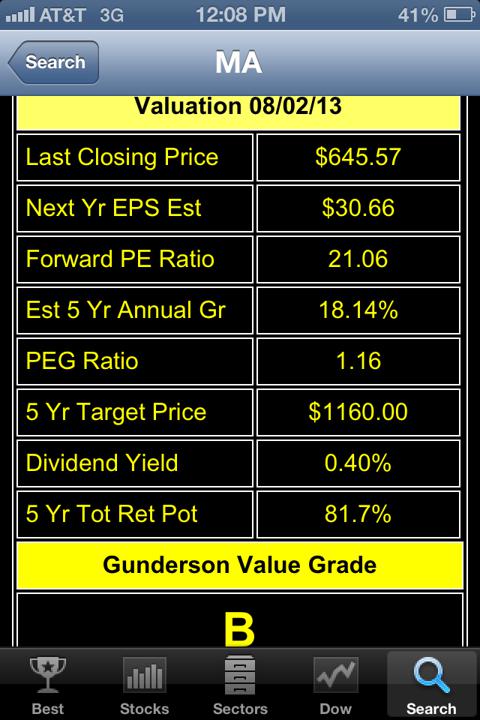 Click to enlarge
Data from Best Stocks Now App
There are currently a lot of stocks in the market that currently pass my value test. But I have found over time that there are way too many value traps in the market. Value traps are stocks that are seemingly undervalued-they have low PE ratios, low PEG ratios, low price-to-book value ratios, low price-to-cash flow ratios, etc. But what do they lack? They lack performance! Let's take a look at the performance numbers of MA because it has already satisfied my valuation criteria.
Performance
Is MA another value trap? I don't think so, because it also has performance to go along with its value. MA is one of the most successful IPOs of all time! It became public at $40 per share in 2006. Today, MA is at $642 per share! But how often have you seen them talk about MA on the main stream financial channels? I do not know that I have ever seen it. MA has done better than Google and most IPOs during the last decade, yet I have not seen MA get the kind of attention nor congratulations that it really deserves for putting money in shareholders' pockets!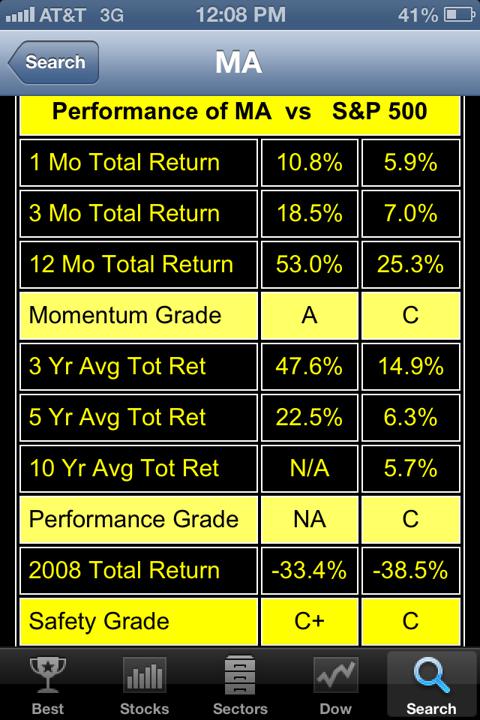 Click to enlarge
Data from Best Stocks Now App
Let's look at MA's performance numbers. Over the last five years, the stock has more than tripled the returns of the market - while the market's been delivering 5.5 percent per year, MA has delivered 22.5% percent per year.
Over the last three years, MA has continued to more than triple the returns of the market, While the market has been averaging 14.9 percent per year, MA has been averaging 47.6 percent. Over the last 12 months, while the market is up 25.3 percent, MA is up 53 percent. MA gets a momentum grade of A. It's one of the top performing stocks in the entire market!
MA is already up 30.8 percent year to date, and this is not been a very good year for large cap stocks. So far, 2013 has proved to be the year where small and mid-cap stocks, for whatever reason, are way more popular than large cap stocks, yet MA has delivered small cap stock-like numbers!
Stock Chart
The last thing I need to consider in regards to MA is a healthy stock chart. Let's take a look at a one year chart of the stock.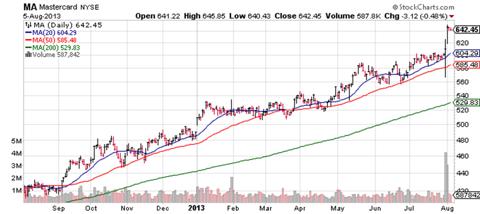 Click to enlarge
As you can see the stock broke out of a five month consolidation trend back in May of this year and has not looked back since. I recently broke out on its earnings report and it continues in an extremely healthy uptrend.
The beat goes on in Purchase, NY with the $76 billion company. Out of 3,443 stocks that I currently rank in my Best Stocks Now! app, MA comes in at number 73. That is really impressive for a large cap stock. My overall grade that I give to MA is A! Master card is a very large position in my conservative growth accounts!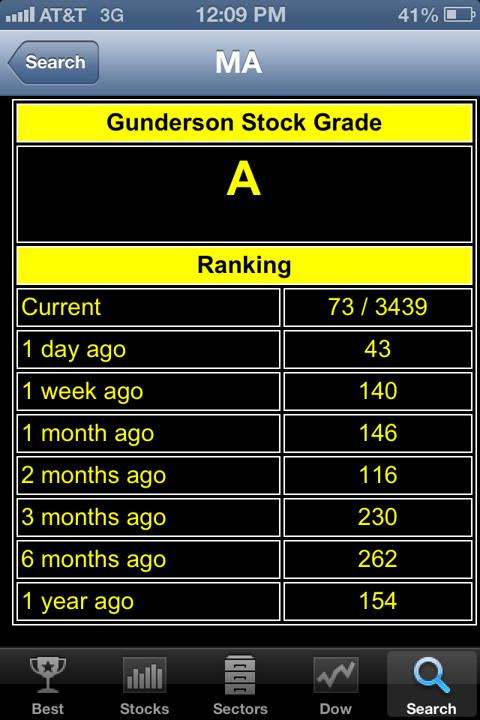 Click to enlarge
Data from Best Stocks Now App
Follow me on Twitter @billgunderson for a change in my opinion on this stock.
Disclosure: I am long MA. I wrote this article myself, and it expresses my own opinions. I am not receiving compensation for it. I have no business relationship with any company whose stock is mentioned in this article.